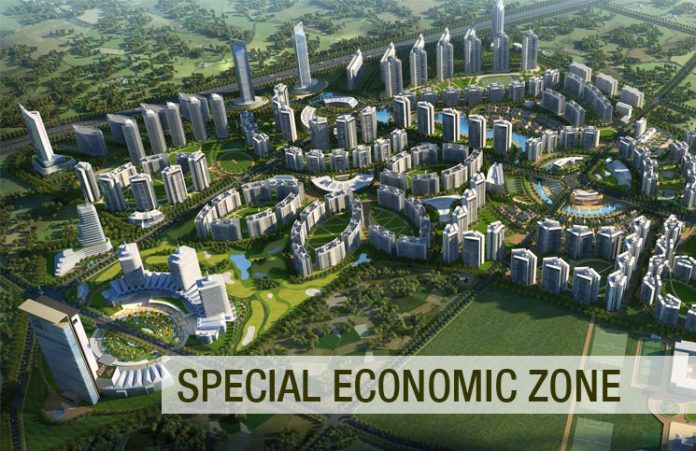 Islamabad: The government is mulling over establishing 46 Special Economic Zones (SEZs) alongside the route of China Pakistan Economic Corridor (CPEC).
Nine Zones have already been declared prioritized during the 6th JCC meeting held in December 2016, while the remaining zones would be set up under long term plan of CPEC, said spokesman of Board of Investment, Shahjahan Shah.
Talking to APP, he expressed the commitment of government of Pakistan to nominate a working group to deliberate on how to build the zones. He expressed the views that either Chinese or Pakistani companies could build the zone or the project could be completed jointly by both sides. The spokesmen said that products manufactured in these zones could not only to be exported but these would also be available in the local Pakistani market, where they were not required to pay any customs duty.
This makes the zone ideal for investors as Pakistan has a big market of 200 million plus people. The model can be primarily export oriented. But in case of China import substitution also has a lot of potential, he added. The Government has already given its commitment to provide all utilities and security to the investors in these zones. He pointed out that each zone had its special features for investors in terms of its location, raw material, skilled work force and linkages with other parts of the country and outside it.
China has rich experience in developing zones particularly from 1985 to 1995 and from 2009 till 2015 and Pakistan could learn much from Chinese experience. He expressed the hope that Chinese Experts Group must had a very successful site visit of Rashakai Special Economic Zone and bilateral meetings with the authorities concerned in KP Province.
He highlighted the main features of incentive package devised for the identified priority SEZs and invited Chinese side to convey their view point if any for further discussion. He emphasized that Chinese companies have huge opportunities to relocate their businesses to these priority SEZs. Pakistan side is also expecting feedback of Chinese Experts on this visit. The potential of proposed Mirpur Zone in terms of its connectivity with Highway, Railway and Airport as well as the expected industries to be parked in this zone based on local endowment was also deliberated through the presentation.
He told that the representative of Gilgit-Baltistan underscored the strategic location, scenic beauty and hospitality of the people Gilgit Baltistan. The mineral potential and locational advantages were gate way for Central, East and South Asia, he added. He also appraised the house that this zone was situated exactly on the CPEC route which was ancient Silk Route. The zone has huge comparative advantage for manufacturing and processing of mineral fresh fruits and vegetables, wood, herbs and trout fish. Maqpoon Dass SEZ can also acts as logistic hub of the North.