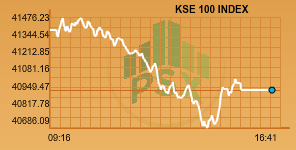 LAHORE
Bears held their grip strength as the Pakistan Stock Exchange (PSX) bled again on Thursday. With the National Accountability Bureau (NAB) preparing to file references against the former prime minister and his family, economic indicators are ringing warning bells too.
The current account gap has more than tripled to $ 4.3 billion in the quarter ended June, the worst level in more than four decades and the central bank's foreign exchange reserves have declined by a quarter since an October peak. Both local and foreign analysts have been voicing their concerns on the matter. They aren't too convinced with the current value of the currency and expect a devaluation on the cards.
In the mid of both political and economic unrest, the KSE 100 index settled just below 41,000 after a 381.22 points decline. The last hour or so saw increased market participation and volatility where the index dropped down 703.90 points to 40,686.09. The final volume was 40,958 points.
The KMI 30 index surrendered 459.10 points while the KSE All Share Index lost 264.31 points.
Only 67 scripts managed to advance while 279 declined.
The market volumes saw a push in the last hour of trading and total of 147.33 million shares were traded in the session. TRG Pakistan Limited (TRG +3.57 per cent) led the volume chart with 15.83 million shares exchanged followed by Azgard Nine Limited (ANL +0.67 per cent), volume 10.99 million.
Though the Oil and gas marketing companies increased by 10 per cent on a month-on-month basis to 2.4 million tons in August 2017, the sector chopped off 2.70 per cent from its market capitalisation. Hascol Petroleum Limited (HASCOL -4.07 per cent) posted a 65 per cent growth in year-on-year sales.