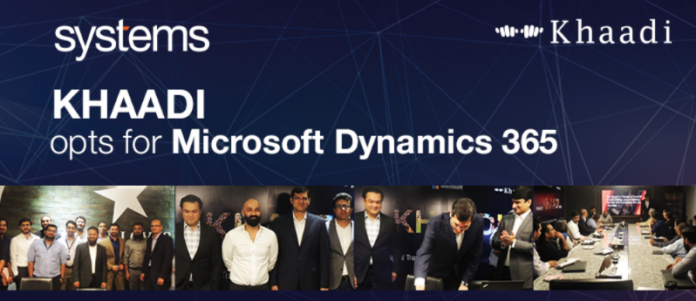 Lahore: In one of the leading ties-up in recent memory, Pakistan's foremost IT company Systems Limited has entered into a partnership with Khaadi, the country's premier retailer to upgrade its existing business processes to enhance its growth.
Systems Limited will deploy a cutting-edge IT solution tailored for the fashion and apparel industry, helping Khaadi in its ambitions of expanding its retail footprint globally.
By incorporating System's Limited IT solution into its business, Khaadi intends to improve customer user experience and meet its rising consumer demands.
IT solution provided by Systems Limited will be powered by Microsoft Dynamics which solidifies process optimization and enables dynamic customer engagement.
By incorporating this advanced solution into its system, Khaadi will take a step towards becoming a paperless entity, whilst improving collaboration, efficiency and optimizing its supply chain constrictions.
Considering Khaadi is one of Pakistan's largest retail brand in the fashion sector, and its ambitions can be assessed from the fact that it has gone onto establish several outlets abroad including one in Dubai and Abu Dhabi, UAE and then in London.
A detailed featured piece by Profit,  has conducted a deep rundown into the founding of Khaadi, its growth and expansive journey towards becoming a billion dollar fashion conglomerate. There are also talks of Khaadi seeking a listing on the Pakistan Stock Exchange (PSX) since 2011, said the article.
Speaking on the occasion, Asif Peer, CEO, Systems Limited said "We are excited about our strategic partnership with Khaadi, and are looking forward to accelerating their global expansion campaign. The range of expertise that Systems brings to the table is unique in the region, and our experience in implementing technology on a global scale is second to none. Our seasoned business consultants and technical experts have totally re-imagined Khaadi's customer journey and back-office processes, which will further enhance their brand recognition and profitability."