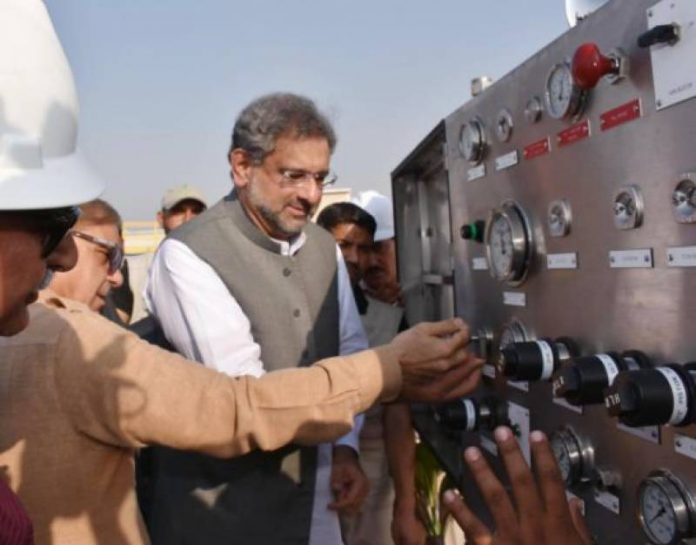 By MARYAM GILANI
KARACHI: Oil and Gas sector in Pakistan has seen phenomenal growth since the independence in 1947 when oil quantities produced were scarce and there was no gas production. Over the past half-century, the petroleum industry has played a significant role in national development by making large indigenous gas discoveries. These sources are supplying gas to consumption centres through a collective transmission and distribution network of about 90,900 kilometres. Pakistan meets about 100 per cent of gas and 17 per cent of oil demand from local sources.
Oil and gas are major components of Pakistan's energy mix meeting over 80 per cent of energy needs and therefore, successive governments since independence have attached high priority to this sector. Pakistan's commercially exploitable energy resources consist of natural gas, oil, coal and hydropower. The country's current yearly primary energy supply is about 66.02 million tons of oil equivalents.
Foreign investment is fully protected under foreign investment protection law of 1976 passed by the Parliament, under which the government guarantees full safeguard to foreign investments in Pakistan. The governments have been providing policy package of liberal incentives to enhance exploration activities in the country, the latest of which was introduced in 2012.
October 13, 2017, shall be remembered as an important day in the history of oil exploration in Pakistan as PM Abbasi inaugurated oil and gas well project Jhandial-one at Jhandial in Attock. This is one of the largest oil and gas discoveries in the area struck by Pakistan Oil Fields Limited.
It is the first major discovery of the Pakistan Oilfields Limited (POL) in the last five years.
Jhandial well is located in Ikhlas Block in Northern Potohar, about 83 kilometres Southwest of Islamabad in District Attock. The Jhandial discovery is expected to contribute to the country's energy sustainability while also having a positive impact on the future of exploratory efforts in the block and surrounding areas. The well was drilled to a total depth of 18,497 feet to test the Eocene and Paleocene carbonate reservoirs.
During tests, a significant amount of hydrocarbons (oil and gas) were discovered with flow rates of 21 million cubic feet of gas and 2,520 barrels of oil per day at choke size of 40/64 at wellhead flowing pressure of 3,768 psi. The American Petroleum Institute (API) gravity of the oil is around 40ø and the gas has a rich calorific value of 1,161 British Thermal Units per standard cubic feet of gas.
The gas composition analysis indicates that it contains about 86 per cent methane, 7.2 per cent ethane and 2.9 per cent propane. The LPG content of the gas is about 2.5 metric tons per million cubic feet of gas.
The well will be connected to the production line in around a fortnight and will gradually attain full potential. The POL holds 80 per cent share in the block whereas the Attock Oil Company (AOC) has a 20 per cent share.
Geological experts are of the opinion that the block from where the discovery has been made was located in a prospective but geologically complex area surrounded by a number of significant oil discoveries. The drilling of the deep exploratory well Jhandial-1 was proposed after acquisition and interpretation of 3D seismic data.
Pakistan is presently under several external challenges. Its relationship with nearly all neighbouring countries, except for China, is frosty. In these insinuating circumstances least dependence on other countries, especially for energy needs, is vital for Pakistan. This is the reason why the Government is encouraging investment in the exploration of Oil and Gas. Pakistan, so far, has attracted about $ 10 billion worth of foreign investment in the exploration and development sector over the last four years which was also a record despite historically low global oil and gas prices.