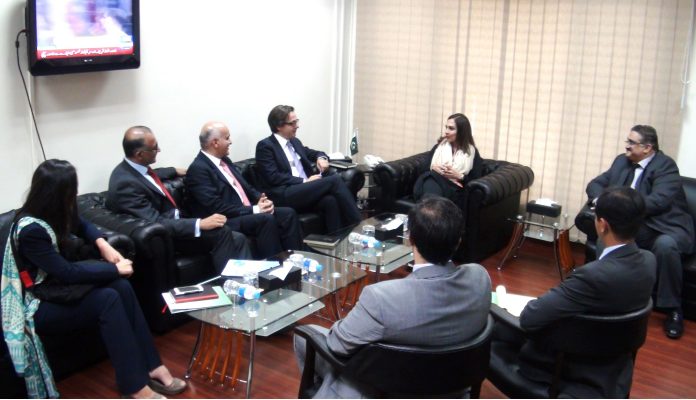 ISLAMABAD: Benazir Income Support Programme (BISP) and WB on Saturday discussed the progress of various ongoing initiatives of BISP and the design and implementation of new interventions aimed at expanding the scope of the programme for the welfare of BISP beneficiaries.
Minister of State and BISP Chairperson MNA Marvi Memon, during a meeting with a team of World Bank (WB), the development partner of BISP, led by South Asia Region Social Protection and Jobs Practice Manager Stefano Paternostro at BISP headquarters said that BISP empowered women financially and politically by introducing the pre-condition of having valid CNICs to be eligible for financial assistance of BISP.
Other participants of the meeting included BISP Secretary Omar Hamid Khan, Iftikhar Malik, Senior Social Protection Specialist Amjad Zafar Khan, Senior Economist Yoonyoung Cho, Senior Economist Syed Amer Ahmed, and Ali Qureshi from WB among senior officials of BISP.
Marvi Memon also said that it is imperative that the conditions of birth registration forms, vaccination, and steps against malnutrition be put in place for Unconditional Cash Transfer (UCT) programme to bring health revolution and to curb the menace of malnutrition, stunting and low IQ levels among beneficiary children.
During the meeting, BISP team gave a briefing on the national rollout of BISP resurvey for National Socio-Economic Registry (NSER) update and enrollment of 1.7 million children in primary schools in 32 districts under Waseela-e-Taleem and plan for its expansion to 18 more districts in March 2018. Besides those, conversion of payment mechanism to Biometric Verification System (BVS) in 43 districts, and plans of countrywide conversion to BVS also came under discussion.
BISP secretary highlighted the importance of graduation strategy and reiterated that it was high time for the scheme to adopt a graduation model so that beneficiaries may be pulled out of poverty by making them self-sufficient through skill development and entrepreneurship. He also pointed out that two graduation models were under consideration which included ADB funded models and Harvard-MIT model.
ADB funded models include Comprehensive Coaching Model and Inclusive Business Model while Direct Cash Transfer Model is part of Harvard-MIT-LSC Model.
Stefano Paternostro appreciated the progress of BISP initiatives and stated that BISP is one of the priority programmes of WB, and it is very keen to expand the social protection agenda in Pakistan for the welfare of the underprivileged. He ensured that WB, being development partner of BISP and having global experience of social protection, would continue providing assistance and expertise in the progress of ongoing initiatives and in the design and implementation of new interventions.