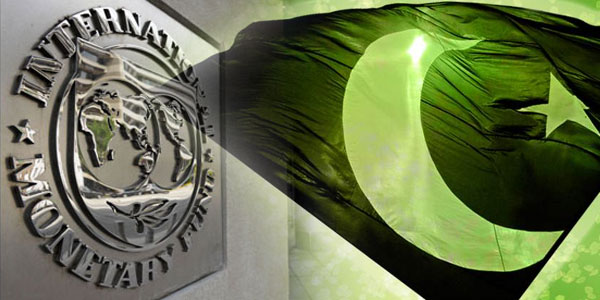 ISLAMABAD: International Monetary Fund's (IMF) delegation visiting the country has finished its first round of discussions regarding the country's economy with their Pakistani counterparts on Friday.
The second round of talks are expected to start on December 13th-14th, reported Dawn.  The first round of successful talks between IMF team and Pakistan was followed by State Bank of Pakistan's decision to allow the rupee to depreciate in the inter-bank and open market on Friday.
After months of market rumours of an imminent rupee devaluation, the SBP finally relented to the pressure and Friday decided to let the currency exchange rate be determined by market forces.
This move was plotted in anticipation of materialization of $2.5 billion receipts raised from Eurobonds and Islamic Sukuk bond last month. The rupee fell to Rs110 a dollar on Friday before recovering back to close at Rs107.
IMF voiced worries over health of Pakistan's external sector, but the governments had views contrary to those offered by the Washington-based lender. The IMF delegation will compile a report of its assessment over the weekend and provide it to Pakistani officials on Monday for further deliberation and discussions.
IMF delegation headed by Harald Finger is set to visit Lahore next week and will hold talks with Chief Minister Shahbaz Sharif including provincial authorities and independent observers.
Government authorities are off the view that currency adjustment would help shift foreign currency holdings being held in commercial banks over $6 billion back to official reserves. It would also help in diversion of remittances back to official channels, which will reduce deficit among official, banking and open-market rates.
Furthermore, estimates linked to CPEC-related repayments are within range regarding debt sustainability analysis, which had already been discussed about, said an official. Over $23 billion of projects were in several stages of implementation, which includes $17 billion in energy sector by private sector and $6 billion projects are in the road sector.
A positive report from IMF regarding the country's economic health is expected to be good for international finance institutions and investment atmosphere. Both IMF and their Pakistani counterparts have seen recent raising of $2.6 billion via international debt markets had been very positive and was carried out without assistance of the Washington-based lender.
IMF Director Middle East and Central Asian Department (MCD) Jihad Azour is set to join his team for the concluding round of talks next week, while Pakistan will continue to be represented by Shahid Mehmood.
There is a possibility of a meeting being arranged between Prime Minister Shahid Khaqan Abbasi and IMF delegation, contingent on gaps in policy positions, a source shared.
IMF's post-programme monitoring (PPM) will remain applicable on Pakistan till 2023 due to having borrowed way higher than its allotted limit.