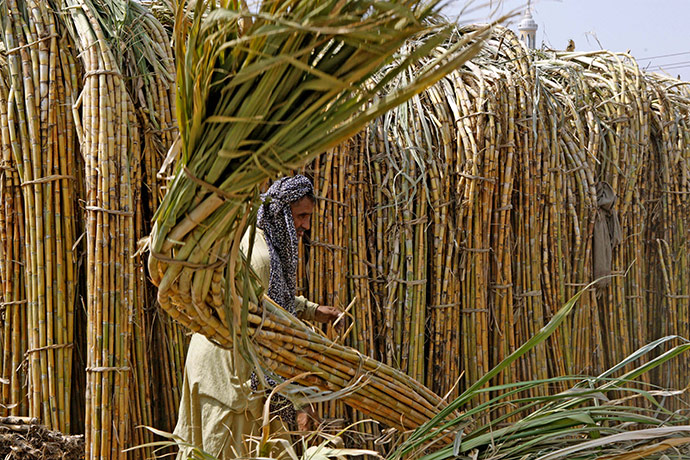 ISLAMABAD: National Food Security and Research Minister Sikandar Hayat Bosan called upon the provincial governments to ensure purchase of sugarcane from the growers at official fixed rates of Rs 180 per 40 kg in order to protect and safeguard them from any exploitation.
Addressing a press conference, here on Thursday the minister said that under Sugar Control Act 1950, all the provincial governments were responsible for fixing the price of sugarcane as well as monitoring the implementation of the official rate. Besides, he said that under the act, the provincial governments were also responsible for making all the arrangements to start crushing on time to ensure maximum rate of return to growers.
He said that after the 18th constitutional amendment, agriculture was a provincial subject and the provincial governments were fixing the price of the sugarcane adding that they should fulfil their commitments.
However, he said that some ministers of the cabinet of the Sindh province were trying to create a misconception about the federal government regarding the export subsidy provided by the federal government on export of sugar and attributing the current crisis with the federal government.
He said that due to surplus stocks of sugar in the country, the government had allowed the millers to export about 1.5 million tonnes of sugar and decided to provide subsidy adding that the federal government was bearing the 100 per cent of subsidy cost.
The provincial ministers were trying to put the responsibility of current sugarcane crisis on the federal government as the Sindh information minister said the previously that the issue was created due to non-provision of subsidy on sugarcane.
He clarified that government was providing subsidy on sugar exports at the rate of Rs 10.49 per kg, adding that it was not providing any subsidy on the purchase of sugarcane. He informed that sugarcane growers of Sindh were facing problems from last three years as they were not provided with the proper price of their produces. He said that the sugar mills of upper Sindh areas and Rahim Yar Khan District were purchasing sugarcane from growers on official fixed rates and millers of other areas must follow them and pay the proper price to the farmers for their produces.
The minister further informed that about 7.5 million tonnes of sugar production was expected this year as against 7 million tonnes produced last year, adding that domestic sugar consumption was recorded at 5.3 million tonnes.
The crop production has witnessed about 20 per cent increase as it had surpassed the targeted area by 2.5 per cent and it was expected to achieve about 85 million tonnes of sugarcane during current crop season, he added.