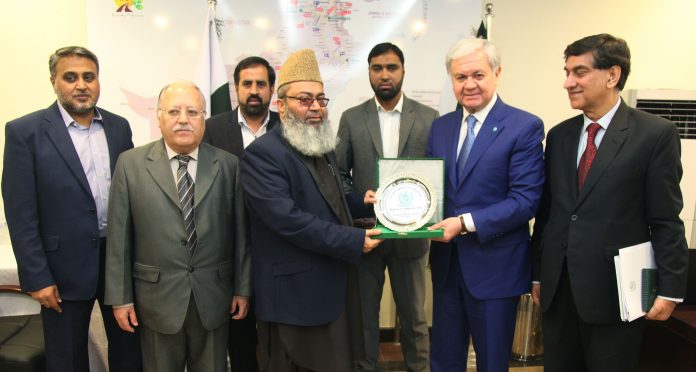 ISLAMABAD: Minister for Communications Hafiz Abdul Karim said on Tuesday that Pakistan's entry into Shanghai Cooperation Organisation (SCO) will further strengthen its relations with the member states and will help bring economic and political stability in the region.
During a meeting with SCO Secretary General Rashid Alimov who called on him here, the minister said that expansion of road infrastructure in SCO would help bring economic and political stability and improve security situation of the regional countries. He said Pakistan shares with SCO and its members, deep-rooted historical and cultural links and strong economic and strategic relations.
Rashid Alimov said that communications and transport sector is one of the key areas in the enhancement of mutual cooperation among the SCO member states.
He informed that the annual summit of the member states of the SCO, held in Dushanbe, Tajikistan witnessed the signing of the intergovernmental agreement of the SCO member states on the facilitation of international road transport. This agreement is expected to significantly promote regional and sub-regional connectivity and integration, in particular, the revitalisation of the ancient Silk Road, he remarked.
The agreement opens more than 15,000 km of Asian highway routes for transport operation and services, with the longest route stretching more than 9,000 km from Saint Petersburg, Russia to Lianyungang, China. The agreement will also develop landlocked Central Asia's access to the sea by road through China and Russia.
Communications Secretary Furqan Bahadur Khan said that Pakistan is ready to take all measures to further expand cooperation with all member states. He said that present government is focusing on transport sector as it is a vital link in enhancing exports. About China-Pakistan Economic Corridor (CPEC), he said that it is a flagship project and provides a natural link with SCO states.
Later National Highway Authority (NHA) Chairman Jawad Rafiq Malik gave a briefing about the road infrastructure projects in the country.
While apprising the SCO secretary general about the road infrastructure development plan initiated by the present government in the country, he said that although China-Pakistan Economic Corridor (CPEC) is a bilateral project in nature it can integrate people of South Asia, China and Central Asia for shared goals of development and prosperity.
He informed the meeting that under the early harvest CPEC projects, 118 km Thakot-Havelian project is to be completed in March 2020 and 392 km Sukkur-Multan Motorway is likely to be completed by August next year. He further informed the meeting that there are three more projects in the pipeline which include 136 km Raikot-Thakot section of Karakoram Highway, 210 km Yarik-Zhob road and 110 km Khuzdar-Basima section.
He said that NHA is also planning to dualise Peshawar-Jalalabad Highway and start work on Quetta-Kandahar road and link Iran with Gwadar through Naukundi-Mashkhel-Panjgoor Highway.
He said that when the present government came to power in 2013 only 582 km motorway was functional but it started work on 1700 km new motorway projects which would become operational by end of 2019 enhancing the total length of motorways to 2400 km. About Central Asia Regional Economic Cooperation (CAREC), he said Pakistan has a unique geographic location, at the crossroads of Central
Asia, the People's Republic of China, and South Asia, that provides a unique potential and opportunity for the country to become a regional transport and trade hub.