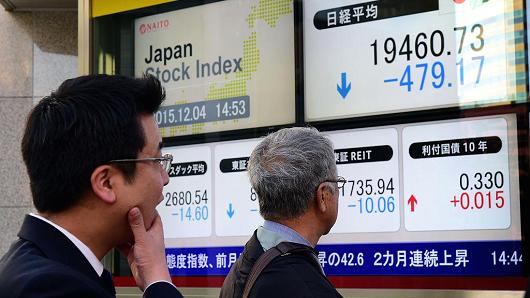 SYDNEY: Asian shares rebounded on Friday as comments from a Federal Reserve official eased worries about faster rate rises in the United States, while the safe-haven yen held on to its gains amid heightened volatility across markets.
Financial markets have fluctuated wildly this month as investors fretted about how fast the Fed might raise rates in the wake of data showing a pick-up in U.S. inflation.
Even though broader U.S. price pressures still appear modest for now, markets are now fully pricing in three rate hikes this year, one more than was seen just a few months ago, and some analysts now expect four.
That in turn has stoked anxiety that many central banks will start to tighten policy and raise borrowing costs, which will hit corporate earnings, which have boomed thanks to a synchronized uptick in global growth.
MSCI's broadest index of Asia-Pacific shares outside Japan climbed 1 percent, adding to the previous week's 3.9 percent gain.
It is still down more than 4 percent in February so far, however, after global equity markets were mauled at the start of the month by worries that inflation is picking up.
Japan's Nikkei edged 0.4 percent higher and South Korea's KOSPI index rose 1.1 percent. China's SSE Composite index and the blue-chip CSI300 each rose 0.7 percent.
All Asian markets except Philippines eked out gains following a sell-off on Thursday after minutes of the Fed's last meeting showed policy makers were confident about the economic outlook. That prompted some investors to boost the chance of faster rate hikes.
St Louis Fed President James Bullard tried to tamp down of expectations of four rate hikes in 2018, instead of the widely anticipated three, saying on Thursday policymakers need to be careful not to increase rates too quickly because that could slow the economy.
That was enough to send U.S. shares rallying, despite the negative lead from Asia and Europe. On Wall Street, the Dow added 0.7 percent, the S&P 500 ended a tad firmer while the Nasdaq lost 0.11 percent.
The Fed had caused a so called "taper tantrum" in May 2013 when it signaled it was time to stop pumping cash into the U.S. economy, a move that created havoc in financial markets particularly Asia.
But analysts are more upbeat about the outlook for Asia despite prospects of rising U.S. inflation and rates.
Analysts expect the market to be in a "holding pattern" ahead of a slew of important U.S. January activity data on Tuesday, followed by global surveys on manufacturing activity on Thursday.