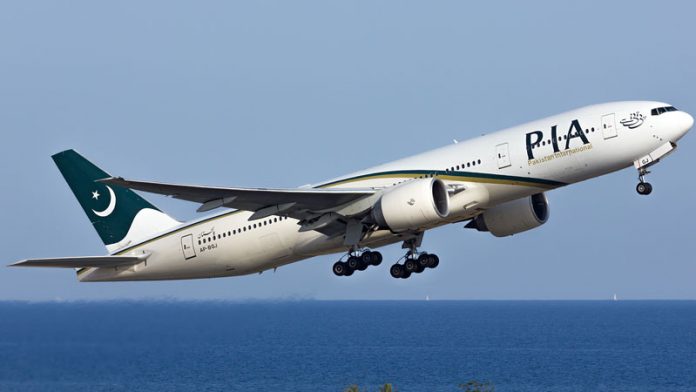 ISLAMABAD: The governments federal cabinet Tuesday gave go-ahead for sale of 49 percent shares (linked to flight operations and related management) of Pakistan International Airlines (PIA).
Decision pertaining to sale of Pakistan Steel Mills, were also taken during the cabinet meeting chaired by Prime Minister Shahid Khaqan Abbasi on Tuesday, reported an English daily.
In a statement issued by the PM's spokesperson, the cabinet during its meeting approved recommendations of Cabinet Committee for Disposal of Legislative Cases (CCLC) in the meeting held on Feb 22nd and Cabinet Committee on Privatization (CCOP) on Feb 16th respectively.
These proposals included privatization plans of PSM and PIA. PIA had already been converted into a public limited company, PIACL in 2016 and per the PIAC Act, 2016, the authorities are bound to conclude privatization process by April 15th, 2018.
According to the Privatization Commission, a restructuring plan has been prepared for execution, which will outline separation of core and non-core businesses of PIACL.
Also, a financial and corporate restructuring has been finalized and will be executed by April of this year as per requirements of PIAC (Conversion) Act, 2016.
Regarding PSM's privatization, the CCOP deliberated Privatization Commission's suggestion of entering into a concession agreement with investors on revenue sharing basis which was discussed during a Feb 16th meeting.
Yet the Prime Minister directed the PC to deliberate all options available and lay out a comprehensive plan for resolving employee related problems.
In a press briefing on Tuesday, Advisor to Prime Minister on Aviation Sardar Mehtab Ahmed Khan said the financial restructuring plan of PIA would help it break-even by 2020 and efforts were underway to separate and non-core businesses.
When enquired about Roosevelt Hotel, New York sell-off, Mr. Khan said the government would decide whether to privatize it or not at an appropriate time. Also, when asked about absconded German ex-CEO Bernd Hildenbrand, he stated the FIA was investigating the matter and PIA's management was also following the case.