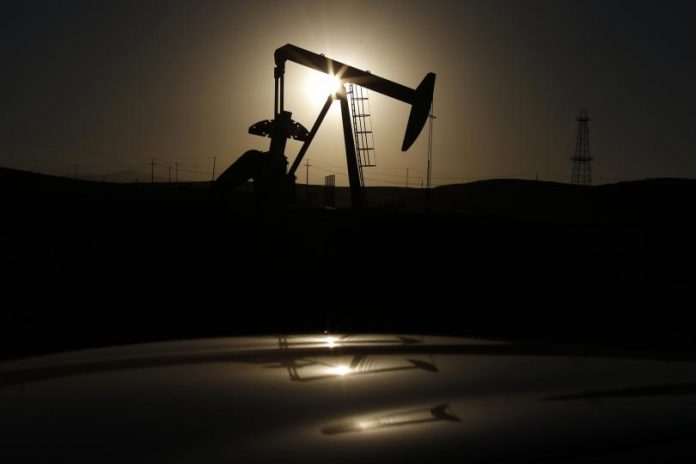 NEW YORK: Oil prices fell about 2 percent on Friday after U.S. President Donald Trump threatened new tariffs on China, reigniting fears of a trade war between the world's two largest economies that could hurt global growth.
Trump said on Thursday he had ordered U.S. trade officials to consider tariffs on an extra $100 billion of imports from China, escalating tensions with Beijing.
China warned on Friday it was fully prepared to respond with a "fierce counter strike" of fresh trade measures if the United States follows through on Trump's threat.
Brent crude futures settled down $1.22 at $67.11 a barrel. U.S. West Texas Intermediate (WTI) crude futures fell $1.48 to $62.06 a barrel, a 2.3 percent loss.
Brent crude dropped 2.8 percent in the week while U.S. crude fell 4.4 percent, the biggest weekly decline since early February.
U.S. stock indexes also fell on trade war jitters, which weighed on oil prices. Crude futures have recently tracked with equities.
OPEC member Libya's oil output is at around 1.05 million barrels per day despite a continuing outage since February at its 70,000 bpd El Feel oilfield, a Libyan oil source told Reuters on Friday.
U.S. drillers added 11 oil rigs in the week to April 6, bringing the total count up to 808, the highest level since March 2015, General Electric Co's Baker Hughes energy services firm said in its closely followed report on Friday.
The Permian basin in Texas is leading the way as U.S. oil production has reached an all-time high, but the prolific output is causing bottlenecks as pipelines transporting the crude have filled up more quickly than expected, depressing prices in the region.
Some market participants are still optimistic on the oil sector.
U.S. crude inventories unexpectedly fell last week, data showed on Wednesday.
Russian Energy Minister Alexander Novak said that an arrangement under which Moscow cooperates with the OPEC oil group could become indefinite once a current deal to curb oil production expires at the end of the year.
The Organization of the Petroleum Exporting Countries and other large oil producers led by Russia have agreed to curtail their combined output by around 1.8 million barrels per day until the end of 2018 to smooth out bloated oil inventories.
OPEC and its allies should keep the cuts to ensure healthy price levels as a way to boost investment in the industry and avoid a supply and price shock in the long run, Qatar's energy minister said.
Asian oil traders are stumped by how Saudi Arabia derived its official selling prices (OSP) for May after the world's top oil exporter unexpectedly raised the price for its flagship Arab Light crude sold to Asian refiners.