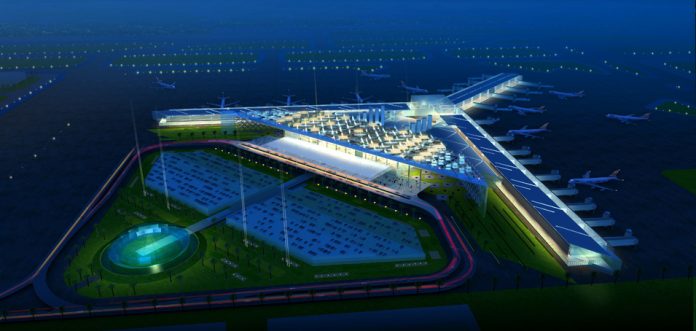 ISLAMABAD: Adviser to Prime Minister on Aviation Division Sardar Mehtab Ahmed Khan on Thursday inaugurated Pakistan's largest and most advanced Fuel Farm Facility at the New Islamabad International Airport (NIIAP) on Thursday. The facility is jointly developed by Pakistan State Oil (PSO), the nation's largest Oil Marketing Company (OMC) and Attock Petroleum Limited (APL), a progressive OMC.
Addressing the inauguration ceremony as the chief guest, Sardar Mahtab said that the New Islamabad International Airport was the first Greenfield airport of the country and it will be operational for international and domestic flights in April. He said that the Airbus 380, the world's largest passenger jet can easily be landed at the New Islamabad Airport. While acknowledging the leading public sector company of Pakistan, he said the Pakistan State Oil has been fuelling the needs of the nation and has been driving the wheels of the national economy. He said the fuel facility is a big step forward in effectively meeting the growing fuelling needs of the aviation industry and is all set to effectively serve the largest airport in Pakistan.
He said this facility will not only set new benchmarks for Pakistan's aviation industry but also serve as a backbone to this airport, ushering in a new era of resilience and steadfastness.  "I appreciate the efforts of PSO and APL to serve the aviation industry by setting up this huge, state-of-the-art Fuel Farm Facility. This shows some serious commitment from both players to their mission of ensuring seamless fuel supply to the aviation sector", he added. While congratulating PSO and APL on this big achievement he assured that the government will extend the best of its support to them in all endeavors meant to positively impact Pakistan's aviation sector and overall economic development.
On this occasion, PSO MD and CEO Sheikh Imranul Haque said that for decades, PSO has been fueling the nation and today we have strengthened our leadership position further in responsibly meeting the fueling needs of the Pakistani aviation industry.  "We feel extremely delighted and proud in launching the country's largest and most advanced Fuel Farm Facility at the largest and most advanced airport of Pakistan", he said.
He also congratulated Attock Petroleum Limited too for this impressive joint feat where they utilised their own experience of developing state-of-the-art infrastructure for storage, handling, and delivery of petroleum products. He said PSO stays committed to its mission of ensuring a seamless supply of quality fuel products to every corner and industry of the country which we will continue to pursue with greater fervor."
Attock Oil Group of Companies Group Chief Executive Shuaib Anwar Malik said at the ceremony that the Fuel Farm Facility is a huge step in the direction of efficiently fueling Pakistan's aviation sector. "We are proud to indigenously set up this state-of-the-art facility that redefines aviation services within Pakistan", he further added.
Adviser to PM Sardar Mahtab also inspected the different sections of the fuel facility. A detailed briefing was given to the adviser on this occasion. The adviser informed that the Fuel Farm facility at NIIAP is equipped with robust storage capacity, maximum product pumping ability to refuel multiple aircraft in minimal time, latest detection, firefighting and alarm systems, which makes this facility the most advanced and largest fuel farm of the country.
The fuel Farm facility at NIIAP will be serving Pakistan's largest airport and ensure smooth and efficient delivery of quality products. He also apprised that covering an area of 12 acres, the Fuel Farm Facility is compliant with local and international standards including JIG, NFPA, API as well as the CAA for the receiving, storing, filtering, pumping, and testing of aviation fuels.
Furnished with a smart refueling system comprising of automation, safety interlocks, automatic detection and response, and quality control features, the Fuel Farm supports the hydrant refueling system of NIIAP which is Pakistan's largest airport refueling system with a 14km hydrant line of 14-inch diameter and 55 hydrant pits to fuel aircraft round-the-clock.
It was also briefed that the facility's smooth operations are ensured by offloading bays equipped with 600 USGPM pumps, a storage capacity of 10,000 metric tons with 3 vertical API 650-compliant tanks, a 3,600 USGPM product pumping system, and highly advanced refueling equipment comprising 8 Hydrant servicers. The fuel farm also features modern monitoring and control systems such as Motor Control Center (MCC), Human Machine Interface and Digital Control System, Public Address System, main and back-up power supply, API Separator, and a test rig for aviation equipment.