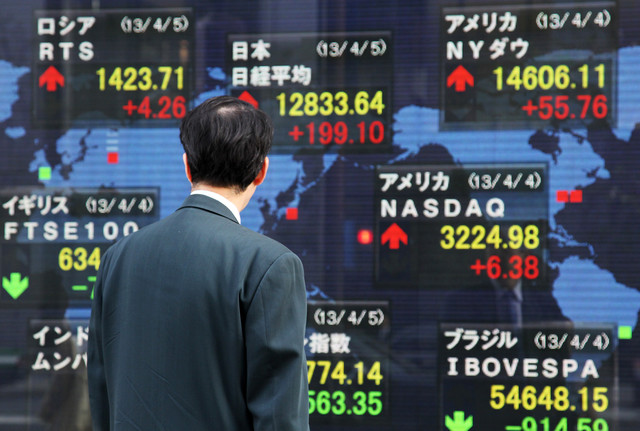 HONG KONG: Asian shares rose, and oil prices touched fresh multi-year highs on Thursday as improving optimism about the global economy helped investors shake off worries about geopolitical risks for the moment.
KEEPING SCORE: Japan's benchmark Nikkei 225 index rose 0.2 percent to 22,207.17 and South Korea's Kospi added 0.2 percent to 2,484.22. Hong Kong's Hang Seng jumped 1.3 percent to 30,667.47 and the Shanghai Composite in mainland China gained 0.9 percent to 3,119.42. Australia's S&P/ASX 200 advanced 0.3 percent to 5,881.40. Shares were higher in Taiwan and most of Southeast Asia.
GLOBAL ECONOMY: The Federal Reserve's latest beige book survey found the outlook for the world's No. 1 economy remains positive as growth continues at a moderate pace, though trade tensions with China are an increasing concern. U.S. crude oil stockpiles fell sharply, according to the latest report on inventories, in a sign of stronger than expected demand that sent crude prices to a new three-year high. The price of crude was also supported by news reports citing industry sources saying Saudi Arabia would be happy to see it hit $100 a barrel.
TRADE TENSIONS: President Donald Trump and Japanese Prime Minister Shinzo Abe said they agreed to start talks on a new "free, fair and reciprocal" trade agreement after two days of meetings in Florida. Abe failed to get the exemption from U.S. metal tariffs for Japan that he had hoped for but some analysts said the outcome signaled that Trump was taking a more conciliatory stance on trade. In Beijing, a Commerce Ministry spokesman said China hopes trade frictions with the U.S. won't escalate but that "China has prepared for all the possibilities."
WALL STREET: Major U.S. benchmarks finished mostly higher. The S&P 500 index rose 0.1 percent to 2,708.64. The Dow Jones industrial average 0.2 percent to 24,748.07. The Nasdaq composite gained 0.2 percent to 7,295.24.
ENERGY: Oil futures extended their rally. Benchmark U.S. crude was at its highest since December 2014, rising 31 cents to $68.78 a barrel in electronic trading on the New York Mercantile Exchange. The contract rose $1.95, or 2.9 percent, to settle at $68.47 per barrel on Wednesday. Brent crude, used to price international oils, added 42 cents to $73.90 per barrel in London.
CURRENCIES: The dollar gained to 107.42 yen from Wednesday's 107.24 yen. The euro rose to $1.2377 from $1.2375.