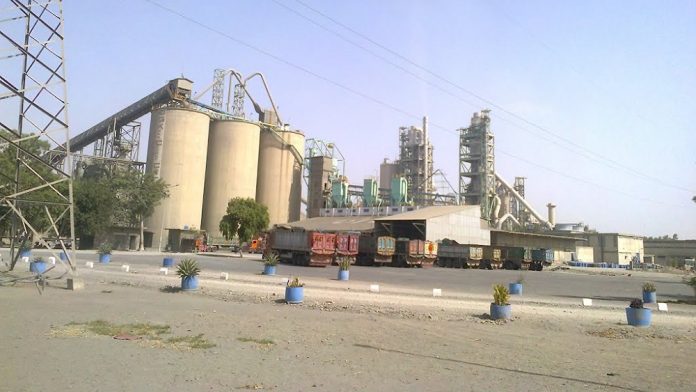 LAHORE: D.G Khan Cement on Wednesday announced it had finalized the installation of Pakistan's biggest cement plant situated at Hub, Baluchistan.
In a notification sent to the stock exchange, D.G Khan Cement Company Limited said "has completed the installation of Pakistan's largest cement plant at Hub, Baluchistan. The largest vertical cement grinding mill with cope drive has started trial operations together with cement silos and packing plant. Also, successful commissioning has been completed in raw material crushing, transportation and storage departments.
The cement produced in the trial run is being dispatched to customers. The announcement of commercial production will be made in due course of time"
Last December, a fake notification made rounds on social media and Whatsapp regarding a Chinese cement company's interest in acquiring 40 percent shares of D.G Khan Cement which aroused a frenzy in the stocks fraternity circle.
The fake notification alleged China's largest cement manufacturer Anhui Conch Cement Company Limited was interested in acquiring 40 percent stake in D.G Khan Cement.
This notice much akin to fake news experienced virality like crazy and started circulating which created a furore among brokerage houses, investors alike who went ahead and bought shares of D.G Khan in anticipation of its share price surging, which saw its trading volume touching a then seven-week high.
D.G Khan Cement's share price also rose and touched a high of Rs126.85 before declining to Rs124.3 by end of trading that day.
The company then issued a rebuttal, terming the document as entirely fake/fabricated," The Company has neither issued any such letter nor has received any such interest from any of the Chinese or other investor", the notification read.
D.G Khan added, "We request Pakistan Stock Exchange and Securities and Exchange Commission of Pakistan to carry out a necessary investigation of this Fake/Fabricated Letter which is a cyber-crime."
D.G. Khan Cement Company Limited produces and sells clinker, ordinary Portland, and sulphate resistant cement, having a production capacity of 14,000 tons per day.
The company also exports its products to Afghanistan, India, South Africa, Sri Lanka, and other African countries. It is owned by Nishat Group and is headquartered in Lahore, Punjab.
D.G Khan Cement shares were trading at Rs130.99, down Rs0.40 ( -0.30 percent). KSE-100 index was trading at 42,828.81 points, up 83.99 points from Tuesday's close.