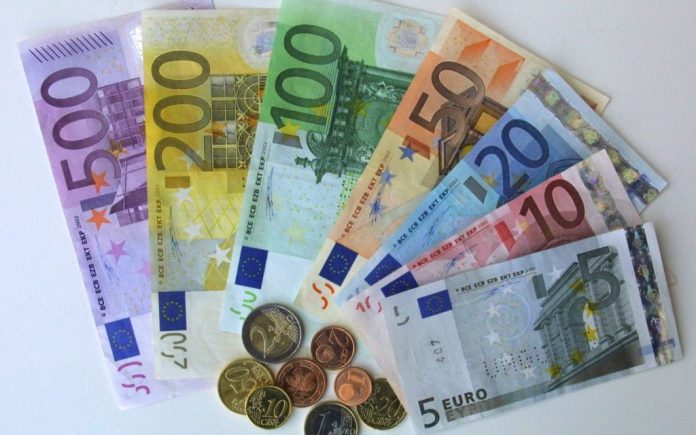 LONDON: The euro fell on Wednesday as concern about an escalating trade conflict boosted the dollar and the yen, while the Chinese yuan slumped to a six-month low.
Worries that a full-blown trade war will break out between Beijing and Washington continued to weigh on currencies and sent Chinese stocks hurtling lower, despite data showing profits rose at China's industrial companies.
The euro slipped in European trading, under pressure from the trade conflict, the threat of a political crisis in Germany and uncertainty over a European Union summit. The single currency dropped 0.1 per cent to $1.1633 EUR= after earlier falling to $1.1622, its weakest since June 22.
The yen, a prominent gauge of investor risk aversion, gained. The dollar edged higher, its index against a basket of currencies up 0.1 per cent at 94.765 .DXY.
"This trade dispute … will remain a big driver of currency markets," said an analyst at Commerzbank, Thu Lan Nguyen. "Within Europe specifically, the focus is on the EU summit this week. I don't see the euro exchange rate going one way or another in particular until you see some clarity on the summit."
A row over migration within Germany's governing coalition will also limit gains for the single currency.
Underlining investor caution about trade, equity markets in Asia slipped across the board on Wednesday and stock markets in Europe opened weaker.
The offshore yuan fell to as low as 6.6195 CNH=D3 CNY=CFXS, its weakest since December after the People's Bank of China (PBOC) lowered the currency's midpoint to its weakest in six months for the sixth straight day.
The yuan fell on expectations that Beijing would let it weaken further to soften the impact of tariffs imposed by the United States.
Against the dollar, the yen rose 0.2 per cent to 109.79 yen JPY=.
Societe Generale analysts said in a note they expect trade tensions to continue, weighing on growth globally and meaning the best of the current economic cycle is probably behind us.
"The dollar looks set to do well against EM (emerging market) currencies, do little against the euro, but lose ground to the yen," Societe Generale's Kit Juckes said.
The 10-year U.S. Treasury's yield US10YT=RR slipped to 2.8492 per cent, keeping dollar demand in check. The yield has been confined to a 15-basis-point range in June after fluctuating by nearly 40 basis points in May when it touched a seven-year high of 3.128 per cent.
Expectations that U.S. interest rates will rise just as the European Central Bank is pushing back its planned rate increases have been a key driver for a two-month rally in the dollar.
The trade-sensitive Australian dollar earlier fell 0.3 per cent to $0.7371 AUD=D3, edging back toward last week's 13-month low of $0.7345. It later recovered and traded down 0.1 per cent at $0.7381.