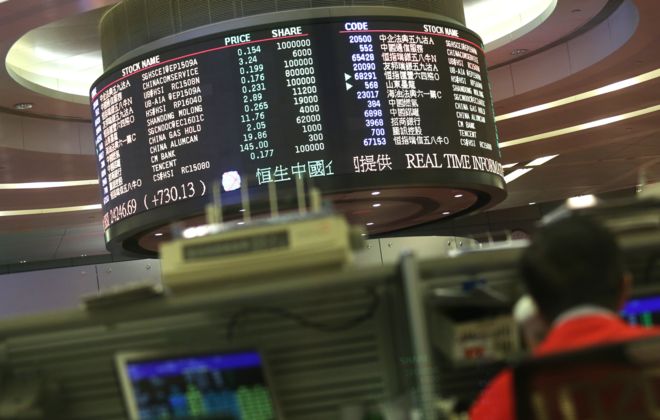 SINGAPORE: Asian markets were mixed on Thursday, as White House statements on trade left investors divided on whether the administration was interested in soothing tensions with China.
KEEPING SCORE: Japan's benchmark Nikkei 225 index dropped 0.4 percent to 22,177.58 and South Korea's Kospi lost 0.6 percent to 2,327.22. Hong Kong's Hang Seng rose 0.4 percent to 28,469.94 and the Shanghai Composite in mainland China gained 0.3 percent to 2,821.15. Australia's S&P/ASX 200 added 0.2 percent to 6,209.70. Taiwan's benchmark rose but Southeast Asian indexes were mixed.
WALL STREET: Major U.S. benchmarks finished lower. The S&P 500 index erased an early-morning jump to close 0.9 percent lower at 2,699.63 on Wednesday, its lowest closing level in nearly a month. The Dow Jones industrial average lost 0.7 percent to 24,117.59. The Nasdaq composite dipped 1.5 percent to 7,445.08.
MIXED U.S. MESSAGES: U.S. stocks opened higher after President Donald Trump dropped plans to impose strict limits on Chinese investment in U.S. technology companies on Wednesday. He urged Congress to strengthen existing laws that apply to all foreign countries instead. But the gains evaporated after Larry Kudlow, Trump's top economic adviser, said in an interview with Fox Business that it should not necessarily be viewed as a softer stance. The U.S. is set to impose a 25 percent tariff on billions of dollars of Chinese products starting July 6. In response, China will raise import duties on $34 billion worth of American goods.
ENERGY: Oil futures settled down after rallying on a report that showed U.S oil inventories dropping more sharply last week. Benchmark U.S. crude fell 21 cents to $72.55 a barrel in electronic trading on the New York Mercantile Exchange. The contract gained $2.23 to settle at $72.76 per barrel on Wednesday. Brent crude, used to price international oils, fell 9 cents to $77.37 in London.
CURRENCIES: The dollar eased to 110.17 yen from 110.20 Japanese yen in late trading Wednesday. The euro ticked up to $1.1571 from $1.1557.