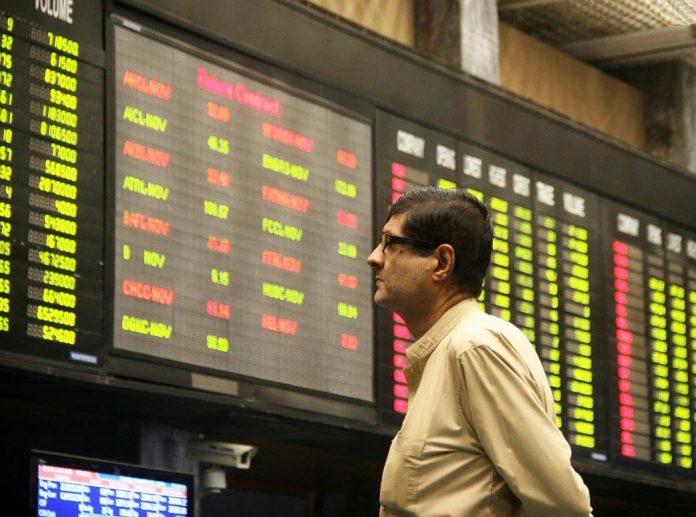 LAHORE: The Pakistan Stock Exchange (PSX) finally entered its recovery phase on Wednesday. Market bulls continued their hold for another session, meanwhile, indices kept moving uphill from the start of the day.
The KSE 100 touched an intraday high of 40,968.69 after gathering 964.92 points the index finally ended the day at 40,897.90. The KMI 30 index was up by 2.51 per cent and finally settled at 68,063.07. The KSE All share index managed to gain 512.84 points and ended at 29,730.87.
The market volume was up by a whopping 72.25 per cent from the previous session and was recorded at 247.55 million. Engro Polymer and Chemicals Limited (EPCL+4.99 per cent) touched its circuit breaker and were the top traded stock with a volume of 10.31 million. Fauji Cement Company Limited (FCCL +4.44 per cent) was next with 10.01 million shares exchanged. Followed by Fauji Foods Limited (FFL +1.36 per cent). The script had 9.72 million shares exchanged.
Fertilizer sector was on the rise after Urea price rose Rs50.00 to Rs1,630 – 1,640 per bag. The sector topped up its market capitalization by 2.16 per cent with Engro Fertilizer Limited (EFERT +1.42 per cent) and Fauji Fertilizer Company Limited (FFC +2.47 per cent) both ending as gainers.
The cement sector gained 4.33 per cent in its cumulative market capitalization. D. G. Khan Cement Company Limited (DGKC), Lucky Cement Limited and Fauji Cement Company Limited (FCCL) appreciated by 4.96 per cent, 4.19 per cent and 4.44 per cent respectively. Whereas, Cherat Cement Company Limited (CHCC +5.00 per cent) and Pioneer Cement Limited (PIOC +5 per cent) touched their upper locks. The recent rise in price of cement bag contributed to renewed investor interest.
The technology and communication sector saw an appreciation of 4.72 per cent in its market capitalization. TRG Pakistan Limited (TRG), NetSol Technologies Limited (NETSOL) and Systems Limited (SYS) gained 4.98 per cent, 5.00 per cent and 5.00 per cent respectively. While Pakistan Telecommunication Company Limited (PTC +4.41 per cent) also ended the day in green.
Moreover, PTC announced its second-quarter financials on Wednesday. The company has approved Rs1.00 as the interim cash dividend per share. The company's sales and earnings per share have increased by 1.14 per cent and 5.71 per cent respectively QoQ.
Market participation for the KSE 100 index increased to 131.27 million shares from 86.06 million in the previous session (+52.54 per cent on daily basis). Major contribution to total market volume came from EPCL (+4.89 per cent), FCCL (+4.44 per cent) and FFL (+2.23 per cent) churning 30.05 million shares out of the All Share volume of 247.83 million shares.
Daily traded value for the KSE 100 index increased to $51.12 million from $37.55 million in the previous session (+36.12 per cent); DGKC ($4.15 million), HBL ($2.76 million) and FFL ($2.54 million) were among top contributors from traded value perspective. Major contribution to the KSE 100 index upside came from HBL (+3.92 per cent), UBL (+4.48 per cent), LUCK (+4.19 per cent), ENGRO (+2.22 per cent) and FFC (+2.47 per cent) adding 306 points.
On the flip side, NESTLE (-3.98 per cent) and PMPK (-5 per cent) took away 29 points. The KSE 100 index is 8.5 per cent above its 52-week low of 37,736.73 reached on December 12, 2017, and 13 per cent below its 52-week high of 47,241.17 reached on August 4, 2017.
Technically speaking, the KSE 100 index extended gains from the previous session to close above 20EMA (40,797) and while doing so staged a breakout. Next resistance is at 41,898 (10 Week EMA) and 41,963 (50EMA on daily charts), meanwhile immediate support at 40,465.