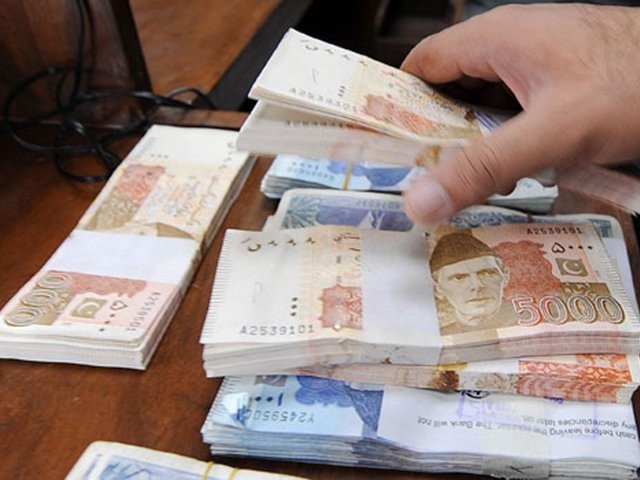 ISLAMABAD: Whoever wins next week's election in Pakistan will have to urgently resolve a currency crisis that threatens to put the brakes on the fast-growing economy, with the most likely solution being another bailout from the International Monetary Fund (IMF).
Pakistan's economy expanded at 5.8 percent in the last fiscal year, its quickest pace in 13 years, but the rupee currency has been devalued four times since December. Interest rates have been raised three times.
A sharp increase in oil prices – Pakistan imports about 80 percent of oil needs – has contributed to a current account deficit that widened 43 percent to $18 billion in the fiscal year that ended June 30. The central bank's defense of an overvalued rupee has led to foreign reserves plunging to just over $9 billion last week from $16.4 billion in May 2017.
"Nobody thinks there is another option but to go to the IMF," said Ehsan Malik, chief executive of the Pakistan Business Council, a body representing about 60 major Pakistani businesses.
Pakistan is forecasting economic expansion to hit 6.2 percent in the financial year ending June 2019, but the IMF sees it stumbling to 4.7 percent.
The deterioration in macroeconomic fundamentals has dented the economic credentials of the staunchly pro-business party of jailed former premier Nawaz Sharif, providing ammunition to rival Imran Khan, a former cricketer whose populist pitch includes plans for an "Islamic welfare state".
The two parties are running neck and neck in opinion polls.
The economy, however, has not featured heavily in campaign rhetoric, with Khan focusing on an anti-corruption drive and Sharif's Pakistani Muslim League-Nawaz (PML-N) party portraying the vote as a referendum on democracy amid claims of meddling by the powerful military.
Pakistan's old ally, China, and its banks provided additional loans of several billion dollars in recent months that were used to defend the foreign currency reserves.
Pakistan would already have been in an IMF program if it had not received this "undeclared Chinese bailout", according to Asad Umar, widely tipped as new finance minister if Khan's PTI party takes power.
Umar told Reuters that to urgently stabilize Pakistan's economy "any and every option will be looked at, including IMF", and PTI would seek to end the boom-and-bust cycles that keep roiling Pakistan's economy.
Turning to China for a rescue package is "one of the options", added Umar. "The decision will have to be taken very quickly. There's just no time left."
Miftah Ismail, who was the PML-N finance minister from December until a caretaker government took over in late May, told Reuters he'd prefer to avoid turning to IMF as "people of Pakistan don't want us to go…and we can possibly avoid it".
Instead, Ismail said the government could raise debt on the international market to get by, while hoping that a current revival in exports would accelerate, helped by the rupee's 20 percent devaluation since December.
NO OPTIONS
The current currency crisis is near-identical to one in the run-up to the last election in 2013, which was won by Sharif. Weeks after taking power, PML-N obtained a $6.7 billion IMF bailout.
Analysts are skeptical about Pakistan plugging an external financing gap of about $20 billion without the IMF, and most doubt China will want to enmesh itself deeper into the country's messy finances.
But the new government will have to sharply rein in spending if it opts for another IMF program, to reduce the 6.8 percent fiscal deficit in the $305 billion economy.
"These parties are coming with big promises," said Saad Hashemy, local brokerage Topline Securities' director of research. "The IMF will want to clamp down on the fiscal deficit and this will leave very little room for next government to fulfill its populist promises."
For most of PML-N's tenure, the economy gathered steam as militant attacks waned and businesses regained confidence. Greater electricity supply revived industries crippled by years of energy shortages. Falling oil prices also offered a reprieve.
But internal pressures were building due to the "strong rupee" policy of former PML-N Finance Minister Ishaq Dar, who kept the rupee level against the dollar for years even as emerging market neighbors India and Bangladesh allowed their currencies to weaken.
Pakistani textile and other manufacturers saw their competitiveness eroded. Exports floundered even as imports began surging, intensifying the shortage of dollars in the economy.
The four rupee devaluations have sparked a mini-recovery in exports. But many of Pakistan's export businesses remain uncompetitive, and investment is badly needed.
Energy sector reforms are also needed to lower electricity prices, loss-making state utilities need to be privatized, and the new government must try to achieve what all predecessors have failed to do: convince more people to pay tax in a nation with one of the world's lowest tax-to-GDP ratios.
The IMF applied the kid-glove treatment to Pakistan in 2013 and allowed it to skip many painful reforms. But analysts say Islamabad is unlikely to get such leniency again after falling out with the United States, a key voice at the IMF.
"When the IMF comes in, they demand structural reforms," said Shamoon Tariq, fund manager with Swedish Tundra Fonder investment firm. "We would love to see those reforms."