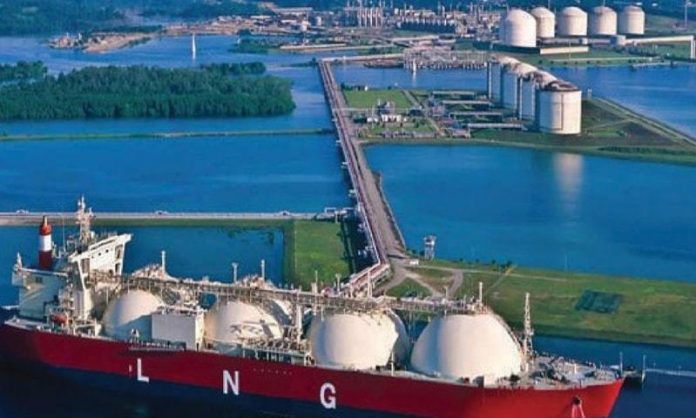 LAHORE: Engro Corporation has finalized the terms to divest 29 percent of its stake in Elengy Terminal Pakistan Limited (ETPL) to Vopak for $38 million.
In a notification sent to the Pakistan Stock Exchange (PSX) on Friday, Engro Corporation said it "engaged in discussions with Vopak LNG Holding B.V. (VOPAK) for the proposed sale of up to twenty-nine percent (29%) of the entire issued and paid-up share capital of Elengy Terminal Pakistan Limited (ETPL)."
It added "accordingly, as of the date hereof, ECORP and VOPAK have finalized the terms on which the Proposed Transaction will be consummated, which terms have been incorporated under the Share Purchase Agreement executed by and between ECORP and VOPAK as of 19th July 2018.
In terms of the share purchase agreement, the consideration payable by VOPAK to ECORP for the purchase of twenty-nine percent (29%) shares of ETPL will be $38 million subject to certain adjustment mechanisms set out under the Share Purchase Agreement."
"This new step in our cooperation gives Vopak an excellent entry in the growing Pakistan LNG market," Eelco Hoekstra, Chairman of the Executive Board and Chief Executive Officer of Vopak, said in a statement.
"This fits very well our ambitions to grow and diversify our service offering in LNG."
The transaction is expected to close in the fourth quarter, Vopak said.
In a comment to Profit, Capital Stake Director Research Maha Jafer Butt said "This comes as another divestment after Engro Foods recently. The company is already a cash-rich company and the sale is likely to strengthen its balance sheet further."
"Engro is expected to show a one-off gain on its earnings similar as in the case of Engro Foods," said Maha.
Furthermore, Engro said consummation of the proposed transaction in terms of the SPA would be subject to procuring inter-alia applicable regulatory and corporate consents.
While speaking to Profit, Saad Hashemy Director Research Topline Securities said "We estimate potential gain on sale from this transaction of Rs6.4/sh. ENGRO has 80% stake in ETPL at book value of Rs1.6bn.
This will likely be recognized in the company's unconsolidated P&L only as ENGRO is retaining controlling stake."
"As per our estimates, ETPL's contribution to ENGRO's consolidated earnings is Rs3-3.5/sh. The above stake sale will result in an immediate net reduction in recurring earnings of around Rs0.5/sh (after accounting for the amount of investment in short-term paper). However, this amount from stake sale will likely be reinvested by ENGRO, said Saad.
While speaking to Profit, Adnan Sheikh Pak Kuwait Investment Co AVP Research said: "They would likely invest these small proceeds in short-term debt securities, as they are still figuring out what to do with their much larger cash pile from the sale of Engro foods."
He added, "They have been conducting numerous feasibility studies on various sectors but still have not pinpointed an investment avenue yet. Basically, this amount is only Rs5 billion and Engro Corp has a cash pile of over Rs 64 billion."
Elengy Terminal is Pakistan's first liquefied natural gas (LNG) terminal which commenced operations in 2015.
It comprises of an LNG jetty and a pipeline connected to a Floating Storage and Regasification Unit (FSRU) and leased by ETPL for a duration of fifteen years.
Engro Vopak Terminal Limited is a joint venture of Royal Vopak of The Netherlands and Engro Corporation Limited.
It has provided world-class service to the growing chemical and petrochemical industry of Pakistan since 1997.
Elengy Terminal Pakistan Limited (ETPL) operates a terminal for storage, handling, regasification, treatment, and processing of liquefied natural gas (LNG), re-gasified liquefied natural gas (RLNG), liquefied petroleum gas (LPG).
The company was incorporated in 2012 and is based in Karachi and it operates as a subsidiary of Engro Corporation Limited.
Engro Corp shares closed trading at Rs321.89, down Rs1.36 (0.42 percent). KSE-100 index ended trading at 41,221.75 points, down 573.84 points (-1.37 percent) on Friday.