MD is about to get on a plane at Karachi Airport. His destination: London's Heathrow Airport. He could have chosen several airlines that would have taken him there, including a direct flight on the state-owned Pakistan International Airlines. But, as most readers have probably guessed by now, that is not the airline he is flying. Instead, he is stepping into an Emirates plane, a Boeing 777 which will take him to Dubai, where he will board an Airbus A380 directly to London.
As Pakistan continues to liberalise its airspace based on its Open Sky policy, the three major airlines from the Gulf Arab countries – Emirates, Etihad, and Qatar Airways – look set to benefit, taking market share in the lucrative international long-haul travel sector away from the already struggling local players.
MD may be fictional, but people like him are not. As incomes rise among Pakistani households, the country's upper middle class is now increasingly able – and more than willing – to travel internationally.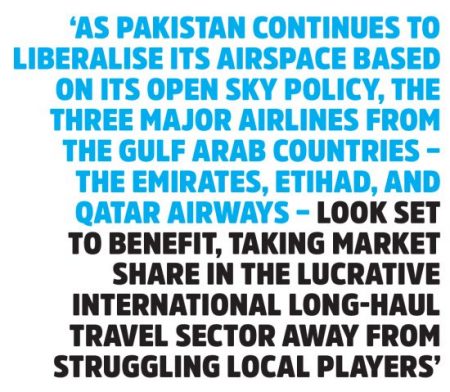 Pakistan's overall aviation market has expanded by an average of 4.4% per year in terms of the number of passengers in the 10-year period between fiscal year 2007 and 2017, according to data from the Civil Aviation Authority (CAA). Nearly all of that growth has come from a rise in international travel by Pakistanis. The total number of international passenger flights (number of passengers in each flight) rose by an average of 7.3% per year during that same period, compared to an average of just 0.3% per year for domestic passenger flights.
The bulk of that growth, however, appears to have been captured by foreign airlines, with local airlines, particularly the national airline PIA struggling to keep pace. In 2006, for instance, the Gulf carriers operated 90 flights a week from Pakistan. By 2013, they were operating 250 and by 2015, that number went up to 395, while all Pakistani registered airlines operated only 55 weekly flights to United Arab Emirates (UAE).
The Open Sky policy was initiated in 1992 during Nawaz Sharif's government and has been continued thereafter by subsequent governments, but one that many local aviation experts, in particular, those affiliated with the PIA, are not in favour of.
"The open sky policy creates problems. We are against it," says PIA Chief Executive Officer (CEO) Musharaf Rasool Cyan, insisting that Gulf airlines that are heavily subsidised by their respective governments and enjoy cost advantage over local airlines.
The argument that the Gulf airlines have an unfair advantage is belied by a simple fact, however: of the three airlines with the fastest growth in international passenger traffic to and from Pakistan, two are domestic airlines that just happen to not be PIA. Shaheen Air International has seen the fastest growth in its international passenger traffic since 2007, growing at an average of 22.7% per year, while Air Blue has registered a growth in its international passenger traffic by 18.8% during that same period. By comparison, PIA has seen its international traffic go down by 0.8% per year on average between 2007 and 2017.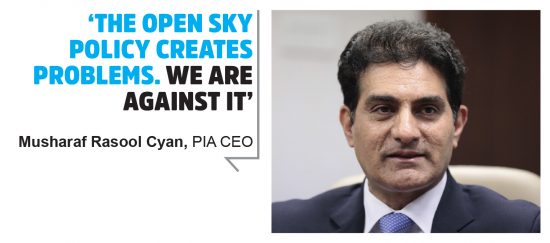 Indeed, measured both by international passenger traffic and total passenger traffic, PIA is the worst performing airline in Pakistan. Only PIA and Kuwait Airways carried fewer passengers to and from Pakistan in 2017 than they did in 2007.
Emirates and A380s
In the international market for the period January-December 2017, Emirates share stood at 15 percent, with PIA's share only a mere 7 percent greater, standing at 22 percent. According to industry sources, Emirates share is expected to increase as it plans to use its Airbus A380 aircrafts on the Dubai to Islamabad route.
"An A380 aircraft carries approximately 615 passengers – much greater than the load carried by the Boeing 777s currently used by Emirates on the route. If the CAA allows Emirates to operate the existing weekly schedules without restricting them to the capacity they were carrying prior to the start of A380 operation to Islamabad, then all Pakistan registered airlines would no longer be viable for continued operation," says Malik Tariq Ali, an aviation expert.
Malik Tariq Ali appears to believe that the local industry needs a strong dose of protectionism from the CAA, despite the evidence suggesting that the only airline that is struggling is PIA. "What should happen is that Emirates frequencies on the Islamabad-Dubai route should be cut down according to the capacity increase on each flight to ensure a level playing field for the domestic airlines. Nothing of the sort, however, is under consideration," he said.
Currently, Emirates operates Boeing 777 aircrafts on its 13 weekly flights to Islamabad.The Boeings have a capacity of 427 seats. By replacing the Boeings with the much larger Airbus A380s, Emirates is hoping to fly in more passengers without having to apply for extra flights on the route, further solidifying its competitive advantage. PIA, on the other hand, operates 14 weekly flights on the same route using the much smaller A320 that can seat a miniscule 168 passengers in comparison.

According to sources in PIA, the existing Air Service Agreement (ASA) of Pakistan with foreign carriers is primarily based on the number of weekly flights. Apart from granting weekly flight capacity, many countries like India and Japan also put a cap on the maximum number of passengers to be carried by designated airlines of other countries – something that PIA officials believe CAA should consider. Contacted for its response on the issue, the CAA did not respond to Profit's repeated requests.
Interestingly, the Airbus A380 aircraft is a long-haul aircraft and is not designed for short routes such as the three-hour Dubai to Islamabad flight. According to aviation experts, the Airbus A380 is most economical if it operates on routes exceeding 8 to 9 hours flying time.
"By operating on short to medium sectors the A380 landing cycles are likely to expire before their hull life. Dubai may be able to absorb this additional impact because of its foreign exchange reserves and revenues generated from tourism etc," says Malik Tariq Ali.
The Emirates / Airbus symbiosis
Yet there may be a method to the madness of the Emirates' decision to fly the A380 on the shorter Dubai to Islamabad flight. And that has to do with the symbiotic relationship between Emirates and Airbus, the manufacturer of the A380.
The A380 is the world's largest passenger airliner, and given its design for long-haul travel, it can only really be used by airlines that have a bulk of their traffic going on long-haul flights. While there are theoretically many possibly customers for the aircraft, in practice, there has been one big one: Emirates.

As of June 2018, a total of 228 Airbus A380s have ever been produced, and Emirates owns 104 of them. And of the 62 orders for the A380 that Airbus currently has on its order book, 58 are for Emirates. Indeed, so important a customer is Emirates for the A380 that when it did not place a new order for A380s at the Farnborough Airshow in the UK in December 2017, there was immediately speculation that Airbus may be forced to shut down production on the A380 altogether.
The reason for Emirates declining to place an order is interesting: Emirates wanted Airbus to guarantee that the A380 would remain in production for at least the next 10 years, and preferably 15 years. Emirates realised that it had staked the future of its growth on a single aircraft, a risky proposition with few other buyers of that aircraft, and no guarantees that the manufacturer would continue to produce it.
After talks between Emirates and Airbus broke down in December 2017, it appeared that the fate of the A380 was sealed. Then, in early July, Emirates announced that it would fly the A380 on the short-haul Dubai-Islamabad route.
While the two developments appear unconnected, it is plausible to assume that Emirates is doing Airbus – and itself – a favour by collecting data on how the A380 performs on short-haul flights. If the A380 performs well on the short-haul routes, that data can be used by Airbus to begin marketing the A380 as a more versatile aircraft than it is currently perceived to be. That, in turn, may get the manufacturer more customers placing orders for it, which would allow them to continue the plane's production – an event that would greatly benefit Emirates.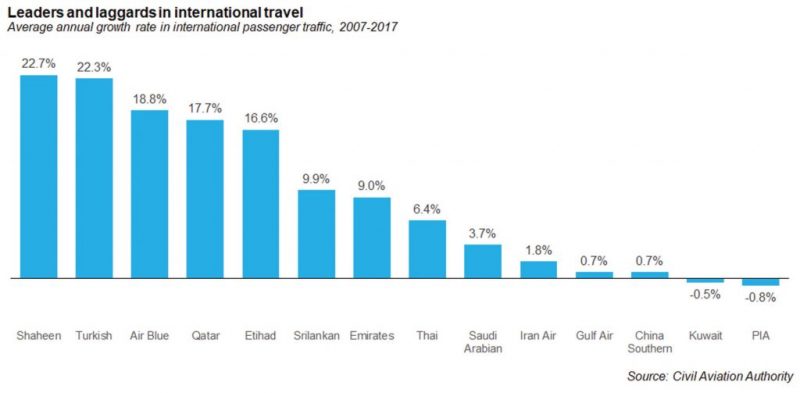 In other words, Emirates has built its competitive advantage on having more A380s than any other airline, but in order to sustain that competitive advantage, it now needs more of its competitors to buy the A380, and it may actively be collecting data on short-haul flights to help Airbus sell more of that aircraft.
Aggressive pricing strategies
Hamaad is an Emirati businessman living in the UAE. He frequently travels by Emirates between Dubai and New York for business trips. However, instead of taking a direct flight to New York from Dubai, he prefers flying to Karachi and then books a flight from there to New York, which would again take him back to Dubai, before finally flying off to New York. He does this because while a business class ticket from Dubai to New York costs around AED23,845 (PKR830,000), business class tickets from Dubai to Karachi and Karachi to New York combined cost around PKR490,000, hence saving him approximately AED9,700 (PKR340,000).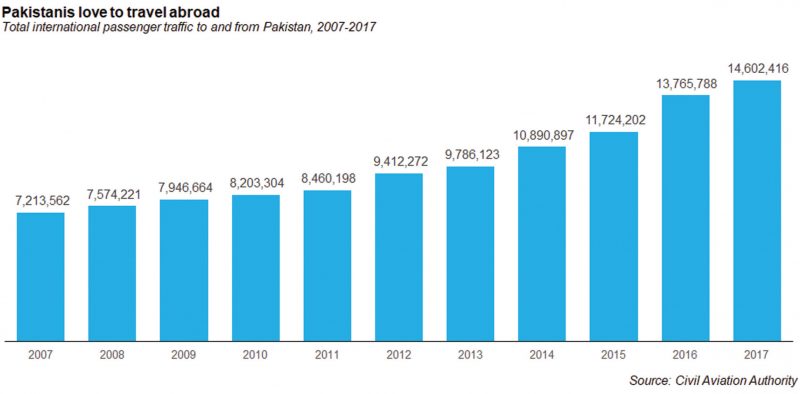 "You see how airlines make money on the longer routes, is by selling economy at a lower fare and really earning revenue from the business class, so unless you fill up the business class its very hard to make profits on longer hauls," explains the PIA CEO.
By attracting Emirati customers like Hamaad,  Emirates is able to fill up its business class on the longer routes, and hence is able to offer more aggressive pricing in the Pakistani market for economy class passengers travelling to and from Pakistan.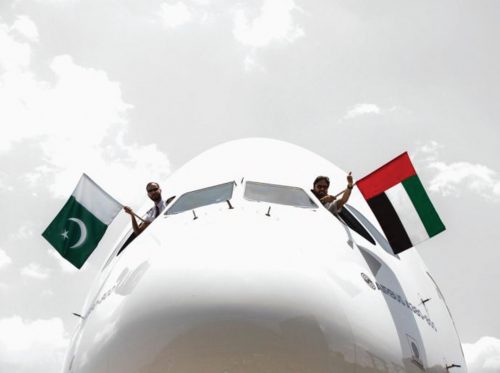 US travel woes
"Apart from the competition coming from Gulf airlines, PIA is required to make a stop in Europe (at Manchester) on all its New York-bound flights, since no airport in Pakistan Is cleared by the United States Transportation Security Administration (TSA) for direct flights to the US," says Abdulllah Haseeb Khan, PIA spokesperson.
Since a large component of the fuel cost is associated with landing and take off, the flight costs rose considerably, and the New York route became unfeasible for the national carrier which had to shut it down in October 2017.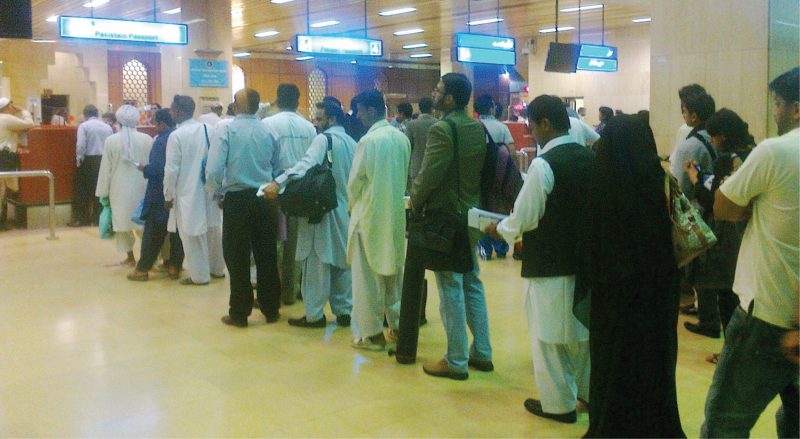 Now, with the advent of the A380 to Islamabad, and dramatically increased passenger capacity, PIA officials worry that the Gulf airlines, particularly Emirates, will take ever greater market share from them on the lucrative European routes.
"Islamabad is the hub for Europe and UK operations from Pakistan, which is a high-yield market. Their increase in capacity will force the market to lower the fares and yields will drop. As a result, it will severely impact the overall revenues of PIA and hence the financial crunch is likely to increase," read an official PIA statement in response to questions sent via an email.

ASAs and CAA
Even beyond the calls for protectionism, however, many local aviation experts and PIA officials believe that the CAA is not effective in negotiating equitable Air Service Agreements (ASA) between Pakistan and other countries. ASAs are agreements, frequently bilateral, that govern air traffic rules between two or more countries.
They point to an example from 2013, when Turkish authorities withdrew 5th freedom traffic rights for Pakistani airlines. Fifth freedom flights allow an airline from one country to operate flights between two different countries. So, in this case, the Turkish government had previously allowed Pakistani airlines to operate a flight from Istanbul, for example, to London, which would have allowed Pakistani airlines to not just refuel in Istanbul, but also pick up Turkish passengers flying to London as well. This right was taken away in 2013.
That same year, rather than pushing back against the Turkish curtailment of Pakistani flight rights, the CAA increased the number of allowed flights for Turkish Airlines from 7-a-week to 47 weekly flights.
Meanwhile, Japan has denied PIA's request for the removal of restrictions on capacity and fifth freedom carriage between Beijing and Tokyo and has refused to hold bilateral Air Services Agreement (ASA) talks, German authorities have restricted PIA to operate only up to four weekly flights, and despite repeated requests, the UK authorities do not allow more than 10 flights per week to London Heathrow.