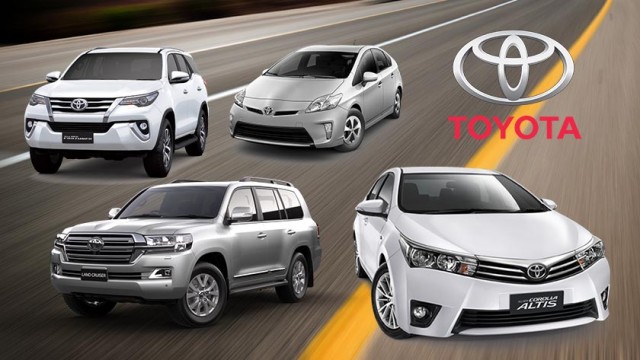 LAHORE: Indus Motor Company Limited (INDU), the manufacturer of Toyota cars in Pakistan posted profits of Rs15.772 million, surging 21 per cent year-on-year (YoY) from Rs13.001 million.
In the fourth quarter of FY18, the company's earnings surged by 50 per cent YoY and down 3 per cent quarter-on-quarter (QoQ) to Rs4.136 million.
Revenue saw a rise of 25 per cent YoY and this was largely attributable to an uptick in the sale of cars by 5 per cent to 63,068 against 59,945 units considering higher than projected sales of new Fortuner, which was up by 3 times YoY to 4,186 units.
Hilux sales escalated 27 per cent YoY, touching 7,470 units. And in the last quarter of 2018, topline growth of 43 per cent YoY and 9 per cent QoQ due to an increase in prices of all the car variants due to rupee depreciation and lastly sales growth of 17 per cent YoY and 2 per cent QoQ, touching 16,641 units.
The company gross margins during FY18 settled at 17.39 per cent, declining by 27 basis points YoY due to rise in steel prices and major rupee devaluation, however that was offset by an 8-12 per cent increase in car prices.
Indus Motor Company CEO Ali Asghar Jamali said, "We are committed to the Pakistani market and to our loyal customers who have shown great trust in our products year on year. We are delighted to announce a new investment of Rs3.3 billion to further enhance annual manufacturing productivity, resulting in increased capacity to 76,000 units"
Also, it's other income rose by 9 percent, touching Rs3.901 million because of a rise in short-term investment in T-bills.
Moreover, the board of directors gave go-ahead to capital expenditure of Rs3.3 billion to increase production capacity from 65,000 units to 76,000 units on a double-shift basis which is anticipated to produce great benefits in FY20-21.
Indus Motors declared a final cash dividend of Rs45 per share, resulting in a full year dividend of Rs140 per share.
Indus Motors ended trading at Rs1557.46, up Rs2.0 and KSE-100 index closed at 42,544.47 points, down 201.31 points on Monday.