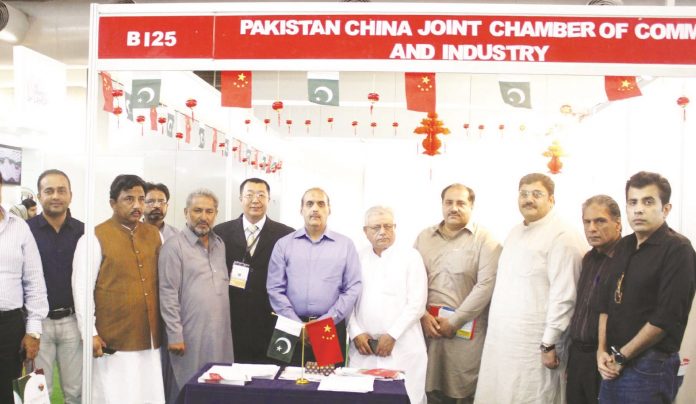 LAHORE: The Pakistan China Joint Chamber of Commerce and Industry (PCJCCI) conducted various business-to-business (B2B) meetings at the '6th Pakistan China Business Forum-Industrial Exhibition 2018'.
Addressing the occasion, PCJCCI Secretary General Salahudin Hanif, Shandong Laigong International Business Company CEO Fred Lio, Builder's Association Chairman Akbar Sheikh and Everest International Expo CEO Frank Fa were of a unanimous view that such B2B meetings will help develop smooth bilateral trade between Pakistan and China. The meeting was attended by members of the Chinese trade delegation as well as by Pakistani businessmen, investors and entrepreneurs.
During the inauguration of B2B sessions, Salahudin Hanif said, "These sessions will open new vistas of opportunities for Pakistani investors and their Chinese counterparts."
He especially emphasized the keen interest of Shandong Laigong International Business Company which is exhibiting excavator, forklift and wheel loader and other construction machinery at this expo.
Fred Lio on the occasion said, "We want to introduce innovative contemporary technology of Europe to Pakistan," adding that new construction machinery from China is equivalent to the price of used and old construction machinery at the moment being imported from Europe.
Builders Association Chairman Akbar Sheikh said China has been an incredible support to Pakistan at all times. "The constant assistance of China will do wonders for the emerging economic status of Pakistan and these B2B meetings will certainly have a positive impact on the business community," he added.
The B2B meetings were exclusively arranged by the members of PCJCCI to increase the scope of trade and investment in the abovementioned areas. It was observed that counseling with Chinese business community is mandatory to increase the quantum of trade and investment opportunities in Pakistan.
It is pertinent to mention that the three-day '6th Pakistan China Business Forum-Industrial Expo 2018' started on Friday. The event has been organised by Everest International Expo Pvt Ltd in collaboration with Comsats University Islamabad.
Punjab Governor Chaudhry Muhammad Sarwar opened the exhibition along with PCJCCI President SM Naveed, PCJCCI China Affairs Chairman Wang Zihai and Jinan Federation Deputy Director General Mi Wenpeng.
More than 500 Chinese participated in trade fair. The companies belonging to several sectors showcased their latest technology, equipment and innovative ideas of new products from all over the world.
Mi Wenpeng during the inauguration had stressed, "This business-to-business exhibition aims to be a one-stop shop for all industry products from processing technology to the finished products. Such exhibitions will help in developing bilateral relations between Pakistan and China. Jinan and Shandong are the two major parts of China which showed extreme enthusiasm for developing friendly trade relations between the both nations."