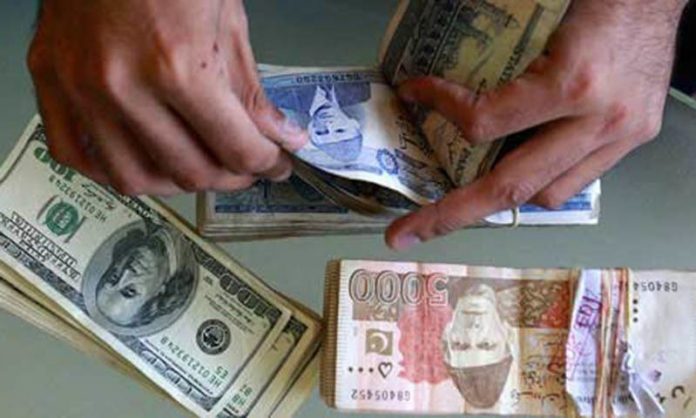 KARACHI: The downslide of the rupee has restarted, as it plummeted to two-month lows in the open market on Friday to trade at Rs126 against the US dollar.
Dealers said this fall was attributed to news that the International Monetary Fund (IMF) had suggested further depreciation of the rupee, reports Express Tribune.
The rupee closed trading on Friday in the range of Rs126.10-Rs126.80 against the greenback in the open market compared to Thursday when it closed at Rs125.50-Rs125.80.
However, the rupee has sustained its stability in the inter-bank market against the US dollar trading at Rs124.24 according to the State Bank of Pakistan (SBP).
The local currency has remained below Rs126 since the end of July when it appreciated against the greenback on news of Pakistan Tehreek-e-Insaf (PTI) winning the general elections.
According to Pakistan Forex Association President Malik Bostan, the rupee tends to lose value whenever Pakistan holds talks with the IMF.
Moreover, Mr Bostan told the local currency shed its value the next day after a news came on a private tv channel that IMF had suggested Pakistan let the rupee depreciate to Rs150 against the greenback and our authorities have agreed to take it down to Rs135.
Consequently, this created a hysteria and contributed to panic buying in the market (from individuals) which brought the rupee down against the US dollar and other major currencies, said Bostan.
An IMF delegation arrived on Thursday and is busy conducting a meeting with government authorities to review the country's economic performance.
Currency dealers have requested the government to remove unpredictability by revealing its plans regarding the IMF.
On Friday, Finance Minister Asad Umar in an interview to a private tv channel said that his government will look at all options, including going to the International Monetary Fund (IMF), given the economic situation of the country.
Giving remarks during a TV interview on Friday, the finance minister said, "I would like anyone to find any answer besides the one I am about to give — we will look at all options including going to the IMF given the situation, after which I will give my recommendation to the prime minister, who in turn can decide to act upon it or look to other avenues."