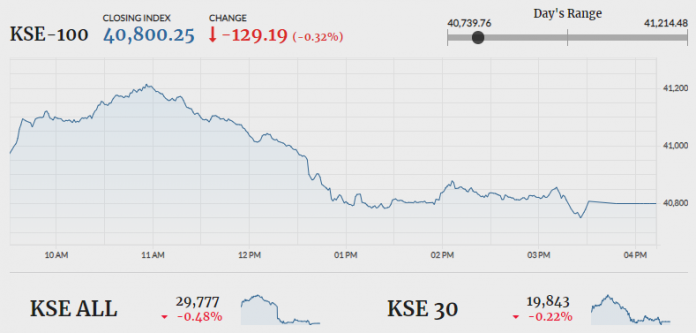 KARACHI: Investor confidence at the Pakistan Stock Exchange remained weak on Tuesday. Indices opened the session positive and just as the upward trend was about to become certain, they changed their direction and ended the day in red.
According to the latest data released by the Pakistan Bureau of Statistics (PBS), the core inflation increased from 7.7 per cent in August to 8 per cent in September.
The KSE 100 index climbed up by 285.04 points to touch intraday high of 41,214.48. It then fell by 189.68 points to touch intraday low at 40,739.76 just before the session ended. The index settled lower by 129.19 points at 40,800.25. The KMI 30 index appreciated by 237.98 points and settled at 69,240.31, while the KSE All Share index lost 144.13 points and ended at 29,776.86.
Trade volumes remained thin and were recorded at 106.51. Unity Foods Limited (UNTIY -2.91 per cent) continued to maintain its position among the volume leaders and was the top traded scrip with 9.23 million shares traded. TRG Pakistan Limited (TRG -1.37 per cent) and Bank AlFalah Limited (BAFL -1.92 oer cent) were next in line exchanging 8.04 million shares and 5.65 million shares respectively.
Nishat (Chunian) Limited (NCL +0.69 per cent) declared its financial results for Financial Year 2018 (FY18). A final cash dividend of Rs 4.00 per share was declared by the company. Sales surged up by 19 per cent YoY, while earnings per share improved from Rs6.75 in the preceding year to Rs9.84 in the current year. The management managed to reduce the administrative and other expenses by 6 per cent YoY and 35 per cent YoY respectively.
Hum Network Limited (HUMNL -6.41 per cent) released its financial performance for FY18. The company's revenue declined slightly by 0.74 per cent YoY whereas the earning per share depreciated by 28 per cent YoY (FY17 Rs1.07, FY18 Rs0.77).
Ideal Spinning Mills Limited (IDSM -12.58 per cent) also announced its results for the year ending 30th June, 2018. The company also announced a final cash dividend of Rs0.75 per share along with the financials. Sales appreciated by 23 per cent from the previous year. Earnings per share improved from Rs -11.83 in the last year to Rs 0.53 in the current year.