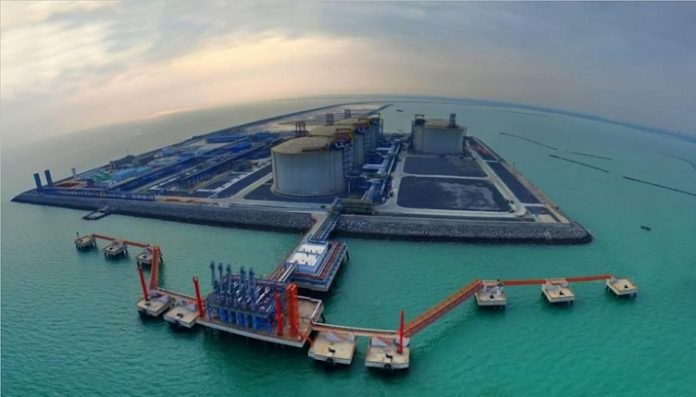 ISLAMABAD: The Petroleum Division initial findings on Engro Elengy Terminal Private Limited (EETPL) have been rebuffed by the government and instructed it to submit all details of the 1st LNG terminal set up by the company in Pakistan.
During a recent Economic Coordination Committee (ECC) meeting of the cabinet, the Petroleum Division submitted its findings which were deemed insufficient and instructed them to submit a comprehensive report on the LNG terminals setup in Pakistan, reports Express Tribune.
The ECC directed the petroleum division to provide details covering all facets with a link to agreements, capacity utilization, a collection of charges, equity involved and rates of return.
The petroleum division apprised the ECC regarding the LNG services agreement signed between Sui EETPL and Sui Southern Gas Company (SSGC) on April 30th, 2014 for a duration of 15 years and the terminal started functioning in March 2015.
Also, the ECC was told that contractual obligations of EETPL up to provide an annual average of 600 million cubic feet per day (mmcfd) of LNG and contractual quantity for the first year was 1.5 million tons per annum or an annual average of 200 mmcfd.
For the second to the 15th year, the contractual quantity of the company was 3 million tons per annum or an annual average of 400 mmcfd.
And another contractual quantity comes after the acquirement of an additional annual average of 200 mmcfd.
Moreover, the meeting was apprised capacity charges for the first year stood at $272,479 per day and capacity charges for 2-15 years stood at $228,016 per day.
The ECC was told that the EETPL's terminal capacity hadn't been unutilized till now and it observed information about the equity investment in the setting up of LNG terminals and rates of return was not provided in the presentation.
As per officials, the terminal had been operating at a low capacity of 400 mmcfd till December 2017 and the terminal had requested the government to permit utilization of the remaining 200 mmcfd capacity by the private sector, which would decrease the capacity charges.
But the previous PML-N government rejected the request and triggered in higher terminal charges of $1.45 million per million British thermal units which were passed on to consumers.