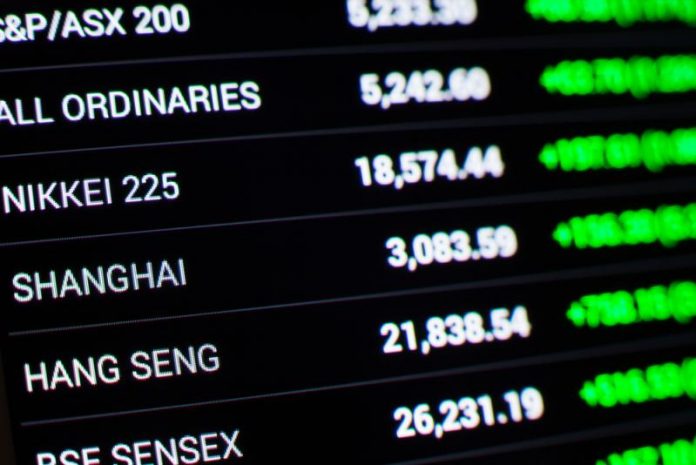 SHANGHAI: Asian stocks erased losses on Friday as China shares recovered after government statements sought to bolster market confidence following data showing the slowest Chinese economic quarterly growth since the global financial crisis.
The MSCI's broadest index of Asia-Pacific shares outside Japan was up 0.05 percent after earlier falling as much as 0.9 percent ahead of the release of China's latest GDP reading.
Australian shares fell 0.05 percent and Japan's Nikkei average was 0.7 percent lower, on track for its third straight week of declines.
China shares see-sawed but were up in early afternoon trade amid statements and signs of government support for the market. The Shanghai index, which in the morning fell to its weakest level since Nov. 21, 2014, was up 0.9 percent in the early afternoon. The blue-chip index was 1.2 percent ahead.
A weak Wall Street on Thursday had earlier set the tone for many Asian markets. The Dow Jones Industrial Average fell 1.27 percent, the S&P 500 lost 1.44 percent and the Nasdaq Composite dropped 2.06 percent.
China's economic growth in the third quarter slowed to 6.5 percent, its weakest pace since 2009 and below expectations, as a campaign to tackle debt risks and the trade war with the United States weighed on the economy.
GOVERNMENT SUPPORT?
Shares in China initially sputtered, then firmed as investors digested statements from senior regulators pledging support for private firms and companies facing liquidity problems.
China's banking and insurance regulator also said on Friday that it may allow bank wealth management subsidiaries to invest directly in stocks.
Analysts cautioned that China's economy would continue to face difficulties.
China's premier said this week that the economy faces increased downward pressure, but that government will take measures to stabilize growth amid the trade war.
In the latest trade war volley, the U.S. is requesting that a World Trade Organization dispute resolution panel look into tariffs imposed by China, the European Union, Canada and Mexico in retaliation to U.S. tariffs on steel and aluminium.
Further fraying market nerves, the European Commission on Thursday said a draft 2019 budget from Italy was in "particularly serious non-compliance" with EU rules, setting the stage for a possible unprecedented rejection of the country's fiscal plan.
On Thursday, the flight to safe-haven assets partly dampened rising U.S. Treasury yields. On Friday, however, the 10-year yield rose to 3.1807 percent from the U.S. close on Thursday of 3.175 percent.
The two-year yield, sensitive to expectations of higher Fed fund rates, rose to 2.8824 percent.
The euro was up 0.06 percent at $1.1459, having lost 1.3 percent in a month, while the dollar index, which tracks the greenback against a basket of six major rivals, was a touch higher at 95.936.
The dollar was up 0.16 percent against the yen at 112.36.
Oil prices ticked higher after falling on Thursday. U.S. crude was up 0.2 percent at $68.78 a barrel and Brent crude was trading at $79.43 per barrel, also 0.2 percent higher.
Spot gold gained 0.2 percent to$1,227.94 per ounce.