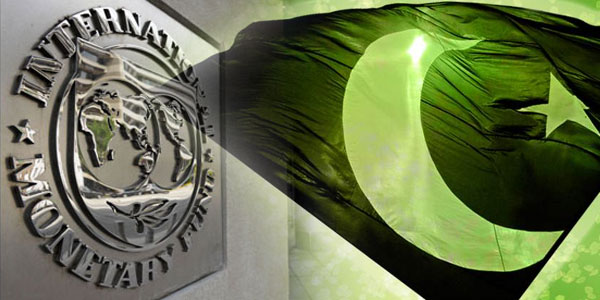 LAHORE: Despite getting a $6 billion bailout package from Saudi Arabia, Pakistan will still be seeking an International Monetary Fund (IMF) bailout.
According to a Bloomberg report, the Finance Ministry spokesman Noor Ahmed on Wednesday said, "Islamabad will now negotiate with the IMF from an improved position."
He added, "We'll have to go to IMF. The Saudi Arabian package "is something you strengthened your position for talks."
Mr Ahmed said an IMF programme will help boost discipline in the economy.
On Tuesday, Saudi Arabia agreed to give $3 billion for a year to Pakistan for averting a balance of payment crisis.
Also, it agreed to extend a one-year deferred payment facility for oil imports to Pakistan worth up to $3 billion.
Prime Minister Imran Khan who is visiting Riyadh to attend the Future Investment Initiative (FII) Conference is said to have signed these agreements in this regard.
On Tuesday far-reaching decisions on financial and bilateral cooperation were reached during the discussions held between Pakistani and Saudi officials, which included:
1) A Memorandum of Understanding (MoU) was signed between the Finance Minister Asad Umar and the Saudi Finance Minister, Muhammad Abdullah Al-Jadaan. It was agreed Saudi Arabia will place a deposit of US$ 3 billion for a period of one year as a balance of payment support
2) It was also agreed that a one-year deferred payment facility for import of oil, up to US$ 3 billion, will be provided by Saudi Arabia. This arrangement will be in place for three years, which will be reviewed thereafter.
3) The earlier visit of the Saudi delegation had evaluated the possibility of investing in a petroleum refinery in Pakistan. Saudi Arabia confirmed its interest in this project, and a MoU will be signed after obtaining cabinet approval.
4) Saudi Arabia expressed interest in the development of mineral resources in Pakistan. For this purpose, the Federal Government and the Government of Balochistan will consult, following which a delegation of the Kingdom will be invited to visit Pakistan.
Last week, rating agency Moody's had projected Pakistan's gross external financing needs at around $30 billion for the fiscal year 2019, due to the widening current account deficit.
According to the rating agency, the current account deficit for FY19 would total 4.6% of GDP which would be slightly narrower than the 5.8% deficit clocked in FY18.