Arif Naqvi is the most shunned man in Pakistani finance of the current era because Arif Naqvi failed at the one cardinal, inviolable, unspoken rule that governs the lives of every Pakistani who aspires to scale the heights of global finance: don't become another Agha Hasan Abedi.
In the power centers of the global capital markets – New York, London, Hong Kong – Pakistanis are not an underrepresented class of people. You can find at least a few Pakistanis at almost every level of every division of every major global financial institution.
(We even have a small impact on the culture of Wall Street and the City of London. Once, while working late at night at the New York offices of Deutsche Bank, I suddenly heard the sound of Nusrat Fateh Ali Khan's Tumhein dillagi bhool jaani pare gi. It turned that a colleague of mine was playing it on his iPhone to keep himself from falling asleep while pulling an all-nighter. He was not Pakistani, but had worked alongside enough Pakistanis to have become a fan of the qawwali maestro.)
But nearly all Pakistanis who have ever worked in those institutions feel the shadow of one man, and a fervent desire never to be linked to his legacy: Agha Hasan Abedi, the founder of the now-defunct Bank of Credit and Commerce International (BCCI).
When the scale and speed of the collapse of Abraaj Capital became known in the earlier half of this year, Arif Naqvi, its Karachi-born founder, was inevitably compared to Abedi. Naqvi may think the comparison unfair, but after everything that transpired, it was always going to be inevitable.
Abedi and Naqvi are decades apart, with the latter starting his Dubai-based firm a decade after the former's London-based bank collapsed. Abedi ran a bank with retail depositors, and Naqvi a private equity firm that catered almost exclusively to institutional investors and high net-worth individuals. The two did not cross paths in time and ran institutions that were very different in character in most ways.
At least on the surface.
The truth is that in many ways, Abedi and Naqvi are very, very similar, and the trajectories of both BCCI and Abraaj Capital have considerable parallels as well. The core problem at both companies was the exact same: the larger than life personality of the founder, who viewed the company and its wealth as an extension of his own personal property, and had the charisma to get away with not having put in place enough governance controls to prevent the worst of his own behavior.
Despite repeated attempts, Arif Naqvi declined to answer any of Profit's requests for comment.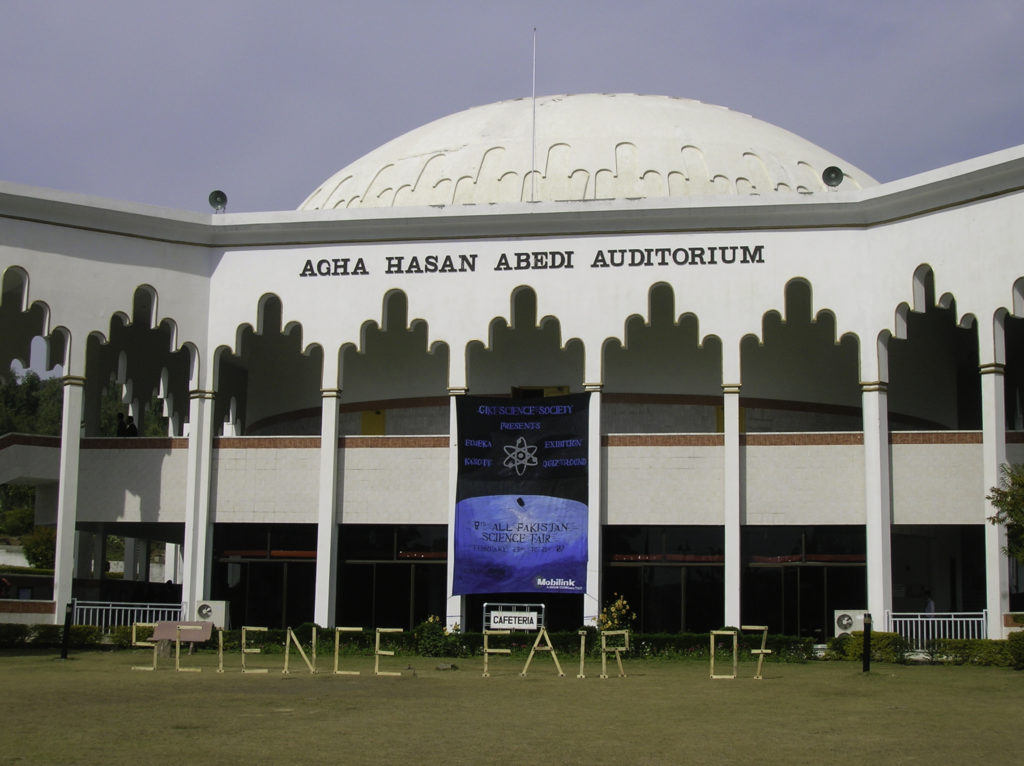 Middle-class origins and the early rise
Neither Abedi nor Naqvi were born rich, but both were born in proximity to wealth and political power. Abedi was born in Lucknow, into a family that were not themselves aristocracy, but served as important advisors and courtiers to the Nawabs of Awadh until Partition, when they migrated to Karachi to become a part of the new country's professional classes. Naqvi was born in the following generation as the fourth son of a successful businessman who owned his own small plastics manufacturing company, and was educated alongside Karachi's economic and political elite at Karachi Grammar School.
One key difference between the two men's backgrounds: Abedi stayed local for his education, graduating from the University of Lucknow with a degree in law. Naqvi, by contrast, was able to jet off to the London School of Economics, from where he was able to give his career a more global orientation from the very beginning.
Because Abedi never got a foreign education, his career started closer to home: he joined Habib Bank in 1946, when he was just 24 years old, and the bank was just five years old, albeit owned by the Habibs, a wealthy trading family that had even back then been in business for more than a century. Abedi was clever, and had the good fortune of timing: Habib Bank was one of two local banks left operating in the territory that eventually became Pakistan at the time of Partition, which meant that the entire nation's banking system was reliant on two (and soon four) banks for nearly the entirety of the first decade of its existence.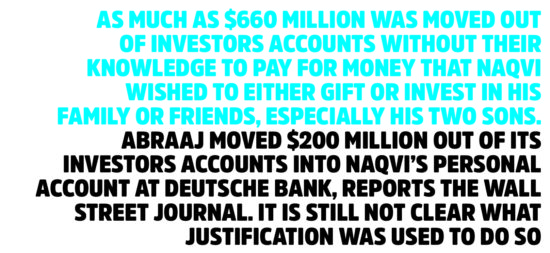 But it was not just the advantages of that greenfield environment: Abedi proved himself to be a fast learner and high performer, rapidly ascending the ranks of Habib Bank, and excelled at helping maintain the bank's corporate relationships.
Naqvi's beginnings were similarly dominated by his early success in climbing the corporate ladder. He graduated from LSE in 1982 and began working for Arthur Anderson – then one of the largest accounting firms in the world – in their London office, where he spent four years. For a time, he moved back to Pakistan to work for American Express Bank in Karachi, before moving to the Middle East where he began working for the Olayan Group, one of the largest conglomerates in Saudi Arabia.
The entrepreneurial bug
Despite being a high flyer, Abedi was not content to simply do well at a bank owned by someone else. He had an entrepreneurial drive, and in 1959, at just 37 years of age, was able to convince the Saigol family to invest in creating a fifth local bank in Pakistan – United Bank Ltd – with him as its first President.
Naqvi got a slightly earlier start in entrepreneurship when he was 34 years old. In 1994, having saved up $50,000 from his time working for other people's companies, Arif Naqvi decided to invest his own money into setting up a firm called Cupola, which he has described as an investment advisory firm, but was really more of a micro-cap investment bank and private equity firm, which helped other businesses raise capital while also seeking to make its own investments.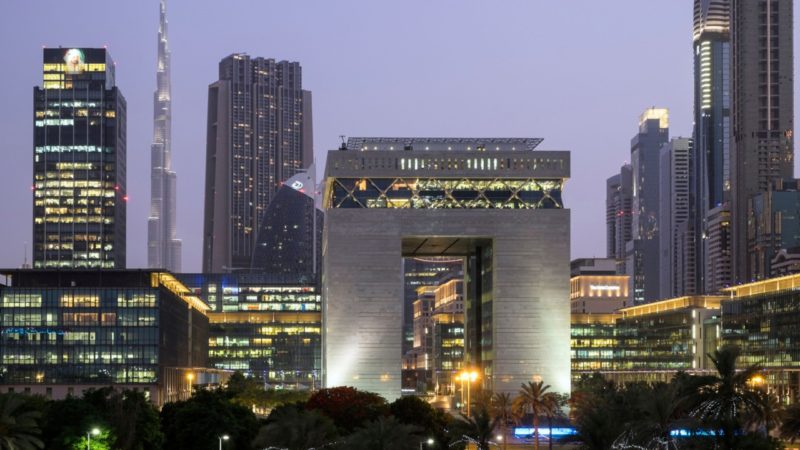 Both men had spectacular success in their first entrepreneurial ventures, but both were accused of less than above-board behaviour in doing so, though the allegations against neither were ever substantiated.
In the case of Abedi, he grew United Bank to become – for a time – the second largest bank in Pakistan. His very success attracted the ire of the leftist, anti-capitalism wave sweeping Pakistan's political landscape in the later 1960s and early 1970s, and in 1972, Abedi was briefly placed under house arrest for alleged crimes that remain unclear while the government prepared to nationalise United Bank.
Abedi did not let neither his own house arrest nor the nationalisation of the bank he created get in the way of his ambition, though. While under house arrest, Abedi began plotting his next move, calling investors to secure capital and interviewing young candidates from the University of Karachi's Institute of Business Administration (IBA) for jobs at a bank that did not yet exist.
Eventually, the government of Pakistan dropped its charges, and Abedi was free to leave, and he instantly decamped to Abu Dhabi, and then on to London to create BCCI.
Naqvi's initial success, by contrast, was a little more muted. His first deal earned him an $800,000 advisory fee for helping a company raise $8 million to set up duty-free kiosks in Dubai. He kept doing more deals, and eventually landed his first whale: a $102 million acquisition of Inchcape Middle East, a grocery chain. The transaction involved only $4.1 million in equity. The rest was all borrowed from banks. Naqvi was able to sell that business in pieces over the next couple of years for a total of $173 million.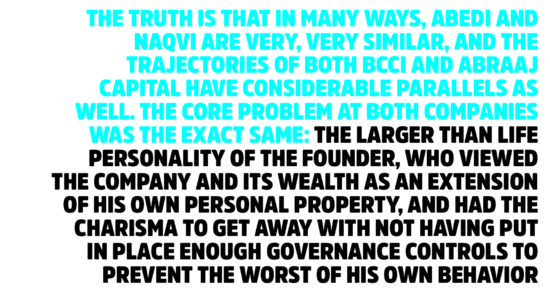 It is for this transaction that some of his initial investors in Cupola have accused Naqvi of impropriety, suggesting he was not entirely forthcoming in what proportion of the profits belonged to him versus what belonged to his investors. The allegations are documented in a book titled "Leverage in the Desert" by Imtiaz Hydari.
Nonetheless, the allegations were never substantiated, and Arif Naqvi went on to use the profits from that Inchcape transaction to create Abraaj Capital, arguably the first – and eventually the largest – professional private equity firm in the Middle East.
The troubles begin: lying about losses
The problem with trying to talk about what went wrong at BCCI to a Pakistani audience is that both BCCI and Agha Hasan Abedi have way too many defenders who peddle a completely fictional account of what actually happened at the bank. But essentially, the trouble at both Abraaj and BCCI started in exactly the same way: they started lying about losses, they hoped that future growth would preclude the need for them to ever disclose those losses, and that nobody would ever find out.
And both BCCI and Abraaj Capital lied about losses for very similar reasons: to reveal the truth would involve turning off the supply of money to businesses owned by close friends and family of the founders, which was deemed unacceptable by the founders themselves, and never checked because the initial investors never asked for the creation of robust corporate governance structures that would have prevented such a thing from ever happening in the first place.
In the case of BCCI, the problems began early, but were disguised because of a remarkably complex set of accounting tricks used by the bank to hide its problems, and by a rapid deposit growth that saw the bank become, at one point, the seventh largest private bank in the world.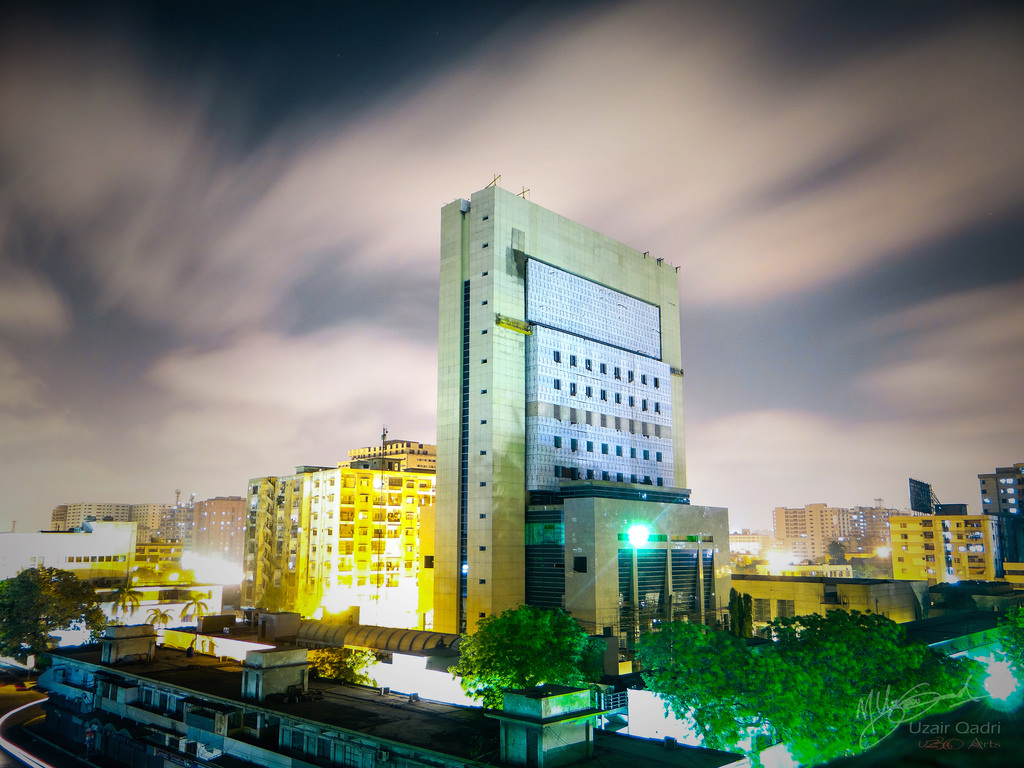 A report in The New York Times dated August 12, 1991, described the scheme in the following way:
"A rapid growth route was big customers. And Mr. Abedi tapped his contacts in Pakistan for the biggest, the Gulf Group, a shipping and trading conglomerate owned by the Gokal family of Karachi. The relationship began in 1972 when the company made substantial deposits in BCCI.
In 1976, according to Price Waterhouse documents, the Gulf Group began borrowing heavily from BCCI for trade financing and shipping loans. The following year, the loans had grown to the point that BCCI transferred the Gulf Group accounts from the London office to its Cayman Islands subsidiary, BCCI Overseas, to sidestep Bank of England restrictions on lending limits.
But by 1978, the Gulf Group was in financial trouble and so were BCCI's loans. To hide its losses, BCCI funneled money — often unrecorded deposits — from elsewhere in the bank into the Gulf Group accounts to make it appear that loan repayments were up to date when they were not.
Frequently, the funds were routed through BCCI shell companies. Sometimes payment documents were simply faked."
Once the bank began to create both a culture and an infrastructure for lying about how much money it was losing to help out friends of Agha Hasan Abedi, there was no turning back. Once you have lied that much, you cannot then suddenly come clean and admit just how crooked your whole business model has been. And so the temptation becomes to continue lying and hope that future profits will wipe away past losses and thus nobody will ever need to know the truth. At BCCI, doctoring loan documents became a "full-time occupation", according to the auditors' report.
Here is where things get worse. You see, the more your losses mount, the more incentive you have to try to hide them and seek to maximise future profits. That, in turn, leads to reckless decision-making, which in turn magnifies the losses and keeps making the situation even worse than when you started trying to cover it up.
In the case of BCCI, that recklessness came in the form of derivatives trading. On a $20 billion base of assets, the bank started off investing $1 billion in cotton futures and other derivatives, but as the losses mounted, quickly grew that investment book to over $11 billion, in a futile gambling addict attempt to "win back the losses". The bank lost hundreds of millions of dollars each year in this kind of trading activity.
In Abraaj's case, the lying started with the fact that the profits from Abraaj's investments were not able to keep pace with the lifestyle and financing needs of Arif Naqvi and his family and friends.
When initial reports came out about financial problems at Abraaj Capital, it was assumed that Abraaj simply had operational costs that exceeded its revenues in the normal course of doing business. However, a more detailed review of Abraaj's financial documents and internal communications by The Wall Street Journal published last month reveals a much messier – and less flattering – picture.
It shows Arif Naqvi treating not just Abraaj's money, but also Abraaj's investors' money, as his own personal piggy bank to finance investments into his children's and his friends' businesses and frequent "loans" to himself made by Abraaj using not its own money but that of its investors, who had entrusted the firm to invest it into businesses on their behalf. Those investors include the Bill & Melinda Gates Foundation and the United States government.
As much as $660 million was moved out of investors accounts without their knowledge to pay for money that Naqvi wished to either gift or invest in his family or friends, especially his two sons. Abraaj moved $200 million out of its investors accounts into Naqvi's personal account at Deutsche Bank, reports The Wall Street Journal. It is still not clear what justification was used to do so.
To cover up its tracks, Abraaj relied on loans from banks or companies it had investment relationships with in order to make its financial statements look whole. For instance, on November 30, 2017 the Gates Foundation asked Abraaj for bank statements from its healthcare fund in which they had invested money. On December 5, Abraaj borrowed $140 million from Air Arabia and $29 million from its own funds to deposit into the fund's accounts. The money was returned to Air Arabia and its treasury by December 15, but by that time Abraaj was able to produce a bank statement saying that it had the $170 million it needed to show in the fund's account on December 7, 2017.
There were times, reports the WSJ, when Abraaj did not have money to pay employee salaries and still prioritised the personal needs of Arif Naqvi.
And Profit has learnt through a source familiar with the matter that money was frequently moved back and forth between Abraaj's client funds and the trust funds of Arif Naqvi's sons, named Coronation I and Coronation II.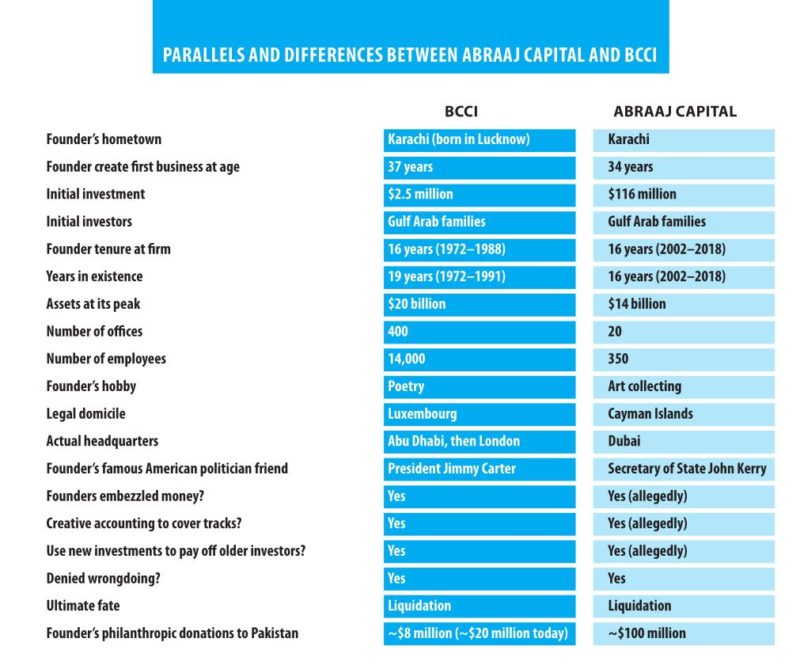 The philanthropic legacy
In addition to their finance careers, both Abedi and Naqvi fancied themselves philanthropists and patrons of the arts. For Abedi, his preferred art form was poetry, and for Naqvi, it is painting and sculpture. But more than their patronage of the arts, one thing clearly animated both men: visible philanthropy in Pakistan.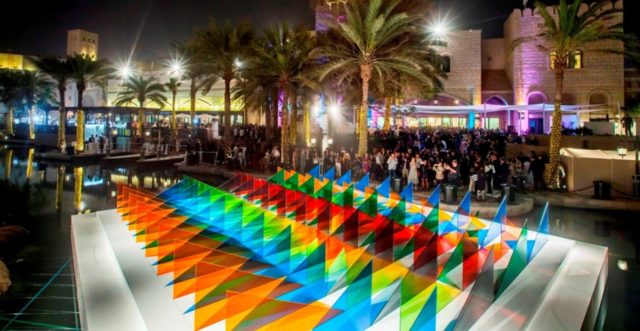 Abedi's philanthropy was geared mainly towards education and healthcare. He helped fund the creation of what is now known as the National University of Computer and Emerging Sciences, and funded part of the creation of the Ghulam Ishaq Khan Institute of Engineering Sciences and Technology, arguably Pakistan's leading engineering school.
In healthcare, his Infaq Foundation helped finance the operations of Sindh Institute of Urology and Transplantation, the National Institute of Cardiovascular Diseases, and Lady Dufferin Hospital.
Arif Naqvi's philanthropy was also focused on similar areas, with a slightly greater emphasis on healthcare through the Aman Foundation, which was primarily an ambulance service that also offered other healthcare programs and services. In education, the Aman Foundation helped fund the construction of the new city campus for the Institute of Business Administration in Karachi.
But while Abedi's philanthropic legacy lives on in the form of the Infaq Foundation, the Aman Foundation's survival is in question. Sources familiar with the matter say that the foundation's headquarters in the upscale E.I. Lines Area of Karachi – bought in 2010 for a reported Rs400 million ($5 million at the time) – has already been sold off, as have many of its ambulances.
Abedi was unquestionably a crook, but so many in Pakistan have continued to benefit from his philanthropy, long after his death in 1995, that it is somewhat unsurprising, if still infuriating, to see him being defended against the now proven charges of financial malfeasance.
The charges against Naqvi are still unproven, though the evidence appears to be mounting. How will he be regarded by Pakistanis, now that it looks like his philanthropic venture may not survive his business?
The fate of Abraaj's investments in Pakistan
Abraaj's two biggest investments in Pakistan are in K-Electric, and in Byco Petroleum. Many of Abraaj's supporters point to the delays in the sale of Abraaj's stake in K-Electric as the reason behind Abraaj's collapse, and indirectly blame the government of Pakistan for Abraaj's demise. The argument goes that had Abraaj been able to realise the profits from the K-Electric sale, it would have been able to pay back all of the money it moved from its investors' accounts.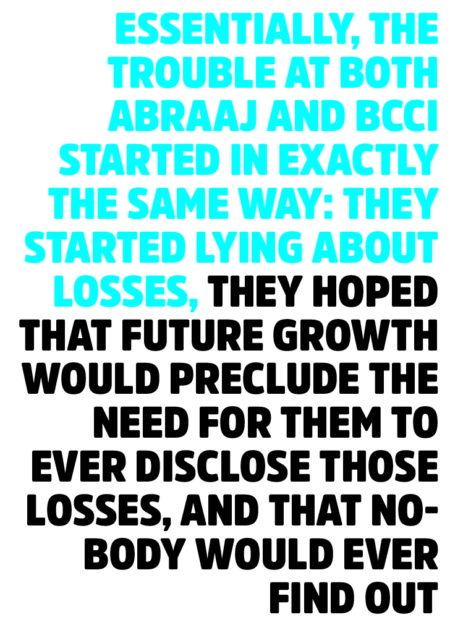 This assertion may or may not be true. What is absolutely true, however, is that Abraaj would not have collapsed had it never moved money out of its investors' accounts without their permission in the first place. They were engaged in such complicated accounting at Abraaj and had such little by way of corporate governance (the head of corporate compliance was Arif Naqvi's brother in law) that, sooner or later, they were going to get caught stealing from their clients.
Abraaj argues that they did not steal, merely borrowed. That distinction may help Naqvi sleep better at night, but the fact of the matter is that Abraaj broke their investors' trust. And trust, ultimately, is the only currency that matters in finance.
As for K-Electric, Abraaj's share in the company will eventually be sold, though sources familiar with the matter say that Shanghai Electric – still considered the likeliest buyer – will ask for a $300 million discount off the initially agreed-to $1.7 billion price tag.
There are similar reports about Byco Petroleum, with sources telling Profit that the Abbassciy family, who own the majority stake in Byco, have been begging Abraaj to sell them the private equity firm's stake, and Abraaj had been refusing. The Abbassciys had been raising capital to make an enticing offer – reportedly north of $250 million – for Abraaj's share in Byco, though that number is now expected to be substantially lowered as Abraaj exits all of its investments in the form of a distressed sale.
An earlier version of this article incorrectly stated that the initial investors in United Bank Ltd were the Nahyan family of the United Arab Emirates. That is incorrect. It was the Saigol family. The error is regretted.