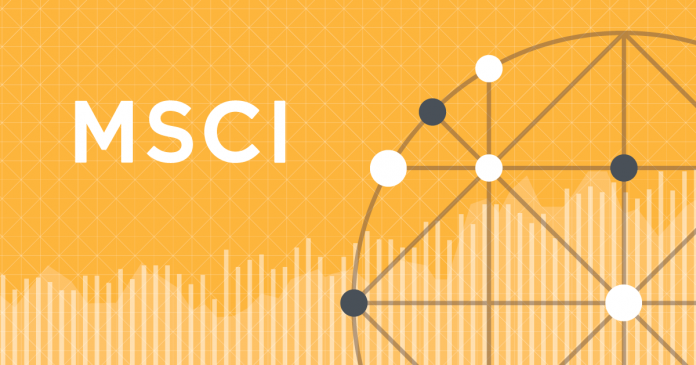 LAHORE: In good news for the Pakistan Stock Exchange (PSX), it has avoided being declassified from the Morgan Stanley Capital International's Emerging Market Index during its November 2018 Semi-Annual Review.
United Bank Limited and Lucky Cement have been removed from the MSCI Global Standard Index Pakistan and from the MSCI Small Cap Index, Honda Atlas Cars (HCAR) and Maple Life Cement (MLCF) have been evicted out.
Hence, the Oil and Gas Development Company (OGDC) is the sole Pakistani stock whose position has remained unchanged among large-cap stocks in MSCI EM indexes.
Following demotion of UBL and Lucky Cement to MSCI Global Small Cap Indexes, two other Pakistani stocks remain amongst the mid-cap stocks which are Habib Bank Limited and Muslim Commercial Bank (MCB).
Post review and inclusion of UBL and LUCK into small cap, MSCI small-cap index constituents are as follows: UBL, LUCK, ENGRO, BAFL, EFERT, FCCL, FFBL, FFC, HUBC, INDU, ISL, DGKC, KAPCO, MTL, NBP, NML, PKGS,  POL, PSO, SEARL, SNGP & THALL.
According to Arif Habib Limited Research, it projected a net outflow of $20 million for UBL and $22 million from Lucky Cement after incorporating deletion from the MSCI EM and addition in MSCI EM small-cap index.
However, the outflows resulting from deletion of Maple Leaf Cement and Honda Atlas Cars are expected to be negligible which are expected to be less than $1 million.
In a comment to Profit, Samiullah Tariq Arif Habib Limited's Head of Research said, "There is going to be a net outflow of $42 million after incorporating passive outflow from MSCI EM tracking funds and inflow from MSCI EM small-cap fund."
"Listing is sustainable, as we believe the economy is cooling down again and imbalances will reduce.
The future economic performance will dictate the direction of the market. The government is required to undertake economic reforms," he added.
All these changes will be applicable by November 30th, 2018 and the country has a total of twenty-seven constituents in MSCI Global Standard Index (5 constituents) and MSCI Small Cap Indexes.
While speaking to Profit, Topline Securities' analyst Nabeel Khursheed said, "Removal of LUCK and UBL from MSCI Global Standard Index Pakistan will not result in Pakistan being demoted from Emerging to Frontier market for now.
However, demotion/removal of any one of the existing 3 constituents (OGDC, HBL, MCB) in the next semi-annual review (May 2019) may change the situation as a country is removed from MSCI EM if at least 3 of its companies do not meet the set MSCI benchmarks. "
"With the removal of LUCK and UBL from MSCI Global Standard Index Pakistan, we estimate a potential outflow of US$49-65 million.
However, their addition to MSCI Global Small Cap Index may result in some inflows," he added.
Consequently, the country's weight in the MSCI EM is projected to fall to 0.037% from 0.055% as of October 2018.
In the last year (in its semi-annual review in November 2017) when MSCI demoted ENGRO from its standard MSCI EM to small caps, the said exclusion was based on an upward revision of its market cap requirement.
Emerging markets in Jan-Oct 2017 were up 29% while a market capitalization criterion was revised up by 16%.
It was upgraded to the MSCI EM status in May 2017 and the Pakistan Stock Exchange (PSX) had reached a record high of 52,500 points on May 16th 2017.
In July last year, Bloomberg had questioned Pakistan's re-inclusion into the MSCI Emerging Markets Index in June and as to why Vietnam, one of the region's leading manufacturing hubs wasn't assigned that status and languished in the frontier markets realm.
The KSE-100 index was trading at 41,249.22 points, up 96.94 points (+0.24%) in intra-day trading on Wednesday.