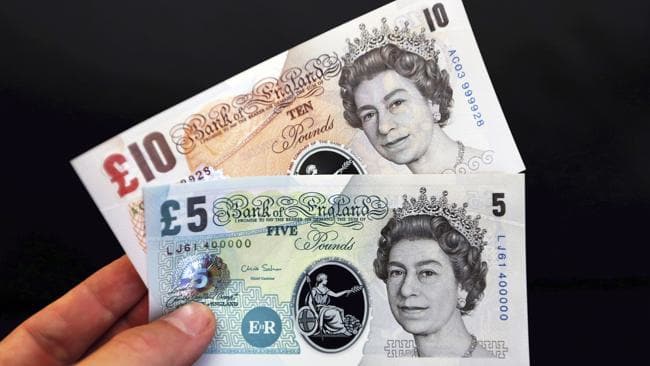 SINGAPORE:  The British pound struggled to stay afloat in Asian trade on Friday having suffered a tumultuous slide overnight, as investors feared political turmoil in the country could see it crash out of the European Union without a divorce deal.
Both the dollar and the yen benefited from a deepening crisis for UK Prime Minister Theresa May after the resignation of key ministers from her government imperilled her Brexit plan.
That left the sterling vulnerable to further losses. It was changing hands at $1.2792, barely holding steady after declining 1.7 percent on Thursday, its steepest percentage slide since Oct. 11, 2016.
The resignations, including that of Brexit minister Dominic Raab, came hours after May had claimed backing for a draft divorce deal.
The hostility from government and opposition lawmakers raised the risk that the deal would be rejected in parliament and that Britain could leave the EU on March 29 without a safety net.
May's compromise plan, which seeks to maintain close trade ties with the EU in the future, is facing opposition from Brexiteers, pro-Europeans, the Northern Irish party that props up her government, and even some of her own ministers, thus raising the risks of her losing her job, of Britain leaving the bloc with no agreement or even another referendum.
Without a deal, the UK would move in March from seamless trade with the EU to customs arrangements set by the World Trade Organization for external states, which could cause panic in financial markets.
However, some analysts believe sterling bulls have a reason not to throw in their towel yet, noting there is a chance of another referendum with the choice between a hard Brexit and remaining in the EU.
A snap Sky News poll yesterday showed 55 percent in favour of another referendum, while 54 percent supported no Brexit, 32 percent a hard Brexit and only 14 percent May's deal.
The euro tacked on 0.05 percent to trade at $1.1338. Investors were hopeful after reports out of Italy said that Italian Prime Minister Giuseppe Conte was looking to work with the EU over his government's 2019 budget, which has been rejected by Brussels.
The single currency has gained over the last three trading sessions, but was up only 0.1 percent versus the dollar month to date, underscoring the strains from weakening economic momentum in Europe, Italian budget woes and the Brexit uncertainty.
The dollar index, a gauge of its value versus six major peers, was up 0.05 percent at 96.97, not far off a 16-month high of 97.69 hit at the start of the week.
Currency markets were also keeping an eye on the U.S.-Sino trade tensions as traders looked for concrete signs the economic powers were seeking to de-escalate their dispute.
A Financial Times report said U.S. Trade Representative Robert Lighthizer has told some industry executives that another round of U.S. tariffs on Chinese imports has been put on hold. But a U.S. Trade Representative spokesperson later denied this report.
Most analysts forecast the dollar to remain well supported in the coming month's thanks to the Federal Reserve's commitment to continue to gradually raise interest rates.
The fourth hike for this year is expected next month, backed by a robust economy and rising wage pressures.
The safe-haven yen was well bid in Asian trade, changing hands at 113.34, as the Brexit turmoil drew investors toward the Japanese currency. The yen had hit a six-week low of 114.20 on Monday before reversing course.
The Australian dollar lost 0.14 percent at $0.7272 on Friday. The Aussie had gained 0.58 percent in the previous trading session on the back of stronger than expected jobs data.