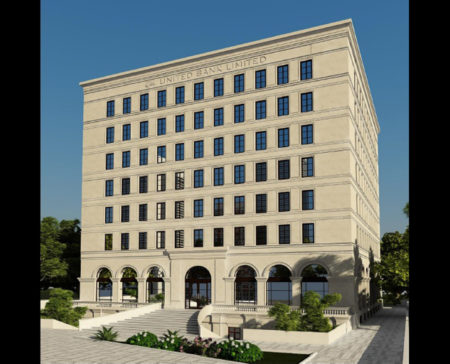 LAHORE: United Bank Limited (UBL) has announced it will voluntarily liquidate and surrender its banking license in New York as per the applicable rules and regulations.
In a notification sent to the Pakistan Stock Exchange (PSX), UBL said, "As part of its global realignment strategy, UBL intends to voluntarily liquidate and surrender its license pursuant to New York Banking Law 605.11(c)."
It added, "This is a commercial decision keeping in view the commercial viability of NY Branch and is subject to all regulatory approvals."
Furthermore, UBL said it had apprised its intent to New York Department of Financial Services (NYDFS) and it will continue to work closely with its U.S. regulators throughout the voluntary liquidation process to ensure that the New York branch is wound down in an orderly manner, complying with all applicable federal and state laws, rules, and regulations.
UBL added, "it already has well established multiple correspondent banking relationships who provide U.S. dollar clearing services to its customers."
Earlier, the bank had entered into a written agreement (WA 2018) with the Federal Reserve Bank of New York (FRBNY), effective July 2, 2018, upon termination of the earlier written agreement entered into on 28 October 2013 (WA 2013), which was primarily related to the New York branch's international remittance services.
The revised agreement reached between UBL and FRBNY required the bank to take steps to strengthen its Bank Secrecy Act and anti-money laundering compliance, customer due diligence and suspicious activity monitoring and reporting programmes.
While speaking to Profit, Pak Kuwait Investment Co AVP Research Adnan Sheikh said, "This is likely a pre-emptive measure to avert or minimize the extent of an impending HBL-like fine for weak or no n-compliance.
"UBL will likely face a slew of costs relating to the compliance and winding up of the branch as seen in HBL's case which will likely dent the next few years earnings somewhat similar to what HBL is going through with its NY branch right now," he added.
In July, UBL had been directed by Federal Reserve Bank of New York (FRBNY) to strengthen its anti-money laundering policies as the regulator criticized it for not doing enough to track dubious transactions.
This marked the second time that the FRBNY had sanctioned UBL in the last few years.
Five years ago, Federal Reserve Bank of New York (FRBNY) directed United Bank to closely monitor remittances from New York City to Karachi and faulted the bank's anti-money laundering oversight.
In a comment to Profit, Director Research Capital Stake Maha Jafer Butt said, "The branch was mainly involved in providing remittance services which shall continue through banking relationships as mentioned in the notification."
"The branch doesn't account for a huge portion of the bank's total assets, so the liquidation shall not have a material impact on the financials.
Seeing past events with the regulator, there might be a few hiccups in the process," she added.
A note issued by Topline Securities said, "As per UBL's 2017 annual report, New York operations contributed 0.08% to total profit before tax of the bank.
Moreover, we are of the view that the closure of New York operations is unlikely to have a material impact on the bank's profitability, as per our channel checks."
It mentioned the written agreement between UBL and the Federal Reserve Bank of New York (FRBNY) is still in place and the bank is in close contact with the concerned authorities.
The closure of that agreement is still pending and is dependent on the regulator, as per our channel checks, observed Topline Securities.
Arif Habib Limited (AHL) Research in a note stated discussions held with the UBL management revealed the primary reason for the winding-up of its NYC branch was due to a lack of commercial feasibility.
It shared UBL explained its balance sheet exposure abroad was contracting, where the international asset base has declined from 23.6% in the calendar year (CY) 2016 to 20.1% as of CY 2017.
Moreover, AHL research observed operations in the US are negligible as they constitute merely 0.2% of total assets compared against 0.7% in the same period last year (SPLY).
UBL told the brokerage house that the compliance infrastructure and its enactment would be costly and the banks' immaterial operations in New York wouldn't justify such expenses.
Also, the management clarified it had shut-down its third-party dollar clearance business in 2010, which was a key difference between its New York branch and those of HBL.
Presently, UBL's existing dollar transactions are essentially carried out via correspondent banks such as Deutsche Bank and JP Morgan.
It emphatically denied the likelihood of any penalty imposition and declared its intent on closely working with the US regulators to ensure the orderly winding up of its New York branch.
The brokerage house stated the compliance related review is still underway and withdrawal of the agreement reached with FRBNY is totally contingent on the regulators' discretion and hasn't happened till now.
The winding-up of the New York branch is expected to be concluded within a year, said AHL Research.
UBL shares closed trading at Rs137.34, down Rs3.3 (-2.35%). KSE-100 index ended trading at 40,874.03 points, down 545.21 points (-1.32%) on Thursday.