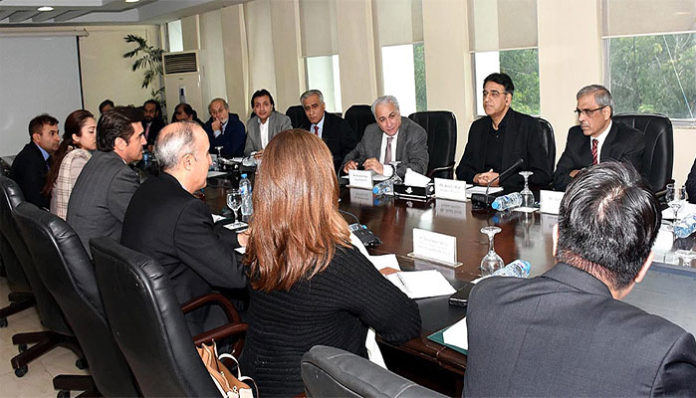 As Pakistan and the International Monetary Fund (IMF) insisted that they will meet again in coming weeks, sources close to the negotiation process revealed that the talks had hit a snag after the IMF hinted it might link the package to Pakistan's commitments to the Financial Action Task Force (FATF).
In June, Pakistan agreed to tighten its compliance with anti-money laundering laws and counter-terror funding after being placed on the FATF "gray list" of "jurisdictions with strategic deficiencies". But on Friday Finance Minister Asad Umar said the government would not bow to any IMF pressure if it did not suit the national interest.
"The government is neither in a hurry to sign a deal with the IMF nor will it come under any pressure to take any decision which burdens the country's economy and its people," the minister said while briefing parliamentarians on the progress of negotiations with the IMF.
Government's economic spokesperson Farrukh Saleem said he wasn't sure whether the IMF had insisted on Pakistan's compliance with the FATF, "but generally speaking the IMF engagement is always linked with the FATF activities, as both institutions are interlinked".
"If a country earned (rating on) a FATF blacklist, the IMF will not consider it for any financial support. FATF has two distinctive apparatuses, one related to anti-money laundering and the other counter-terror financing," Saleem said, according to an Asia Times report. "Although Pakistan has made progress on the lawmaking process, it has yet to implement these laws fully — that is where the problem persists."
Other demands by the IMF include its insistence that Pakistan disclose details of China's generous financial support, hike taxes and electricity tariffs, tighten monetary policies and allow a further depreciation in the value of the rupee. Pakistan needs a bailout of about $6 billion to avert a deeper balance of payments crisis.
The payments position has deteriorated to such an extent that the government asked for Saudi help in building up the country's foreign exchange reserves. So far Saudi Arabia has remitted $1 billion to Pakistan and a further $2 billion is expected to follow within days. It has also agreed to supply $3 billion worth of oil to Pakistan on a deferred payments basis over the next three years.
Saleem said that he believed Pakistan needed a two-pronged strategy: it had to tackle the existing $12 billion gap in public finances, while also sending a message to international markets that it was part of a monitoring programme to restructure the struggling economy.
"Even if we managed to overcome our balance of payment problem through our own means, we still would require engagement with the IMF to keep our economy on track and improve our standing in the global market," he added.
The minister said the two sides were able to agree on "80pc" of the specific concerns raised by the IMF. Further negotiation was needed on its demands for adjustments in fiscal and monetary policies, hikes in utility rates and structural economic reforms.
Official sources said Pakistani negotiators did not agree to the fund's demands for a further devaluation and increases in gas and electricity charges, rejected its proposed tax measures and would not provide details of the financial arrangements with China, including Beijing's investment in the China-Pakistan Economic Corridor. Pakistan said it could not disclose the terms of this agreement due to secrecy clauses.
However, Saleem did not know of any such clauses in the agreement, and said it was in Pakistan's interests that terms and conditions with other countries should be "transparent and unambiguous".
He noted that the government had disclosed details in February of agreements for eight power plants being built with Chinese help, in response to a request from the National Assembly standing committee on finance.
Opposition parties believe the Chinese agreements will be divulged, but should be kept secret. "It is a political requirement rather than a technical obligation to furnish details of the China-Pakistan Economic Corridor to the IMF and we must not disclose everything concerning Chinese investment," former finance minister and senior Pakistan Muslim League-Nawaz leader Rana Muhammad Afzal said.