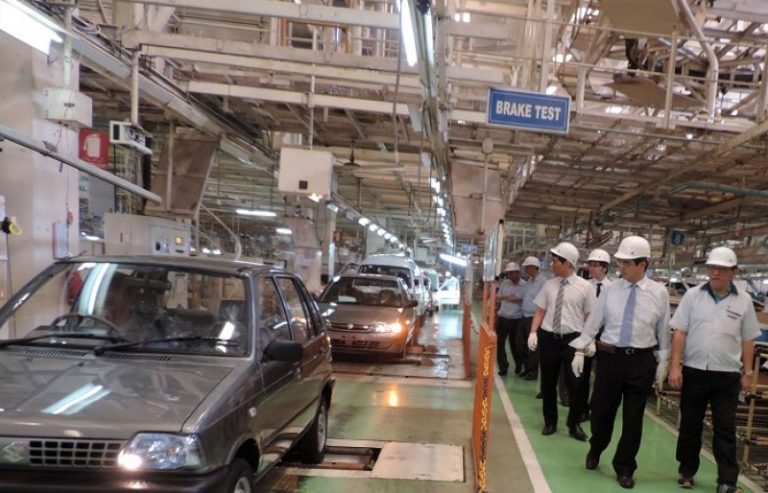 ISLAMABAD: The $450 million being promised by Pak Suzuki Motors for setting up a new assembly plant in Pakistan is contingent on being provided tax benefits available to only new entrants under the Automotive Development Policy (ADP) 2016-2021.
For the government obtain the $450 million investment, it would need to revise the ADP 2016-2021 policy which distinctly bans the granting of extending Greenfield investment status to existing automobile manufacturers like Suzuki, Indus Motors and Honda, reports Express Tribune.
As per ADP 2016-2021 policy, Suzuki's investment of $450 million would fall in the Brownfield category, however, it wants to avail tax benefits under the aegis of Greenfield project, said officials in the Ministry of Industry and Production (MoIP).
The previous PML-N administration had stood resolute two years before and rejected to extend these tax benefits to existing Japanese assemblers, which maintain a market stranglehold and dominance in Pakistan.
Ministry of Industries Secretary Azhar Chaudhary said any revisions in the ADP 2016-2021 will be undertaken with all stakeholders including the new entrants and won't be a party specific decision.
The entrance of Volkswagen which earlier this month signed an agreement with Premier Motors Limited to make light commercial vehicles in Karachi alongside Renault which is partnering with Al-Futtaim to manufacture vehicles and launch them by end of 2019.
Besides, Hyundai-Nishat Motor Private Limited is also entering the fray and Kia Motors too.
The aim of the ADP 2016-2021 policy was to break the stranglehold and market dominance of the three Japanese manufacturers who have held sway in the country's automobile sector for over three decades and provide better quality cars at lower prices to consumers.
Board of Investment (BoI) Chairman Haroon Sharif answering a query regarding Pak Suzuki Motors demand said, "Investors should take the country risks and it should provide a level playing field for all players."
The major enticing thing for Pak Suzuki Motors is the decreased customs duty of 10% being offered to new investors on non-localized parts for five years, which is one-third of rates available to existing automobile manufacturers.
Likewise, new entrants are permitted to import localized parts at 25% duty for a duration of five years, which is almost half the rate being paid by existing players.
Also, new entrants are provided with a one-off duty-free import of plant and machinery for the establishment of an assembly and manufacturing facility to new entrants.
And new entrants have been granted permission to import 100 vehicles of the same variants in the shape of completely built units (CBUs) at 50% of the existing duty for test marketing purposes.