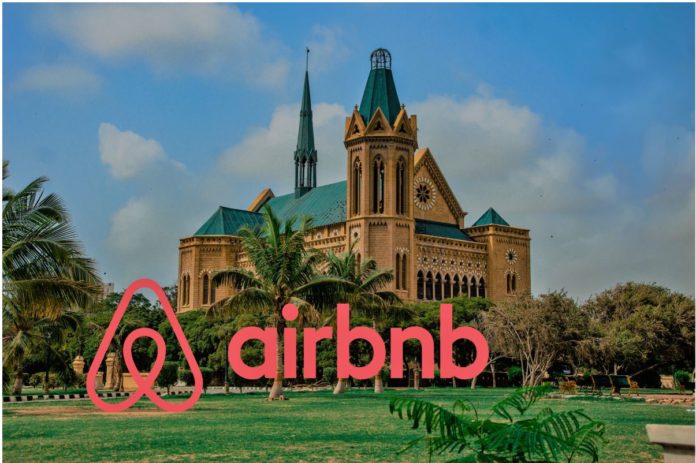 A major chunk of Pakistan's population is well aware of the online ride-hailing apps like Uber and Careem. However, a similar mobile app has quietly emerged in Pakistan and the overwhelming majority of people are unaware of its existence. The app goes by the name of Airbnb and it books homes, lodges and resthouses for staying.
Founded in 2008 and headquartered in San Francisco, California, Airbnb is an online marketplace which offers hospitality services specifically lodging and boarding. Within a span of just 10 years, the company is now valued at $30 billion.
Its use is fairly simply. A user is supposed to create an account and choose from a variety of homes, hotels and guesthouses and book which ever seems feasible to stay. After the stay, the client has to review the host as a reference for future customers. On each booking, the company charges the guest a 0-20% guest services fee and charges the host a 3% host service fee.
Globally, Paris tops the listings of Airbnb with 52,744 listings at an average price of €97 ($110) per day. Second comes London with 28,190 listings and average price of £158 ($201) per day. Third comes New York with 24,586 listings with $186 average daily rate as reported by AirDNA, a short-term rental data company which has extensive data of Airbnb.
Hosting is open for everyone and anyone possessing enough space for a bedroom can be a host. To register, the person has to create an account and fill a form. The pricing, availability, location and amenities are entered in this form. The host has to write a brief note on his property and upload photos for convenience of clients.
From the earnings, the company charges 3% as commission, a percentage it claims is the lowest in the industry, for its own revenue. Tourists occupy a massive proportion of Airbnb customers. As a client, the person can select from a variety of places and select which suits his needs the best. The clients are charged a service fee by the company between the range 0-20%.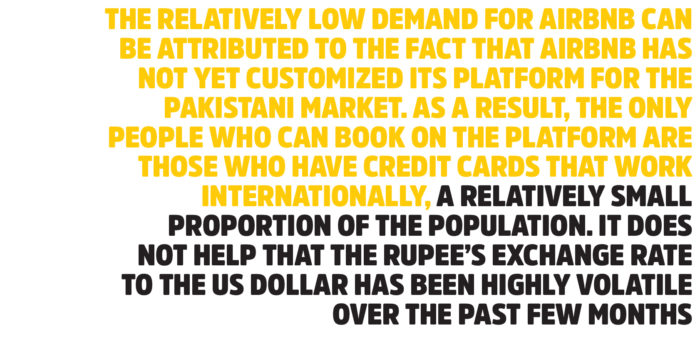 Airbnb's quiet success in Pakistan
Usman Shamim, an American national of Lahori descent, visited Karachi for the first time in March 2018 and booked an Airbnb home in a high-end neighbourhood. Talking about his experience, he said "Having compared Airbnb to hotels and lodges, I found a vast price difference between the two and realised that I can save substantial amount by going with Airbnb instead of hotels."
He lauded the clean room, perfect air conditioning and facility of servants provided to him by his host.
In the past few years, Airbnb has gained popularity in Pakistan. However, the company has not officially launched its application in the country because of which, the prices are in US dollars for homes in Pakistan.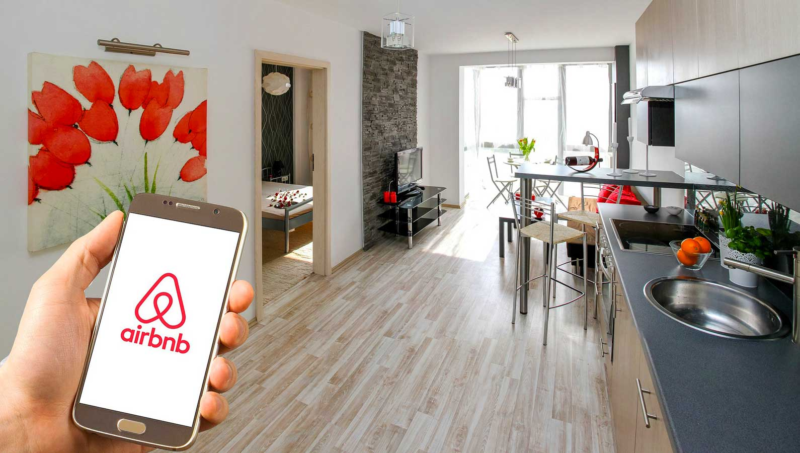 A quick search showed 152 places available for rent throughout Karachi with average price of $57 per night which translates to approximately Rs7,900. The places vary from one room to entire bungalows in prime places of the city like DHA and Sea View. In 2015, Karachi only had 19 places up for rent, with most of them being the usual guest houses which used Airbnb as just another platform to advertise. Over the next three years, the listings have seen an increase of 700% in Karachi alone.
Lahore, which had 24 listings in 2015, now has 275 listings with an average price of $48, an increase of 1,145%. Islamabad witnessed the biggest change: an over 1,500% rise in three years, from 19 listings in 2015 to more than 300 listings in 2018. The average price in Islamabad is $51.
The total listings in Pakistan have increased from 238 in October 2016 to 1,157 in June 2018 according to AirDNA.
A spokesperson at AirDNA said "Total Airbnb listings in Pakistan have increased by 227% over the last year, with the ratio of entire homes and private rooms roughly remaining the same. However, the revenue per available rental has actually decreased over the same period, suggesting that there is currently not quite as much demand for Airbnb in the country as there is supply."
AirDNA (www.airdna.co) provides data and analysis of Airbnb, displaying metrics for every Airbnb rental worldwide.
Potential challenges facing Airbnb in Pakistan
The relatively low demand for Airbnb can be attributed to the fact that Airbnb has not yet customized its platform for the Pakistani market. As a result, the only people who can book on the platform are those who have credit cards that work internationally, a relatively small proportion of the population. It does not help that the rupee's exchange rate to the US dollar has been highly volatile over the past few months.
The government of Pakistan can also intervene in Airbnb's business operations to collect taxes similar to when threatened to slap ban on ride-hailing services over tax evasion if the vehicles don't get registered as commercial ones.
The competition that Airbnb will face in Pakistan will come from hotels and owners of farm houses, rest houses and lodges.
Internationally, the biggest competition to the application comes from a similar application name HomeAway. However, a quick search only showed six listings of HomeAway in Pakistan. Hence, Airbnb's biggest competitor is far behind from it in Pakistan.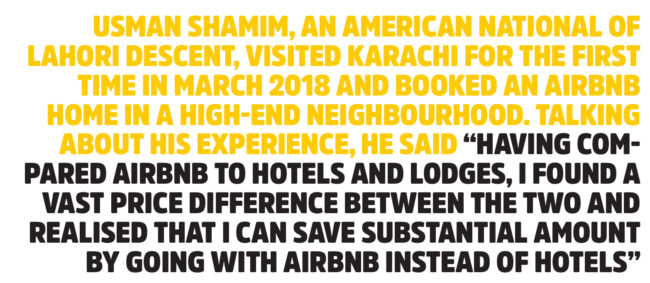 Technological teething issues
In developed economies where Airbnb usage is more common, there have been multiple cases of hosts stalking their clients after they availed the service and vice versa. In one case, a guest stole $500 from the host after availing the service and went on to harass her by texts.
In Paris, a tenant rented her space on the application for extra cash without the consent of her landlord. She is now facing a lawsuit for the same. All this can take place in Pakistan as well. The payment cannot be made by cash which is the prevalent payment method in the country.
In fact, cash payment is a violation of Airbnb rules according to its website. The most common payment method in Airbnb is through credit card which Pakistani citizens highly refrain from due to trust issues. The success of food-delivery and ride-hailing applications can be strongly attributed to the fact that they offer the option of cash payments. Non-availability of a cash option is one of the biggest shortcomings of the application.
The company uses artificial intelligence to match a selfie with the photo on government-issued identification documents or drivers' licenses which sometimes result in problems. However, this does not always work, and there was at least one incident in which a host was unable to receive a hefty $15,000 payment that she earned in a year because the AI couldn't match her selfie with her ID.
The damage to property always remains a concern of the owner and there have been instances where clients damaged the furniture or other possessions of the host.
The market potential for hosting
Nonetheless, the emergence of Airbnb in Pakistan is expected curb the monopoly enjoyed by hotels in the lodging industry because at present, some listings on the applications are half the cost charged by high-end hotels.
Accessibility is a huge advantage as a client can swipe through many possible listings by sitting at home. Many properties offer a kitchen for convenience of clients. This way, they can feel 'more at home'.
Airbnb is available in remote areas of Pakistan in affordable prices where number of hotels are less and charge exuberant fee. Despite all the benefits, there are many difficulties associated with Airbnb that may hinder its success in the Pakistani market. While creating an account, a front and back picture of ID card or license is required for security purposes. People of the country are reluctant to provide such information to escape cybercrimes and other threats.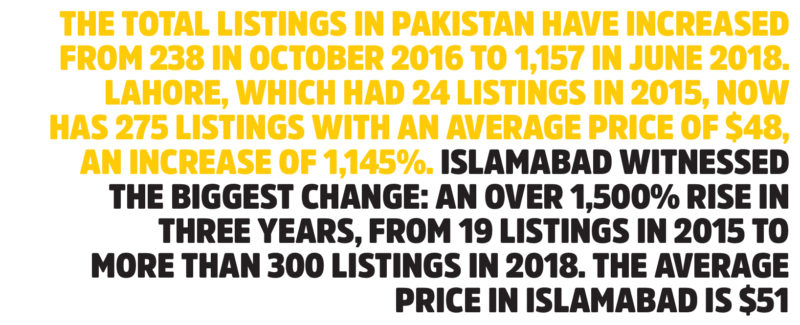 Recently, commercial banks faced a security breach and hefty data was stolen which led to banks deactivating ATM services for sometime. A while back, a car-hailing service of Pakistan also faced a massive data leak after which all consumers were asked to change passwords in a bid to remain safe. Similar incidents threaten Airbnb from being successful in Pakistan.
Having said that, Airbnb appears set to make an impact on Pakistan's hospitality industry. Airbnb seems to have a lot of potential in Pakistan and it may prove to be revolutionary for the rental market of the country. The company should consider Pakistan as a prospective market and customize its service to the needs of the local market.