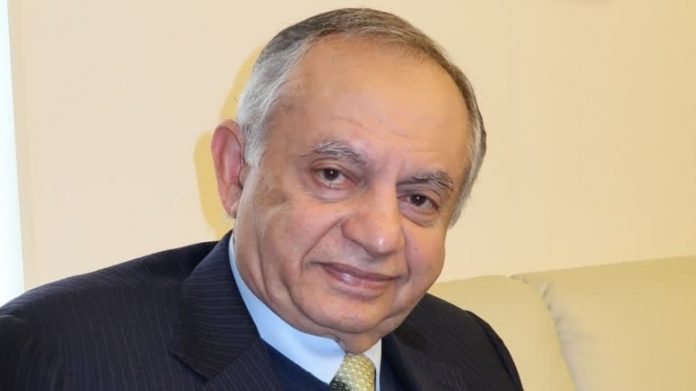 PM's advisor says Pakistan will go through a period of lower growth for one or two years before going up
China asked to expand the ambit of CPEC
LAHORE: Adviser to Prime Minister on Commerce, Textile, Industry & Production and Investment Abdul Razak Dawood said Exxon Mobil was making an investment of $250 million in Pakistan.
He said the company had re-entered Pakistan after a gap of almost three decades and setup its office in the country.
Pakistan is requesting China to switch its investment focus from power & infrastructure to industrialization, agriculture and education in regard to the China-Pakistan Economic Corridor (CPEC).
In an interview with the Nikkei Asian Review, Mr Dawood reaffirmed Pakistan's full commitment to CPEC.
He said via CPEC investment, Pakistan has sufficient power generation and now the government was widening the extent of the corridor.
Till now, a majority of the projects under CPEC have concentrated on power and infrastructure, however, Dawood stated Pakistan has cancelled some power projects due to deeming them "too large and unnecessary."
He elaborated that Islamabad has asked Beijing to look at industrialization, agriculture and education in line with the CPEC.
Furthermore, Mr Dawood stated Pakistan have to diversify CPEC projects. He said that Finance Minister Asad Umar wasn't talking about growth rate, but about stabilizing the economy.
He cautioned the economy would grow through a time of lower growth for a year or two, but then it will gain pace.
All eyes of local industrialists and foreign investors are focused upon Pakistan's negotiations with the International Monetary Fund (IMF) over an $8 billion bailout programme.
However, Mr Dawood highlighted Pakistan wasn't solely depending on the IMF.
He said Pakistan was approaching friendly countries like Saudi Arabia, the United Arab Emirates (UAE) and China.
Pakistan has already clinched a $3 billion financial bailout package from Saudi Arabia in October last year and UAE in late-December announced its intention to park $3 billion in the State Bank of Pakistan (SBP).
Dawood reiterated that Pakistan will make required arrangements to quell its existing problems.
While talking about IMF's demand for tax reforms, Dawood observed Pakistan had brought a reform package which includes simplification of tax layers and the adjusting of direct and indirect taxes.
He highlighted the informal sector doesn't pay tax, hence broadening the tax net is significant.
Late last year, the "Make in Pakistan" initiative was launched to enhance exports, reduce the trade deficit and develop the country's skills.
He said, "We are giving incentives again to manufacturing in Pakistan. We also reduced custom duties and are talking a lot to get market access to China, Indonesia, Malaysia and so on."
Moreover, the country is fixing its export aspirations on manufactured goods like tractors, refrigerators, washing machines, transformers and motorcycles.
Additionally, it intends to exploit the international demand for information technology workers and products.
Mr Dawood said Pakistan produces 35,000 technical graduates annually. He added they were aware competition was very stringent, however, Pakistan is exporting $3 billion of IT services and software annually.