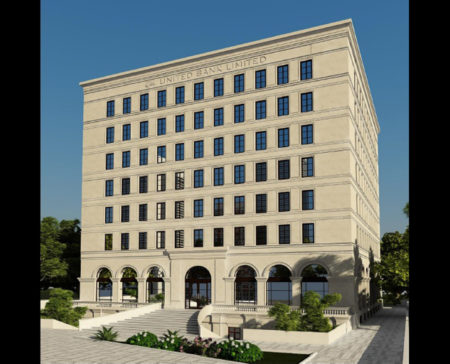 LAHORE: United Bank Limited (UBL) on Tuesday announced that its New York branch has surrendered its banking license to the New York State Department of Financial Services (NYDFS) on 28th January 2019.
In a notification sent to the Pakistan Stock Exchange (PSX), UBL said it had surrendered its New York branch license to the NYDFS in accordance with the appropriate rules and regulations.
It added the branch had been closed as of 28th January 2019. UBL thanked the State Bank of Pakistan (SBP), the NYDFS and the Federal Reserve Bank of New York (FRBNY) during the voluntary liquidation process when the branch was in business.
A note sent by Arif Habib Limited (AHL) Research said "Discussion with the management revealed that the NY branch has been closed.
The probably of any adverse penalty or fine on the bank has reduced substantially."
In November, UBL had announced it would voluntarily liquidate and surrender its banking license in New York as per the applicable rules and regulations.
UBL had then apprised its intent to New York Department of Financial Services (NYDFS) and it will continue to work closely with its U.S. regulators throughout the voluntary liquidation process to ensure that the New York branch is wound down in an orderly manner, complying with all applicable federal and state laws, rules, and regulations.
UBL added, "It already has well established multiple correspondent banking relationships who provide U.S. dollar clearing services to its customers."
Earlier, the bank had entered into a written agreement (WA 2018) with the Federal Reserve Bank of New York (FRBNY), effective July 2, 2018, upon termination of the earlier written agreement entered into on 28 October 2013 (WA 2013), which was primarily related to the New York branch's international remittance services.
The revised agreement reached between UBL and FRBNY needed the bank to take steps to strengthen its Bank Secrecy Act and anti-money laundering compliance, customer due diligence and suspicious activity monitoring and reporting programmes.
In July, UBL had been directed by Federal Reserve Bank of New York (FRBNY) to strengthen its anti-money laundering policies as the regulator criticized it for not doing enough to track dubious transactions.
This marked the second time that the FRBNY had sanctioned UBL in the last few years.
Five years ago, Federal Reserve Bank of New York (FRBNY) directed United Bank to closely monitor remittances from New York City to Karachi and faulted the bank's anti-money laundering oversight.
UBL shares closed trading at Rs152.64, down Rs0.10 (-0.07%). KSE-100 index ended trading at 40,624.39 points, up 204.30 points (+0.51%) on Tuesday.