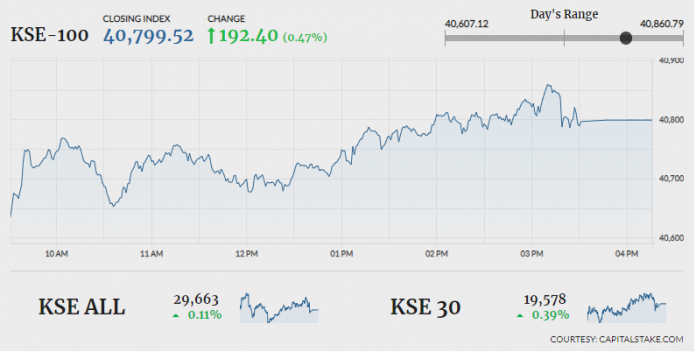 Trading volumes improved significantly from 125m in the previous session to 239.5m
KARACHI: After early morning bumps, the Pakistan Stock Exchange (PSX) managed to stand its ground to end the session positive on Thursday. Indices traded in green for the most part of the day while volumes improved significantly.
The State Bank of Pakistan announced its monetary policy after the market hours. Interest rate has been increased by another 25 basis points (from 10pc to 10.25pc) in a bid to control the mounting fiscal deficit. Although this is in line with the expectations of economic analysts, the market analysts thought it would remain unchanged. The rate was hiked by 4.25pc in the last calendar year.
The Saudi crown prince is expected to visit Pakistan on February 16 to participate in an international investment conference. Furthermore, the Oil and Gas Regulatory Authority (OGRA) recommended a reduction of Rs4 per litre in the price of petroleum products.
The KSE 100 index touched its intraday high of 40,860.79 after gaining 253.67 points shortly before the close. It finally settled higher by 192.40 points at 40,799.52. Meanwhile, after gathering 419.83 points, the KMI 30 index closed at 68,267.23, while KSE All Share index ended positive at 29,663.42 (up by 32.14 points). Out of total traded scripts, 230 advanced, 101 declined while the prices of 19 remained unchanged.
Trading volumes surged massively from 125.01 million in the previous session to 239.53 million. Pakistan International Bulk Terminal Limited (PIBTL +7.67pc), Worldcall Telecom (WTL +10.37pc) and Pak Elektron Limited (PAEL +2.56pc) led the volume chart. The scripts had 31.17 million, 15.62 million and 12.26 million shares exchanging hands respectively.
Colgate-Palmolive (Pakistan) Limited (COLG +0.00pc) declared its financial results for the second quarter of fiscal year 2018-19 (FY19). An interim cash dividend of Rs16.50 per share was also announced by the company. Sales increased by 17pc YoY, while earnings per share increased from Rs14.79 in the same period last year to Rs15.70.
Lucky Cement Limited (LUCK +0.31pc) also announced its financial performance for 2QFY19. The company's sales were up by 12.44pc YoY, while earnings per share declined by nearly 15pc (2QFY18 Rs10.92, 2QFY19 Rs9.30).