The pace of change can sometimes overtake even the best companies, including those that have achieved the coveted "verb status". In most of urban Pakistan, when people want to say "send it by courier" they often say "just TCS it", even if they are using a different courier service. A company with that kind of stature in the eyes of its customer base can usually count on a safe, reliable future flow of business.
But all is not well with TCS, with tumultuous management changes, stiff competition, and even allegations of suffering customer service quality and financial performance. What has gone wrong with this storied Pakistani brand? And will it rise again or is this the final blow for the company?
There is certainly a lot going for TCS. The company has been in business for 36 years, and is by far the biggest brand in the retail logistics business. TCS handles almost 130 million shipments a year, courtesy its vast network: more than 10,000 professionals (including over 4,000 couriers), and 740 retail outlets, dedicated chartered Boeing 737 aircraft, and a fleet of 375 satellite-tracked delivery vehicles. This is the largest such network in the country, larger than the multinational giants that operate in Pakistan, the likes of DHL and FedEx.
TCS has a total of 14 businesses including Express and Logistics, Mail Management Solutions, Air Freight Solutions, and Visa Delivery, to name a few; it covers 3,500 international destinations through partners. The company's state-of-the-art facilities make it capable of printing up to 2 million impressions and 600,000 stuffed envelopes in less than a day.
When it comes to courier services in Pakistan, TCS is still very much the Goliath. And it got there by being an early pioneer in its field.
As we tell you the story of TCS, you will notice a few consistent themes: innovation in its field, aspiration towards global quality, and an owner who is remarkably open to giving outside managers control over the company's day-to-day affairs. The company's owners, however, have always struggled with succession planning, though not for lack of trying. And for all the founders' efforts to run the business like a professional organisation, family issues can sometimes get in the way of business decision-making.

What is also a consistent theme from the past, however, is that TCS always bounces back from its rough patches, usually stronger than ever. While it is too early to say just yet, it may well happen this time as well.
This story is based on extensive interviews with at least three people familiar with the company's operations, who wished to remain anonymous in order to speak candidly, and one on-the-record interview with Saira Awan, the current vice chairperson of the board of directors. Much of the background information about the company's history comes from a 2002 Harvard Business School case study on TCS.
Khalid Awan and the rise of private couriers
The company's founder, Khalid Awan, started his career as a flight engineer at Pakistan International Airlines (PIA). In 1983, at age 35, he left the airline and decided to get into the logistics business with his elder brother Sadiq, who was 23 years older than him. The two brothers started a joint venture with DHL, the international courier service owned by the German post office.
It was a struggle in the early years to even get regulatory approval for the service. Under the Post Office Act of 1898, it was illegal for any entity other than the post office to deliver "letters" though the term "letters" was not clearly defined in the law. TCS was able to argue that it should be allowed to deliver "business-related documents" and that its partner DHL should be allowed to deliver packages and mail from Pakistan to other countries.
The arrangement that the Awan brothers struck with DHL was that their international package delivery would be a joint venture, with DHL owning 51% and TCS owning 49%, and the local delivery business would be a 100% TCS-owned entity. Management control would reside entirely with the Awan brothers, with Khalid serving as the CEO and Sadiq serving at the company's chairman of the board.
DHL agreed to this arrangement – particularly the management control – but only if Khalid would agree to be trained in DHL's way of doing business, which the brothers immediately agreed to.
The arrangement benefited DHL because it allowed them to grow much faster than their global rivals in the Pakistani market. And it benefited TCS because it allowed them access to the technical and managerial support of a well-run global enterprise like DHL.
The government, meanwhile, had not fully resolved the question of whether what TCS was delivering constituted "letters", which meant that the Post Office would frequently dispute TCS' right to carry and deliver certain packages. That legal limbo, however, did not stop the government from levying a 10% excise duty on TCS' operations, which ultimately transitioned to becoming a general sales tax.

Yes, you read that correctly: the government was not willing to give TCS a guarantee that its services would be regarded as authorised under the law, but it had absolutely no problem telling TCS that it owed taxes on providing those same services.
TCS' early break came in 1985, when it won a contract from the Pakistan Banking Council to connect 4,000 bank branches across the country via overnight delivery services. And from that point on, the business continued to thrive.
The first succession problem
Khalid and Sadiq continued to work well together, but as the business flourished, it soon became clear that they had to plan for succession, particularly since Sadiq was significantly older than his younger brother and would therefore be much more likely to want to retire soon and pass on his wealth to his only son, Salim. However, Salim was not actively involved in the family business and Khalid worried that forcing him to take on his father's role might endanger the business.
Khalid, however, was astute and saw the conflict coming long before it even arose. In 1991, he proposed to his brother that they divide up the business, with Sadiq taking full ownership of the more profitable international business and Khalid taking control of the local courier business. Salim was not entirely happy about the split in the family business, but at least Khalid had managed to avoid any unpleasantness.
More importantly, he had shown the kind of dispassionate decision-making skills that many often lack in family businesses: Khalid succeeded in separating family concerns from those of the business, ensuring a smooth harmony between both of them.
That dispassion came to the fore again in 2000. The 1990s were a somewhat difficult time for TCS, with many of its managers leaving the company to form a rival, Leopard, and Khalid got worried that he might once again find himself in a succession crisis, particularly after his handpicked protégé and chief operating officer, Jamil Janjua left in 1996 to work at the British Council.
So in 1997, Khalid decided to bring on Naveed, the son of an elder brother who had passed away, to come in and join the business as a potential designated successor. The goal was to train Naveed while Khalid was still on the job and eventually pass on the management of the company to him. To incentivise Naveed to think like a manager, he was given a 10% stake in the company.
However, by the year 2000, it became apparent that Naveed was not going to be the successor that Khalid hoped he would be, and so Naveed departed from the company. It is not clear if he still owns the 10% of the company that he was given when he was brought on, though he did own it for at least some time after leaving.
By that time, Jamil Janjua had decided to return to TCS, and Khalid Awan was so happy to see him back that he made him the CEO of the company and moved himself up to the role of chairman of the board. Janjua remained as CEO for the next eight years.
The coming of Mannan
By 2014, as Khalid Awan grew closer to his 70th birthday, his mind was on succession once again. And once again, the family option was not ideal.
Khalid's son, the younger of his two children, is a reasonably able young man. A graduate of York University in Toronto, he completed a graduate degree in management from the Cass Business School at the City University of London before working at an accounting firm in Dubai for a few years, following which he returned to Karachi and joined the family business, largely on the board of directors.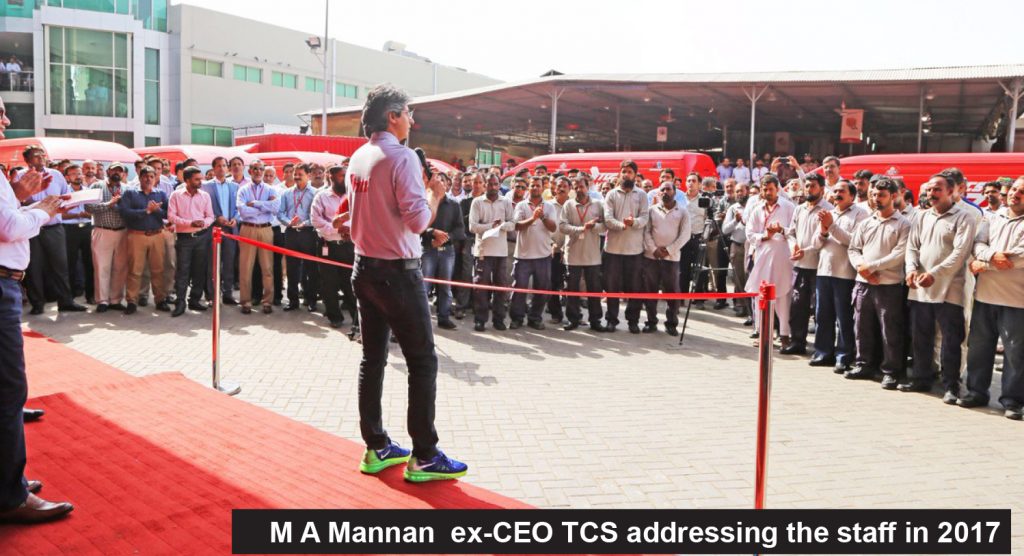 In any ordinary Pakistani family business, he would have been the automatic designated successor. But Khalid Awan is not an ordinary Pakistani businessman. His male heir is not his only option.
Khalid's daughter Saira Awan appears to be considerably more talented than her younger brother. She graduated from Yale University in 1999 before going on to getting a law degree at the University of Cambridge and then working as a corporate lawyer at the London offices of Cleary Gottlieb Steen & Hamilton, one of the largest and most respected law firms in the world.
Surely, she must be Khalid Awan's designated successor? She certainly seems to think so.
"I am my father's designated successor, yes," she said in an interview with Profit, though she added that both her brother and she would be taking over the reigns of their business as successors to their father on the board of directors.
But sources within the firm indicate that while Saira is regarded as highly talented, she is not viewed as being ready to run a business as large as TCS, at least not without a little more experience under her belt.
There is something truly admirable about Khalid Awan holding his children to high standards and still not letting them think that the job of CEO of TCS Holdings is theirs for the taking. And it is even more admirable that he views the success of the company as being a concern separate from that of his own personal and family's financial fortune.
And so in order to secure the future of the company, Khalid began looking for an outside CEO to take over the reigns of the company. And that is when he met M. A. Mannan.
Mannan is a charismatic banker who had a high-flying career. He graduated with an MBA from IBA in Karachi in 1991 and joined Citibank as a trainee in that legendary team led by Shaukat Tarin that revolutionised Pakistani banking. After a successful career across several financial institutions, both in Pakistan and abroad, Mannan met with Khalid Awan in 2014 and pitched him on the idea of immortalising his legacy and making a considerable amount of money in the process.
Mannan's pitch was to rapidly grow the company's topline by launching a series of new service lines that would also serve to diversify TCS' revenue base. Following a phase of rapid growth, Awan would then be able to either sell off the company completely, or sell at least a partial stake to cash out at a much higher price than he might otherwise get for his business. Perhaps most crucially, Mannan promised to help Khalid remove the personal guarantees that he had been signing onto every time he got a loan from a bank for TCS, which meant that his personal wealth was at risk with the business.
Awan appeared to be fascinated by the possibility, especially since Mannan was offering not just to increase the potential for upside growth, but also – through the removal of those personal guarantees – limiting the downside risk. After a seven-hour conversation with Mannan, Awan decided to offer him not just the job of CEO but also a 20% stake in the company.
It was a decision highly uncharacteristic of Awan: ever so careful about preserving his legacy, and ever so careful about ensuring a smooth succession plan, here he was committing so much of his company's fortune into the hands of a man whom he hardly knew at the time.
But, for a time at least, it seemed to work very well.
The 'turnaround' effort
In the first three years of Mannan's tenure as CEO, matters appeared to work really well. Mannan brought in several staff members whom he knew from his banking days, luring them to the company through high salaries. To motivate some of the key staff members already at TCS, he raised salaries as much as 300% for some people.
And he innovated as well, starting two completely new lines of business: TCS Hazir and Yayvo. The former is a one-hour delivery service that would offer on-demand delivery for people who want to order something from a nearby retailer. And the latter is an e-commerce business that sought to create a competitor to then Rocket Internet's (and now Alibaba's) Daraz.pk.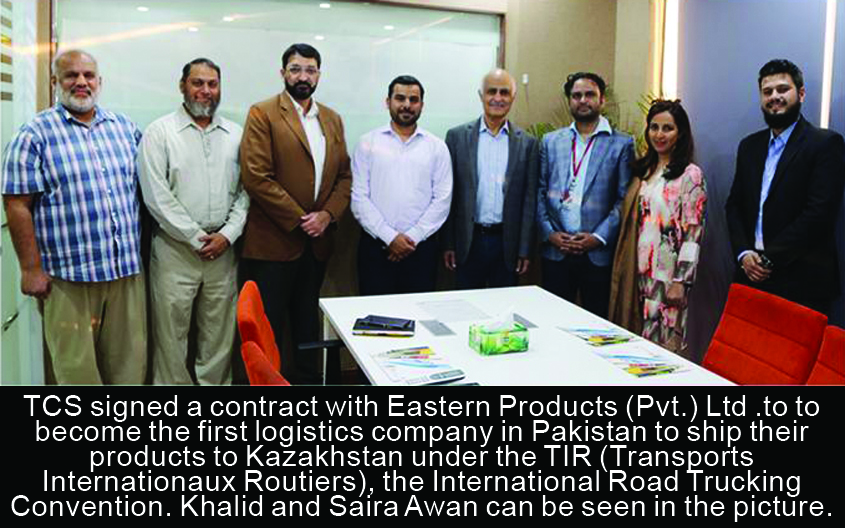 As promised, Mannan delivered on his pledge to get TCS' lenders to remove the requirement for the company's owners to add their personal guarantees to the loans for the company's operations. And he took advantage of the fact that TCS was a relatively unlevered company (i.e. it had a relatively low debt load) and used debt financing to raise the capital needed for many of the new projects as well as the increased operational expenses.
The new projects did not come cheap. According to sources familiar with the company's finances, TCS spent approximately Rs800 million in capital expenditures over the four years between 2014 and 2018.
For the first two years, it seemed to go well. Yayvo grew to become the second-largest e-commerce platform in Pakistan and TCS Hazir showed some early promise.
But then, things began to falter.
Things fall apart…
Accounts of what happened next differ sharply. Where possible, we at Profit have tried to piece together as cogent a picture as possible, and tried to do so without taking sides in what eventually became a battle between two completely different visions of Saira and Mannan for the company.
Among the biggest criticisms of Mannan's approach is the fact that he brought in a lot of former bankers who had never run a logistics company before and had no idea about the idiosyncrasies of the business. And Mannan's tendency to offer high salaries to people he liked resulted in a culture of sycophancy around the CEO, something that had previously never existed in TCS, a company that had prided itself in having an open and honest culture.
Mannan was apparently a great orator and motivator, using gimmicks to make his point, but his ideas often lacked depth and understanding of the business. Take, for instance, his decision to start TCS Hazir, the one-hour delivery service.
"One day, Mannan called a meeting and asked the staff to make two queues, and then threw a tennis ball in the middle," said one source who wished to remain anonymous. He said that nobody picked the ball in between. This ball is our parcel delivery rider, he said. When he is out to deliver parcels then he can drop anything like food etc to people on his way."
Perhaps that made more sense in person, but nonetheless, the manner in which the product TCS Hazir was launched was a disaster.
The company's plan was to use idle time for riders to deliver items to people who wanted to buy things from local retailers without having to leave their homes and offices. It was an attempt to bridge the gap between the convenience of e-commerce with the immediacy of physical retail. In theory, it was a sound idea.
In practice, however, the company horribly underestimated the amount of time its riders would have available to make these kinds of deliveries, resulting in the core business of delivering regular packages suffering from serious delays and cost overruns.
"Imagine that a serious courier service, where parcels, which also consist of important documents has riders who are out buying cigarettes and nihari in between deliveries of those important parcels. It delayed TCS deliveries, which in return hurt company's image and business," said the source.
"It [TCS Hazir] was an instant flop, but Mannan's ego did not let him abandon the idea," added the source.
It was a similar story with Yayvo, which started off as a competitor to Daraz.pk. On this, there appears to be considerable disagreement as to what exactly happened. People in the pro-Mannan camp argue that the board of directors did not allow the CEO to adequately fund that venture, as a result of which it never stood a chance of succeeding. They also claim that Yayvo was the brainchild of Khalid Awan himself and Mannan was only asked to implement his idea.
Observers outside the company agree that an inadequately funded venture would be tantamount to burning cash. "It takes $20-30 million to set up a proper e-commerce business in Pakistan, and nobody aside from Daraz has been willing to do that," said Hamaad Ravda, former chief marketing officer at Daraz.pk. "If you're not willing to do that, then you're wasting time and resources."
And employees certainly agree that Yayvo is a distant second to the power of Daraz. "Yayvo has never been a real threat to Daraz.pk. If Yayvo has 500 vendors, then Daraz.pk has 5,000 vendors. Related products are expensive on Yayvo. And promotional discounts are better on Daraz.pk," said one former employee.
But there are others who argue that TCS should never have entered the e-commerce market in the first place, especially since e-commerce delivery was rapidly becoming a large part of its business. Sources familiar with the matter tell Profit that even though TCS only accounts for about one-third of Daraz.pk's deliveries, the business from Daraz accounts for around 8-9% of TCS' revenue. This, by the way, is up from close to zero just five years ago, suggesting that e-commerce delivery is the wave of the future for logistics businesses in Pakistan.
One former employee, who wished to remain anonymous, said that launching Yayvo created natural conflicts of interest that resulted in a reduction in service quality just as a new competitive business was ramping up and competitors were beginning to improve their offerings.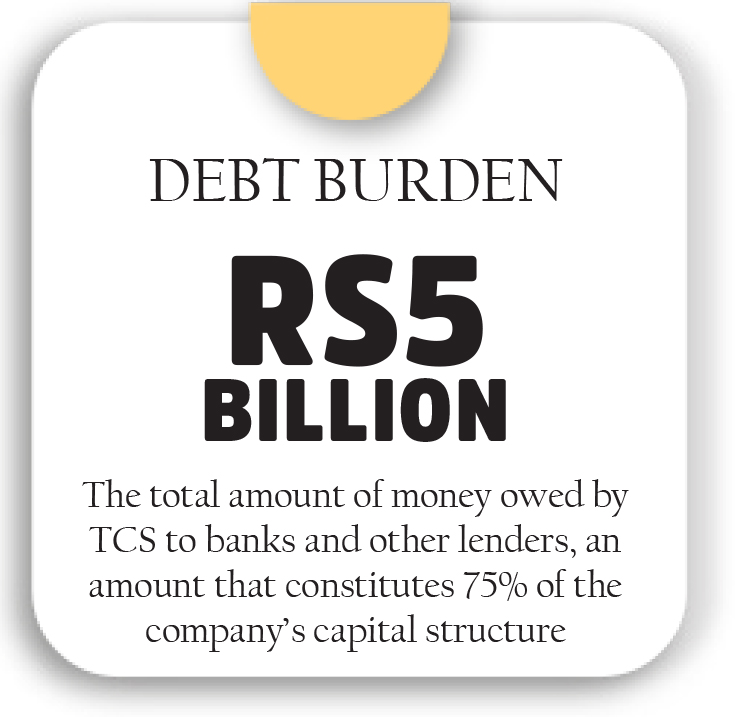 "Launching Yayvo has pissed off TCS vendors," said the source. "First you are a partner in an enterprise where your part is to provide logistics to vendors. But after learning your partner's business model, you start encroaching in their area of specialization. It had been a simple case of conflict of interest."
That conflict of interest began showing itself in particularly ugly ways when TCS began to have cash flow issues as a result of delayed deliveries and its high debt load that Mannan had taken on as CEO. TCS began using the cash it collected on behalf of e-commerce vendors for cash-on-delivery orders and using it to fund its own working capital requirement, delaying payments by up to several months to vendors who were owed payments.
According to one source familiar with the matter, TCS currently owes as much as Rs100 million to e-commerce vendors on account of cash-on-delivery payments. Needless to say, neither the vendors, nor the platforms like Daraz, are pleased at the situation. The vendors and platforms have increasingly started using other courier services like Leopard, M&P Couriers,  Blue Ex Logistics and E2E Logistics to name a few, which have smaller operations bases than TCS but also fewer of the capital constraints. (Editor's Note: To be fair to TCS some of the e-commerce vendors have been seen complaining on social media of delayed payments from other courier services as well.)
And Daraz.pk, which is still TCS' main customer, now has its own courier service, Daraz Express. "I believe TCS' Yavyo misadventure has been one of the reasons for Daraz to launch its own courier service," said one former employee.
And now that Daraz is backed by the deep pockets of Alibaba, the threat to TCS' core business is even bigger, as the biggest e-commerce company in Pakistan, the fastest growing segment of the logistics business, seeks to build out a competitor to TCS.
"Yes, we know Daraz is starting their own service," said Saira. "We have been working closely with them and we had this conversation and we have known that. This again (is) a pattern that a lot of e-commerce companies have followed internationally as well. Amazon did the same thing in US etc. Again, we do not see this as a threat to us. As I said, we want to go with them. We would like to see efficient and tech-enabled players in the market. It is also giving us the impetus to further improve ourselves. So, all these are positive moves, and all of these are positive for the Pakistani customers who we serve as well. So, we have to take a holistic view in this."
She doth protest too much, methinks.
The deal to sell, and Mannan's departure
By this point – 2017 to be precise – Mannan and Khalid Awan were operating on completely different wavelengths. Awan was horrified at what Mannan was doing to his company, while Mannan thought he was successfully building up a company and getting it ready for an exit.
Khalid Awan started to reassert his influence back in the company at the same time that Saira had moved back to Pakistan and joined the company and began asserting her influence. The family's renewed managerial interest might have irked Mannan, but he kept his focus on finding strategic investors who would be willing to buy all or part of the company.
The company's revenues continued to grow, albeit at the expense of the rest of its financial health. For the latest financial year, TCS' revenues hit Rs14.5 billion, but that growth came at a cost. The company's receivables from Yayvo reached a staggering Rs1.8 billion, or nearly 12.4% of its total revenues.
Nonetheless, by mid 2018, Mannan had succeeded in finding a buyer. The Dubai-based Ijarah Capital, the multi-private equity firm owned by several wealthy Emirati families, had expressed an interest in purchasing the company – all of it – at a valuation close to $200 million.
Over a weekend in August last year, Mannan and Khalid Awan hashed out the details of the transaction, and it looked as though they were ready to announce it at their management committee meeting the following Monday. However, that is when things took an unexpected turn.
At that management committee meeting, everyone was expecting both Mannan and Khalid to show up and announce the details of the transaction. However, Mannan did not show up and only Khalid attended the meeting, announcing something completely different. "He said 'the company is going through a tough time from a financial and working capital perspective. So we have decided to part ways with the President and CEO [Mannan]'. It came as a shock to all of us," said one source familiar with the matter.
Sources familiar with the matter say that it was Khalid Awan's children – especially Saira – who were opposed to the transaction and persuaded their father to not go through with it. And since Mannan had staked virtually the entirety of his strategy for TCS on a successful sale of the company, his position at the company was untenable after that. Whether he was fired or resigned is unclear, and probably irrelevant.
For their part, the board downplayed the idea that Mannan was fired. "After a certain passage of time, there is always a need to look at things with a fresh pair of eyes. And we felt, as Mannan sb left in September 2018 and by the time he left it was more a case of strategic realignment at the board level rather than any disagreement. TCS had an amicable departure with him. The board had a very good working relationship with him, the management had a very good relationship with him and as such he had not left due to disagreement," said Saira.
"We, as a family are very very committed, as a second generation we want to take the business forward. And we felt that there was a need for focusing on our core. Our priority is and we think our core strength is our logistics. We wanted to renew that focus. And so, it was more a case of strategic realignment at the board level. And to get our vision, where this company needs to go, we felt that it was important to different – I would not say different leadership as I would like to clarify that our current CEO [Salman Akram] is the one who has moved up through the ranks [in TCS] – So again, we believe very firmly in our management. A lot of people who are here in TCS have been working from 10 and 15 years so there is a lot of institutional knowledge, not just of the sector but also of the company. So, we felt that we need to change direction and bit of focus."
Post-script: In 2013, TCS had accepted an offer from Standard Chartered Private Bank (Middle East) at a total valuation of $50 million. This deal negotiated by the then CEO of TCS, Saqib Hamdani for a partial sale had fallen through at the last moment due to a high-level change within Standard Chartered Bank's negotiating team.
The bloodbath and aftermath
Following that fateful Monday, everything Mannan and his team started was halted, according to one source familiar with the matter. All of those who were a part of Mannan's team were also quietly made to part ways with TCS.
Everyone close to Mannan either resigned or was asked to leave. The head of TCS E-Commerce, which has two entities under its umbrella – Yayvo and Sentiments – Salman Hasan resigned. The head of human resources Asma Sheikh, the Director of Innovation and Customer Service Sohail Shaikh, and the Head of Marketing Naiyer Saifi all left in quick succession.
"But Mannan and Company had little to bother as they received their full money of the contract," a source said. "However, the most important asset of the company – the human resource had to pay the price. After Mannan's exit, the people who took to the helm of affairs started terminating employees when they could have reduced the financial stress by pay-cuts."
"People associated with the company for 35 years were shown the door. Those who were about to retire in three years were also terminated," said the source.
According to our source, who wants to remain anonymous to avoid retribution from the current management, said that Chairman Khalid Awan had been a great employer in the past but in Mannan's case and even later on he has given unbridled authority to the management and has himself turned a blind eye.
There has been reports that management even bypassed Awan's own instructions not to terminate employees. One source even claimed that Awan, a very healthy and physically fit man for his age, had a heart attack recently, which many speculate may have been caused by the stress related to the turmoil at the company that has been his life's work.
"The company is struggling as there's unpredictability among the employees. Nobody knows who's next to be shown the door. Everyone is throwing their CVs to friends and family and nobody now has interest in their daily work. The company's operations are struggling due to this," said the source.
Saira, however, had a different view of why the layoffs were occurring. "Times of economic stress and financial stress are also times of great opportunities," she said. "I think sometimes you are forced to make certain decisions, which you do not take when everything is going right. You are forced to revisit and reflect that it should have been done this way. That either it is the efficient use of capital? That these people are working at their optimal capacity? I feel the time that has passed, although it has been challenging financially, but it helped create a transformation plan, which has been a very beneficial thing for us."
She may well be right. In the late 1990s and early 2000s, the company routinely had operating profit margins exceeding 15% and net profit margins exceeding 10%. These days, however, according to sources familiar with the company's finances, TCS has an operating profit margin of approximately 6.5%, and a net profit margin of approximately 2.0%.
Meanwhile, the company still has the massive debt load – approximately Rs4.7 billion – that it has incurred, much of it under Mannan's tenure, and that now constitutes 75% of the company's capital structure. With liquidity problems at TCS mounting, the banks are starting to get very nervous, and do not have confidence in the post-Mannan management team.
Of particular concern is the fact that Amir Iqbal has been brought in as the chief financial officer. Amir Iqbal's track record is not particularly liked by the banks. He was the controller at the Gulistan Group between 1998 and 2002, a period during which that group defaulted on its debt obligations to its lenders.
Iqbal was brought onto the company's management by Saira while Mannan was still the CEO, even though Mannan already had a CFO named Raziuddin Ahmad, a chartered accountant who had previously spent 10 years working as the CFO of Coca Cola Pakistan. Iqbal is said to be a good friend of Saira's husband, Mudassar Malik, the investment banker who co-founded BMA Capital. The two men worked together while Iqbal served as CFO of one of BMA's subsidiaries.
Will they sell, or will they hold?
It is increasingly looking likely that TCS will have to raise capital from somewhere. The management appears to think that selling Yayvo might fetch as much as $100 million, a number that most independent market observers believe is fanciful at best and outright delusional at worst. Most observers believe – based on Daraz's acquisition price of $150 million – that Yayvo is unlikely to sell for much higher than $20-30 million.
After denying that Yayvo was for sale for months on end, the TCS management has finally acknowledged, on the record, that the option is at least being considered. "Our current plan for Yayvo is to raise growth capital and to create some strategic partnership so that growth of Yayvo can be boosted in that way," said Saira Awan.
An outright sale of Yayvo might make enough of a dent in TCS' debt load to stem the bleeding. But many of its lenders appear convinced that the company may still need to raise money by selling shares. And with management turmoil hitting the company in as public a manner as it has – it is hard to hide the sudden ouster of a CEO, even for a privately owned company – any investors who might be looking at the company are likely to smell blood.
Then there is what Saira made abundantly clear: she clearly does not want to sell the company. She wants to inherit and ultimately run TCS.
It is certainly possible that Khalid Awan was wrong and that Saira is in fact ready to lead TCS. If she is able to successfully sell Yayvo for a reasonable price – and she is expected to hit the road this week to find buyers in China and the United Arab Emirates – and pay off the debts and keep the company afloat, she may well prove her doubters wrong.
Khalid Awan worked tirelessly his whole life to set up a business that separated family concerns from those of business, and where merit was rewarded above and beyond all else. His daughter got off to a rocky start. Here is hoping for Khalid's – and for TCS' – sake that she is able to right the ship.