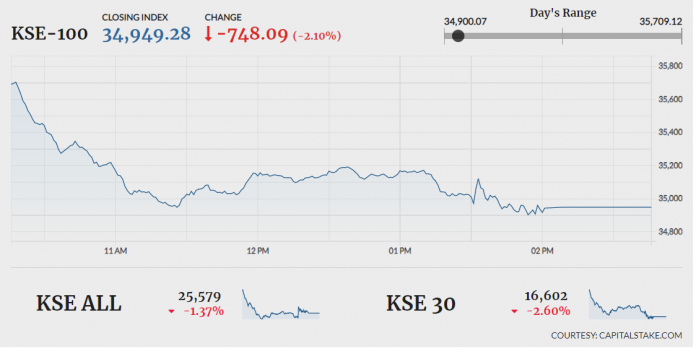 KARACHI: Stocks fell sharply on Tuesday with the KSE-100 index gliding below the 35,000 mark in intraday trade.
Indices started shedding gains right from the word go amid media reports suggesting a delay in the fund announced to support the market. Foreign investors closed the previous session as net buyers with a net inflow of $1.56 million.
According to a notification sent by the exchange, Pakistan Stock Exchange Chief Executive Officer Morin has resigned from his post.
Meanwhile, the National Electric Power Regulatory Authority (NEPRA) has given approval to increase the electricity price by 55 paisas per unit. The decision has been made on account of April's fuel price adjustment.
Depleting by 797.30 points, the KSE-100 index benchmark reached its intraday low of 34,900.07. The index closed lower by 748.09 at 34,949.28. The KMI 30 index sunk by 1,618.82 points to end at 55,997.12, while the KSE All Share index declined by 354.53 points, settling at 25,578.90. Out of all the traded shares, 68 advanced, 271 declined while the value of 22 remained unchanged.
Trading volumes improved from 125.22 million in the previous session to 151.67 million (an increase of 21pc). Fauji Cement Company Limited (FCCL -5.19pc), The Bank of Punjab (BOP -2.72pc) and Unity Foods Limited (UNITY -6.76pc) were the top picks of the day. The scripts had traded 12.03 million shares, 10.36 million shares and 7.90 million shares respectively.
The cement sector chipped off 3.01pc from its cumulative market capitalization. Fauji Cement Company Limited (FCCL) was down by 5.19pc, DG Khan Cement Company Limited (DGKC) by -4.92pc, Bestway Cement Limited (BWCL) by -4.56pc and Maple Leaf Cement Factory Limited (MLCF) by -4.93pc.
JDW Sugar Mills Limited (JDWS +2.10[c) declared its financials for the second quarter of FY19 with sales increasing by 22pc YoY. Its finance cost surged by 80pc YoY, which resulted in a decrease in earnings per share from Rs2.92 in the same period last year to Rs-9.56 in the current period.