The world is dying. We have been told this time and time again but without a care as to the future the planet we continue to poison the planet, pumping harmful gases into the air and pollution into the land and sea. 
One of the areas identified as key in any chance we have to halt to the impending environmental armageddon hanging over our heads is the automobile industry. The no brainer solution to this problem, of course, is throwing out fuel based cars for the sleeker electric models. Actually implementing it, however, is a task larger than life. But car companies are already seeing the need, both for business and for the future of the planet, and are coming forward with some solutions.  
Many companies in developed countries around the world have been taken keen interest in electric vehicles. German luxury car maker Daimler, the parent company of Mercedes-Benz, is all set to buy battery cells worth more than 20 billion euros ($22.75 billion) by 2030 as it gears up to mass produce hybrid and electric vehicles.
Toyota International has also planned to offer more than 10 purely electric vehicle models in its lineup by the early 2020s. At the moment, Toyota does not offer any purely electric vehicles. However, it leads in hybrid models, which switch between an electric motor and a gas engine.
Toyota's electric vehicles will first be offered in China, a nation that is on the forefront of encouraging electric vehicles with subsidies and other policies give its proximity to the climate catastrophe at hand. It will also later be offered in Japan, India, the United States and Europe. The company says that by about 2025, every model it sells will have some kind of "electrified" version, such as hybrid, electric or fuel-cell.
Toyota has also announced other goals on green vehicles. By about 2030, it hopes to sell 5.5 million electrified vehicles a year. Toyota sells about 10 million vehicles globally a year. The company said it will invest $13 billion to realize its 2030 goal, more than half of it on making batteries.
Other automakers, including Nissan Motor Corporation, Volkswagen AG and Honda Motor Corporation and others are working on electric vehicles.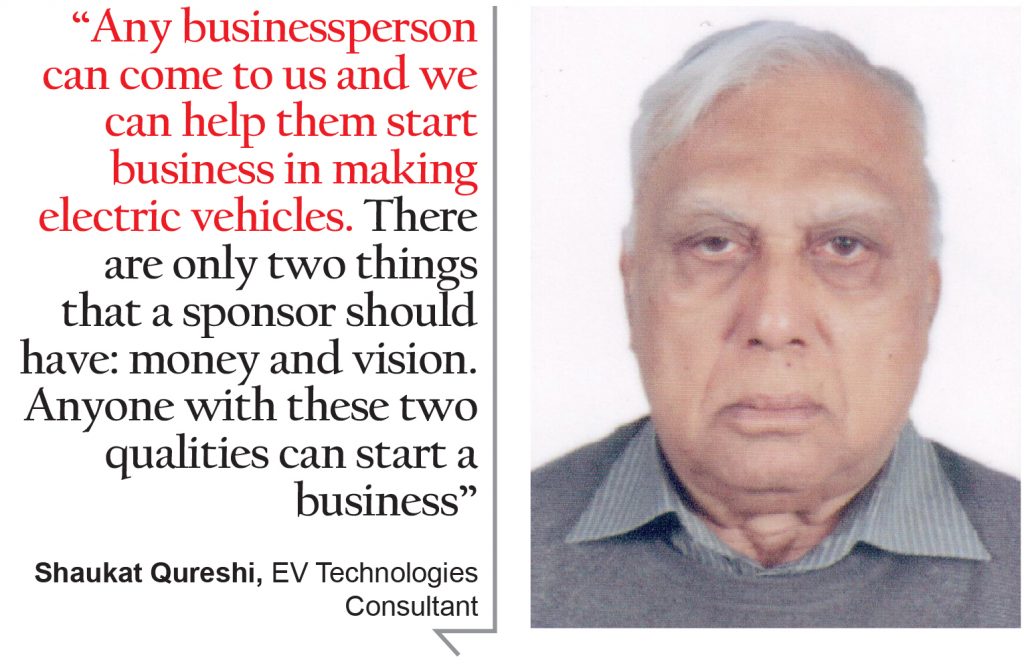 Across the globe, nine countries and a dozen cities or states have announced plans to phase out combustion engines in the last few years. Copenhagen mayor Frank Jensen wants the city to end all new diesel cars. Paris, Madrid, Athens and Mexico City have all announced the end of diesel cars and vans in their domain by 2025. Norway will phase out conventional cars by 2025, followed by France and the United Kingdom in 2040 and 2050, respectively. According to the World Economic Forum report, 70 cities have pledged to be carbon neutral by 2050.
One country that still doesn't quite have a plan regarding electric vehicles is Pakistan, even though it is one of the most vulnerable countries in the world in terms of climate change and pollution. According to the Long-Term Climate Risk Index (CRI), of the 10 countries most affected from 1998 to 2017 (annual averages)', Pakistan is ranked number 8, having lost 10,248 lives and $3.8 billion.
According to Ministry of Climate Change, the transport sector is the leading factor in the deterioration of environmental conditions with a share of 43% in Pakistan's current environmental woes. With the anticipated rise in Fossil Fuel Vehicles (FFV) based transportation sector, the problem of air pollution is only going to aggravate. For some NGOs, the solution is people taking steps on their own. The Chairperson of Subh-e-Nau, Shahida Kausar, told Profit that pollution produced by Fossil Fuel Vehicles is the major contributor to carbon emissions which is causing such destructive effects on the environment. But her solution is not just for the government to look into bringing in alternatives, but for people to take the initiative themselves. 
"Nearly 80% of our people are struggling from respiratory diseases. Low air quality and atmosphere also leads to depression, which in its own capacity leads to other social evils. If there's some substitute to fossil fuel vehicles, which can reduce carbon emissions from cars, then everyone should be looking towards it" she said. "People who can afford them should opt for electric vehicles, even if they are more expensive than their FFV equivalents, because this is a duty incumbent upon all of us."
But personal sacrifice can only take you so far, the problem in Pakistan is so far gone that it may just be beyond the scope even of government intervention. As DSP Saeed Ahmed Arian of the traffic police explained, the situation has gotten so bad that the traffic police personnel regulating traffic in the city have almost all been diagnosed with some form or the other of respiratory disease. With the quality of life in a tailspin, an individual can only do so much.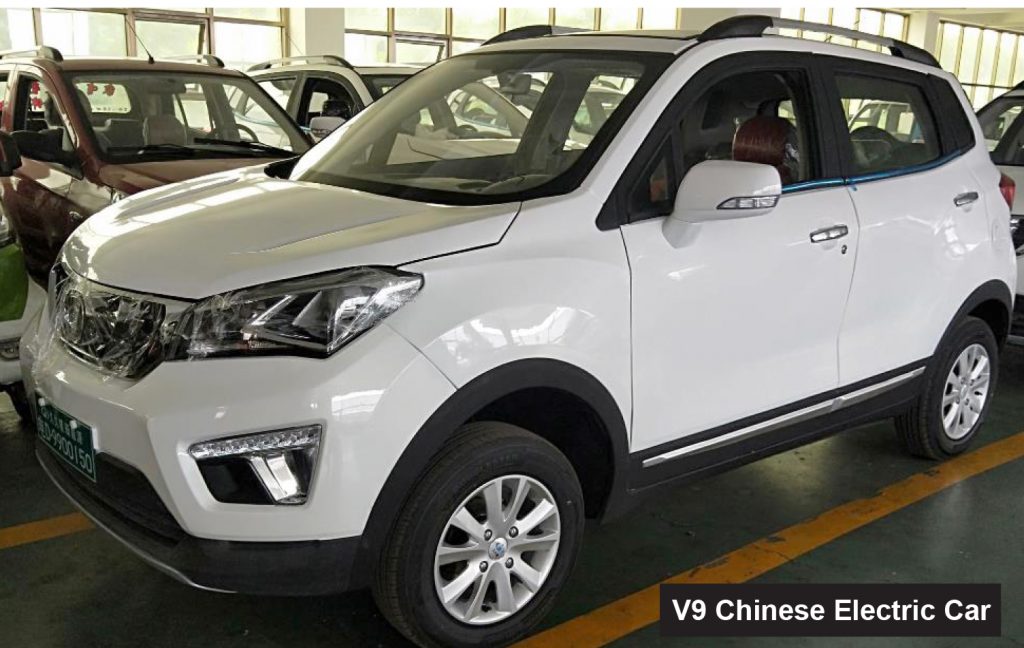 Luckily, Prime Minister Imran Khan has since coming into office at least shown interest in resolving the massive issues that FFV transportation is causing. His desire is simple enough, Imran Khan wants his party, the PTI, to be the one to lead Pakistan to a greener, more sustainable future. Because of this reason, he has clearly taken a keen interest in the auto industry of the country. Following a recent meeting between the premier and officials from the Ministry of Climate Change, it was decided that Pakistan's roadmap is to upgrade around 30% of its road vehicles to electric vehicles by 2030.
The move to reduce carbon emissions will not only be helpful environmentally, but would also reduce import bills. The Prime Minister's Adviser on Climate Change Malik Amin Aslam has claimed that the plan would help reduce the demand for oil, and could fetch up to as much as Rs2 billion in annual savings. 
However, it will not be an easy task for the industry to switch to clean fuel let alone for a country like Pakistan. The biggest hurdle is the cost an individual would incur if he or she opts for clean energy vehicles, at least at the point of initial investment. According to a well placed source in car manufacturing company OEM (Original Equipment Manufacturer), choosing the electric version of a car instead of the conventional model would effectively mean spending 80% more, since electric cars are so expensive at the moment.
People who are associated with the auto industry believe that electric cars won't enter the mainstream of Pakistan's auto market by just rhetoric and some measly reductions in customs duties. Multifold efforts from the government is required including things such as reduction in duties on electric cars, slowly banning or taxing fossil fuel vehicles in cities, rebates for the industry, and even tax incentives for people choosing to buy clean fuel vehicles.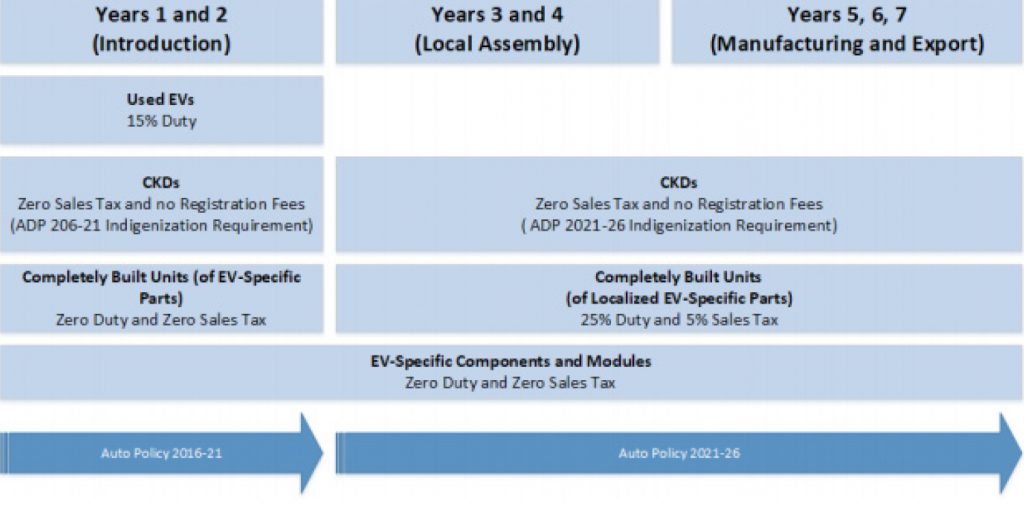 Three OEMs were questioned about their plans regarding the electric vehicles, but none have responded since all of them are patiently waiting for the government's upcoming policy on electric vehicles. According to sources, the policy has already been drafted and could be announced at any moment. 
According to the Ministry of Climate Change's (MOCC) Zero Draft on Electric Vehicles, the target has been set at 100,000 EVs to hit the roads in the next five years. After the auto market accustoms to EVs, the next target has been set to produce 30% EVs of the total cars produced in one year. Many believe that the biggest hurdle would be to have electric charging stations. However, it is not about infrastructure. It is easier to have electric charging stations as compared to CNG or petrol pumps. The bigger problem is that charging is time consuming and at the moment companies have been doing a lot of R&D to bring that charging time from 4 to 6 hours to something closer to 10 minutes. But this problem would be solved if people are able to charge EVs wherever they park their vehicles, especially when cars are parked overnight at one's home or during the day at the office. 
What the Pakistan government wants, or at least what it says, is that their arbitrary target to achieve 30% electrification of cars by 2030 in this country is a difficult ask. The auto industry, too, is scoffing at the government's proposition and the efforts it is putting in to promote electric vehicles. This has been made worse since industry insiders have not been included in the process, being kept out of the loop while the climate change ministry taking the lead.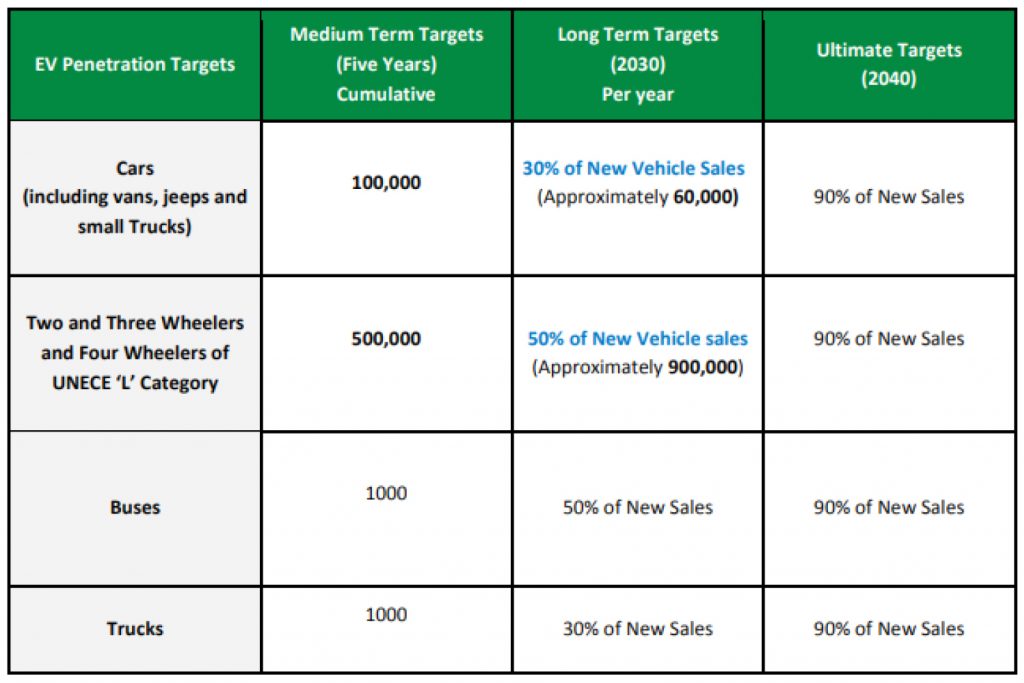 To its credit, the National Electric Vehicle Policy (Zero Draft) drafted by the Ministry of Climate Change is an informative piece to read on the subject. But there are a few things amiss in the document. For starters, the document doesn't mention Hybrid cars. Using hybrid cars brings down fossil fuel usage by roughly 30%. There are also plug-in hybrid electric vehicles (PHEV). These vehicles, unlike Hybrid vehicles, can also be charged by outer source. These cars further reduce the use of fossil fuel. Hybrid vehicles also do not have the charging issue, since their electric motor is charged by the rotation of the car's wheels and conservation of engine energy. 
The countries aggressively working towards the use of clean energy, have all started their efforts with hybrid vehicles and plug-in hybrid vehicles and only now have a combination of all four types of vehicles – FFV, Hybrid, PHEV and EV.       
However, Shaukat Qureshi, an EV Technologies Consultant, says that there is immense resistance to Electric Vehicles in the country, and it is coming from none other than the auto industry itself. "These stakeholders representing Fuel Based Japanese products and principals are trying their best to delay and create hurdles in implementation of EV policy in Pakistan," he said.
Qureshi is heading EV Auto Division S. Zia ul Haq & Sons (SZS) as its Chief Operating Officer, as well as holding the same post at the Rehmat Group. The two companies, who have hands in diverse businesses, are looking to kick start the EV market by initially importing EV in CBU (completely built units) form, and then starting production with a production capacity of 10,000 units each on single shift basis each. Qureshi says the process of installing the plant has already started with finalization of land and all the paperwork done. If demand increases, production can be doubled by embarking on double shift production. SZS already had 60 acre of land near Karachi Toll Plaza and has acquired another 60 acres only for its plan to start an EV plant. The Rahmat Group also has land in SITE area, where it wants to start its own EV production. But all eyes are peeled and waiting on the government to finally reveal it's much awaited EV policy, so that they can see which game plan they are supposed to execute.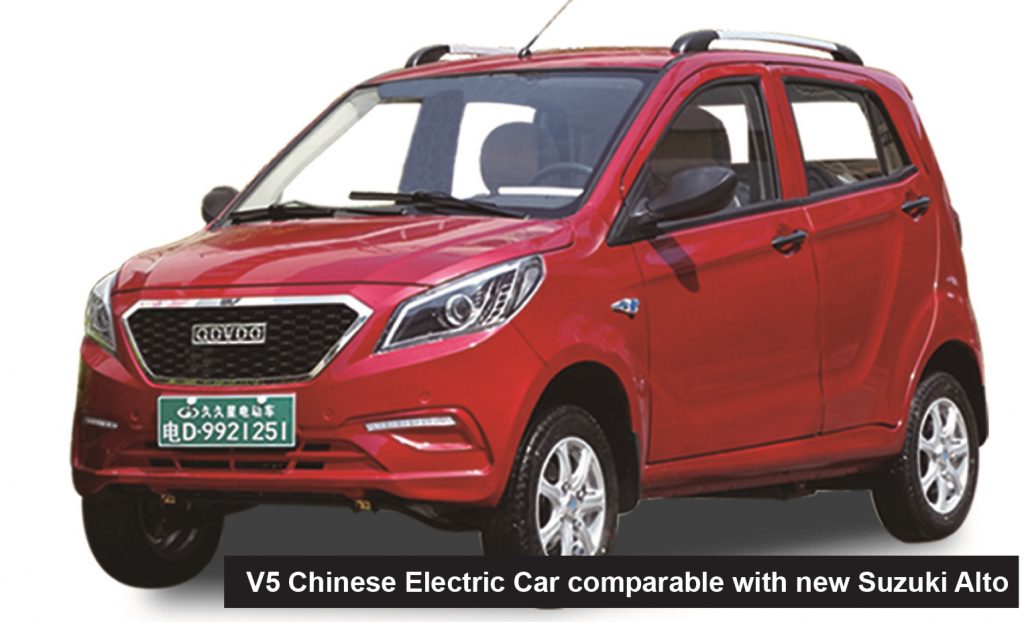 "Any businessperson can come to us and we can help them start business in making electric vehicles. There are only two things that a sponsor should have: money and vision. Anyone with these two qualities can start a business," Qureshi tells Profit. And he seems a man on top of things, having already signed MoUs with 14 electric car, bus, scooter, e-vehicle battery and charger making companies in China. Qureshi has written several letters to Abdul Razzak Dawood, the Prime Minister's Advisor on Commerce, Textile, Industry & Production and Investment and to Malik Amin Aslam Khan, the Prime Minister's Advisor on Climate Change. But there are still hurdles, he claims, such as his allegation that the government's Engineering Development Board (EDB) has always colluded with established auto companies in the past and is back to its old tricks. 
Last year, the government had dismantled the EDB after auto companies that entered for the first time or re-entered Pakistan's auto industry under the Greenfield and Brownfield status in the aftermath of the Auto Development Policy (ADP 2016-21) accused  EDB of stepmotherly behaviour towards them. Qureshi claims that if the government supports the electrification of vehicles in the country, prices of electric vehicles can come down to as low as Rs 1.3 million for a car that could be compared with the Toyota Vitz. 
"Why look at only big cars when 75% of the market in Pakistan consists of cars with an engine size of 500cc to 1000cc? EVs equivalent to these engine size vehicles are not very expensive. And when one incorporates savings that comes from not spending on petrol or diesel, these EVs becomes much cheaper" he said.  
According to a US Department of Energy website fueleconomy.gov, EVs convert about 59%–62% of the electrical energy from the grid to power at the wheels. Conventional gasoline vehicles only convert about 17%–21% of the energy stored in gasoline to power at the wheels. If the Pakistan government approves climate change ministry's proposal on electric vehicles, where it has asked for zero customs duty and sales tax on CBUs for the first two years, EVs may even be selling for just a little over Rs1 million, according to a working Qureshi showed.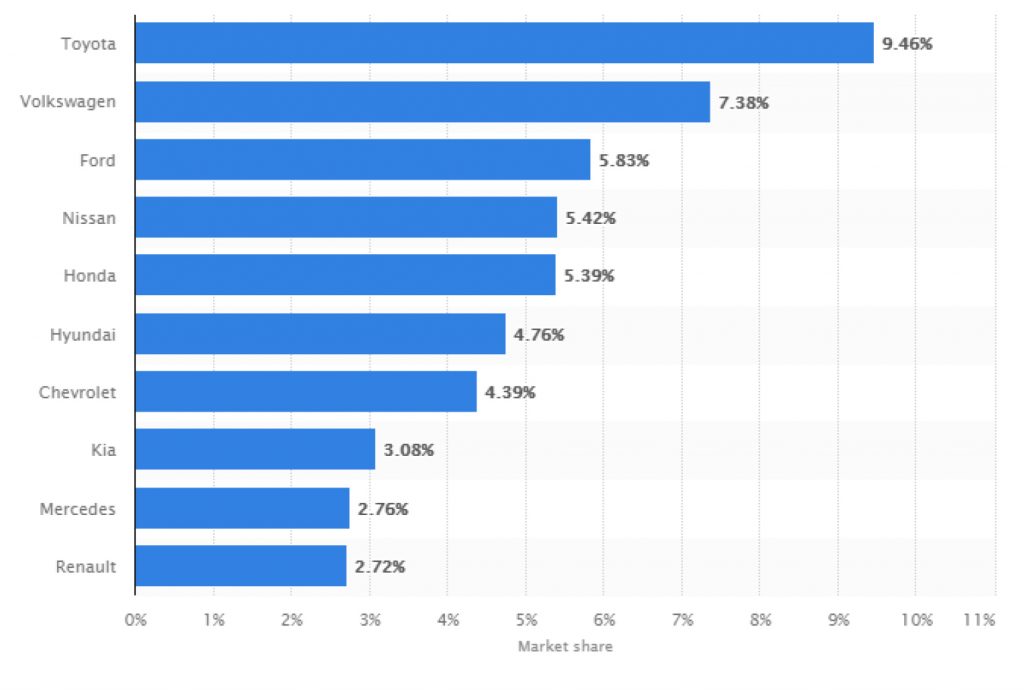 While Qureshi could not give details about the vehicles they were looking to import out of fear of competitors, the two cars initially being brought in are vaguely named as V5 and V9 which can be compared with the Suzuki Cultus and the Toyota Vitz respectively. The cars have already been test-drived in Pakistan.               
"At the moment, it would cost around Rs 2.1 million. There's nearly 43% different duties and taxes if an EV is imported. That increases the price. Moreover, after EVs are imported in CBU form initially, localization can easily start. Our spare parts manufacturer are already making 70% of what makes the price of an EV. The remaining 30% cost would be incurred for importing battery, motor and controller," he explained.
Pakistan's auto industry has always been criticized for its reluctance to innovate. Car companies in Pakistan don't change models for decades, Suzuki's Mehran being the classic example, only now having been discontinued. 
Qureshi has been one of the main players aggressively advocating for electric vehicles in Pakistan. He may be 78-years-old, but he is more forward thinking than many in the industry, challenging anyone who says EVs are more expensive than FFVs to give him their best shot. He thinks Japanese companies are behind this reluctance of Pakistan's auto players to accept EVs because they cannot compete with China when it comes to EV technology. China has done a lot of R&D on the subject for over a decade now. 80% to 90% lithium batteries are made in China because the country has the largest Lithium deposits in the world. Japanese companies, who have led the FFV industry for decades, will be left behind by Chinese brands if Pakistan were to go full EV mode, especially since China has already been collaborating with American and European companies on the EV fronts.  
Both for saving the world, and to have a viable, sustainable future for the auto industry, the government must, and looks like is, seriously trying to make electric cars a thing in Pakistan. But for all the promise, it is yet to be seen whether the electric car policy set to be unveiled any time will disappoint or delight.