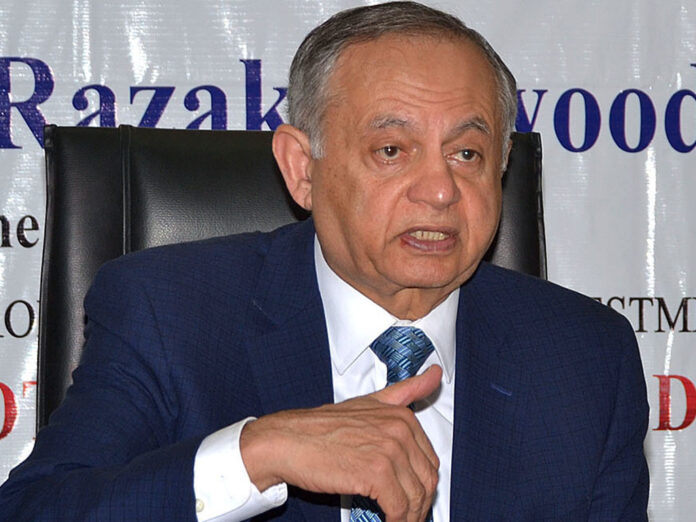 ISLAMABAD: Adviser to Prime Minister on Commerce Abdul Razaq Dawood said on Tuesday that the incumbent government has envisioned increasing rice exports to $5 billion in the next five years.
"In order to achieve this target, the Ministry of Commerce is striving to reclaim the traditional markets, besides capturing the new markets," he said while addressing a press conference.
He said with continuous efforts of the government, Qatar has now opened its market for Pakistani rice. Previously, he added, Pakistani rice was not being procured by the state procurement agency of Qatar.
Dawood informed that Qatar's Central Tendering Committee has advertised a tender for the procurement of 100,000 bags from Pakistan, providing a tremendous opportunity to the rice exporters of Pakistan.
"This initiative will open a new avenue of market access for Pakistani rice which will significantly contribute towards enhancing the country's exports."
The PM's adviser termed the Qatari demand for rice as an important milestone in the export of Pakistan's agricultural products. He said that rice exports were on the upward trajectory in China and Indonesia owing to the additional market access secured by the current government.
Meanwhile, the Rice Exports Association of Pakistan (REAP) lauded the government for achieving this milestone. "REAP is extremely grateful to the PM and his adviser for their focused efforts in successfully helping the association open up the premium basmati market in Qatar.
"It is encouraging that the basmati rice exports have fetched $637.99 million in FY2018-19, as compared to $581.85 million in the same period last year."
The association showed optimism that the Ministry of Commerce's initiatives like re-negotiating on the preferential trade agreements and free trade agreements would result in positive outcomes.
A REAP representative commended the commerce ministry for securing duty-free market access on the export of rice to Indonesia and also for getting additional market access to the Chinese Market.
It is pertinent to mention that Qatar's private sector, CTC, used to import rice from Pakistan, but in 2011-12, it made it's tender Indian-origin specific, thereby effectively banning the import of any other origin, including Pakistani rice.
The CTC issued tenders every two months for the supply of more than 5,000MT of high-quality rice but the Pakistani rice remained excluded from these tenders. Owing to this, Pakistani exporters/suppliers were deprived of supplying of about 30,000 to 40,000MT quality rice to Qatar per annum.
Meanwhile, during the recent visit of the Iranian commerce minister to Pakistan, Iran offered market access to Pakistan by resolving to import 500,000 tonnes of rice from Pakistan. The Iranian delegation also extended its support on the removal of potential bottlenecks so that trade activities could be increased and a way forward could be developed.