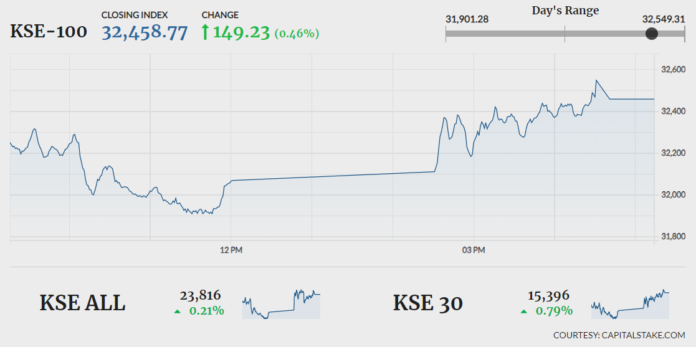 KARACHI: Indices of the Pakistan Stock Exchange (PSX) which opened the session in the red on Friday managed to change its course later in the day and closed in green.
Foreign investors closed the preceding session on Thursday as net buyers with a net inflow of $2.65 million where major buying was witnessed in the banking sector ($1.44 million).
According to the latest data released by State Bank of Pakistan, foreign exchange reserves held by the central bank increased by 12.9pc on a weekly basis to stand at $8 billion. The increase was recorded after Pakistan received the first tranche of $991.4 million from the International Monetary Fund (IMF).
Breaking its 52-week range, the KSE-100 Index touched its intraday low of 31,901.28 after losing 408.26 points. The index then managed to gain 239.77 points to touch its intraday high of 32,549.31. It finally closed higher by 149.23 points at 32,458.77. The KMI-30 Index gathered 600.81 points to end at 51,004.52, while the KSE All Share Index ended positive at 23,815.76 after accumulating 48.75 points.
As per media reports, Adviser to Prime Minister on Commerce Abdul Razaq Dawood on Thursday announced that the government has increased the price of fertilizer by Rs10 per bag. He further added that the government will provide Rs1 billion subsidy on import of fertilizers to facilitate farmers and promote the agricultural sector.
Following the news, the fertilizer sector gained 0.79pc in its cumulative market capitalization. Fauji Fertilizer Company Limited (FFC +1.67pc) closed with decent gains, while Fatima Fertilizer Company Limited (FATIMA -2.81pc) ended in the red.
The oil and gas marketing sector added +2.52pc in its total market capitalization. Sui Northern Gas Pipeline Limited (SNGP +4.41pc), Pakistan State Oil Company Limited (PSO +4.12pc) and Sui Southern Gas Company Limited (SSGC +3.15pc) all closed with decent gains.
According to a notification sent to the exchange, Hascol Petroleum Limited (HASCOL +3.10pc) and Vitol Dubai Limited (VDL) have entered into financial arrangements whereby VDL has agreed to provide facilities of $42 million.