In 2017, viewers of Neo TV were witness to the first season of a type of show that was new in Pakistan but had gained success in other countries around the world: a reality television show where the game involved entrepreneurs pitching their ideas to investors and raising venture capital for their startups.
Idea Croron Ka (ICK) is Pakistan's first business reality show, emulating British reality show Dragon's Den and the more famous American business reality show Shark Tank. If you are a budding entrepreneur with a cool business idea, you might be able to source multi-million rupee investments on ICK from investors if you match their investment interests based on the industry you operate in.
Three seasons of the show have been aired so far, with Rs420 million committed in investments to as many as 35 startups, while the fourth season is underway. The total number of startups that appeared on the show is 72, making the success rate of raising investment on the show nearly 50%.
ICK looks like an amazing opportunity to raise capital, and if its numbers are correct, they are a significant source of seed funding for Pakistani startups. But how real is the money generated on the show? How many startups have actually been able to raise the money committed on camera and go on to become successful entrepreneurs? The answer to those questions is complicated, and certainly murkier than the dream of meritocratic successes portrayed on the show.
In an interview with Profit, show host and content producer Nabeel Qadeer admitted that they have been able to verify only about 30% of the amounts raised on the show as having actually been invested in the startups who pitched their ideas. So why does Nabeel go around claiming a 70% success rate? Well, to understand that, you have to understand Nabeel Qadeer and what he thinks he is trying to create.
 Nabeel Qadeer's entrepreneurial journey
Idea Croron Ka was born out of Nabeel's passion to promote entrepreneurship in the country and educate people about how money works: how is it raised, where is it spent and how is it spent and the don'ts of it. Nabeel belongs to the cohort of Pakistani entrepreneurs who set up country's first technology incubator – Plan9 – under the charismatic leadership of Umar Saif, the former chairman of the Punjab Information Technology Board (PITB). 
From 2012 when Nabeel joined Plan9 – where he rose to become its Director of Entrepreneurship – to the four seasons of Idea Croron Ka, Nabeel helped create PlanX, the Punjab government's technology accelerator programme for mid-stage startups, Whizkids, an entrepreneurship programme for children, and Herself, an entrepreneurship programme for women. That is besides setting up the 40 E-Rozgar centers to teach freelancing all across Punjab and writing Punjab's IT policy.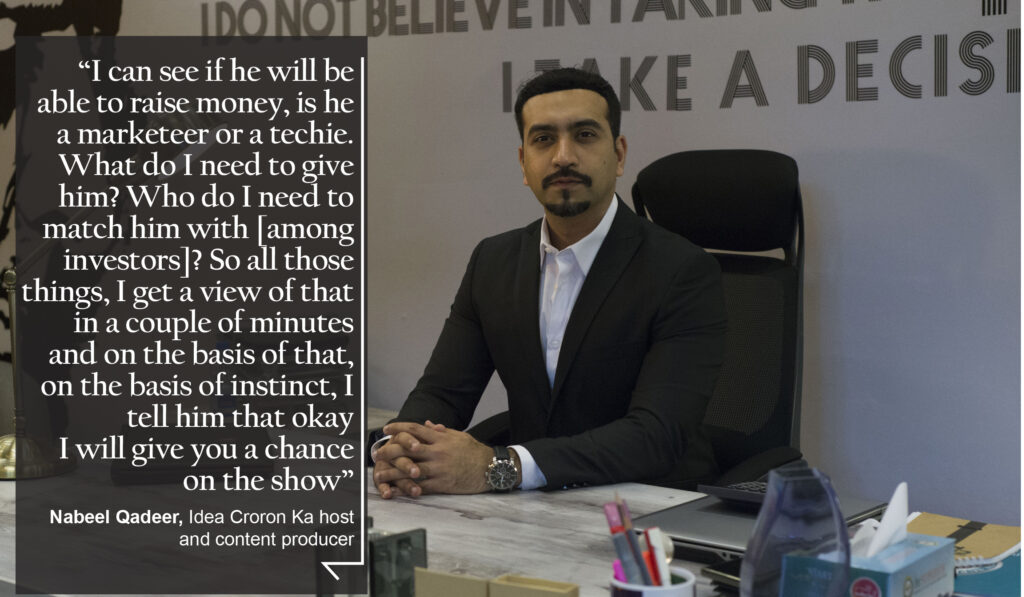 Nabeel also serves as the CEO of InfinitLabs, a software and consultancy firm based out of Canada with offices in Lahore, Jeddah and the UK, and has been a visiting faculty member at FAST-NU and Information Technology University (ITU) where he has taught entrepreneurship, project management, business ethics and management information systems.
Being an entrepreneur himself, Nabeel says that he understands the pains of entrepreneurs with regards to raising meaningful investments: the only factor adding realism into an entrepreneur's desire of becoming the next Elon Musk. And there was no better way than bringing entrepreneurship on mainstream television and making startups look heroic. Nabeel's idea for the business reality show was rejected by many television channels until Chaudhry Abdur Rehman of The Superior Group, whom he met completely by accident, chose to give Nabeel's idea a chance on his channel Neo Tv. 
 How does it work?
Each year, ICK opens applications for entrepreneurs to submit their business ideas which are then shortlisted for auditions in three cities: Lahore, Islamabad and Karachi. The entrepreneurs shortlisted after auditions are then given a chance on the show to pitch their ideas in front of a panel of three investors to raise investment, mostly against equity. 
"We receive 600-700 applications. The applications are reviewed very rigorously. I have friends in the industry who are CEOs. We distribute applications among them and take their opinions for a yes or a no. Out of those 600-700 applications, I have to show less than 30 in an entire season. So, we first bring it down to 100-150 and then call them for auditions. Entrepreneurs are asked to present their ideas in those auditions and we evaluate them there. The audition for a single startup can go on for upto 30 minutes," says Nabeel, adding that during auditions, what he tries to see is the quantum of passion in an entrepreneur to achieve what he has aimed for. 
According to Nabeel, by virtue of being associated with the startup ecosystem and having worked with hundreds of startup cofounders, he is so apt at evaluating the startups that it only takes him a couple of minutes to find out if an entrepreneur is trying to create something that will be successful or not. 
"I can see if he will be able to raise money, is he a marketeer or a techie. What do I need to give him? Who do I need to match him with [among investors]? So all those things, I get a view of that in a couple of minutes and on the basis of that, on the basis of instinct, I tell him that okay I will give you a chance on the show," Nabeel tells Profit.
To allow an investor onto the show, Nabeel says he considers mostly referrals. 
"The investors that I have worked with before, whose investments matured at least once, I have made a credibility of them based on a score.  On the basis of their credibility, if they refer someone, I talk to them. I meet them and I ask them:
   

How much can they invest?

   

Are they willing to invest? If yes,

   

What is their area of interest?
Based on their area of interest, from the ideas we have collected and the auditions we have done, I try and find out the 24 entrepreneurs whose ideas match with the kind of investors I have. The number is 24 because in 12 episodes of the show each season, I can only show 24 ideas," he says.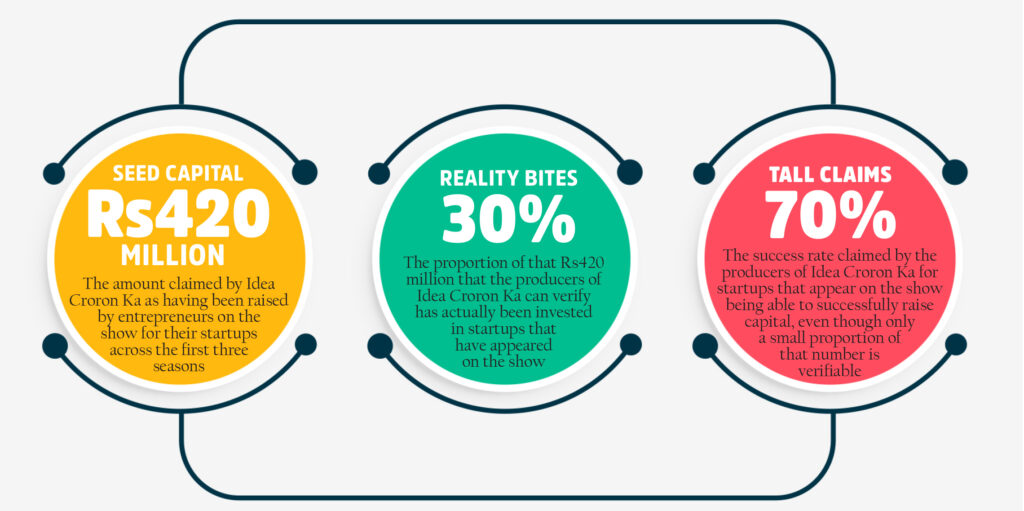 "At least five days before the show, the panel of investors is finalised and profiles of a few startups are provided to the investors. The profiles include their slide decks and excel sheets – the financials. The investor comes after perusing these documents. He knows [about the startups pitching on the show] and has his questions ready. We just serve as a platform for entrepreneurs and investors to meet. If an investment is made, we announce that investment," he says.
Nabeel says that he is critiqued for making raising investments on television look magical. On an episode of the show with a runtime of less than an hour, at least two startups pitch their business ideas to investors, with the possibility of raising investments running into millions of rupees. But in reality, the negotiations can go on for hours.
"I spend 1.5-2 hours recording a single pitch. There are exchanges, calculations, negotiations. Then a deal is made. On a few minutes of TV, how much can I show? We extract the best 10 minutes out of the long negotiations that we have recorded," Nabeel told Profit.
The show does not make money on its own and is run through sponsored ads. Nabeel says that sponsors invest because they are trying to elevate the youth. Since the show doesn't generate any income, Nabeel's monetary compensation for his efforts is connected with the group as a whole and not the show.
Television magic versus reality
Nabeel claims that out of the Rs420 million committed in investments on Idea Croron Ka, they have validation for 30% of the deals made on the show that they have actually materialised and money has been invested.
The legal disclaimer, obviously, is that Idea Croron Ka only serves as a platform to bridge the gap between investors and entrepreneurs and holds no responsibility, legal or otherwise, of the investments or startups. 
Nabeel, ever the consummate marketer, however, says that he still claims the success rate of the show to be 70% because of the mileage a startup gets when they are speaking on national television.  He says that through a survey, he has come to know that 30-35% of the people have actually enjoyed the perk of coming on his show because of the publicity factor. 
"We invest in digital marketing just to throw your pitch to the rest of the world. It's on the web, Facebook, WhatsApp. Imagine the kind of popularity you get, the mileage you get, the credibility you get when you come on the show. It's not just about cash. Why I increase the success rate is because of the popularity factor. Because of marketing," he says.
"You install a billboard in Lahore, they will charge you Rs2.5 million a month for that. On the other hand, I take you to an audience of 1.3-1.4 million people, by repeating the show thrice for zero money. That is a contribution to your business and you should make the best of it. Regardless if the investment matured or not, what's important is that you were on national television, thousands and thousands of people saw you, people have queries, now go sell," he says, notwithstanding the fact that Neo Tv isn't ranked among the top 10 news channels of Pakistan and to run a 10 minute documentary type ad on it with free non prime time repeats would not cost more than Rs25,000. That comes to just 1% of the cost of the said billboard.
And if Neo Tv is now famous for something, it is probably Idea Croron Ka.
DataSpine co-founder Anwaarul Haq told Profit that he raised an investment of Rs10 million on the second season of Idea Croron Ka, but the deal could not materialise.
But deals falling through is a normal thing that can happen at any stage of negotiation between a startup and an investor. Even the agreements made on Shark Tank are non-binding handshake deals, and many of them never close.
For comparison, Shark Tank investors have been reported to have pulled out of the agreement or changing the terms of the agreement to what would work for them. According to a 2016 report by Forbes that covered seven seasons of Shark Tank, deals completely fell apart for 43% of the startups that appeared on the show. The 57% of the deals that continued were split, with only 27% going through exactly as portrayed on television, and 30% with substantially changed deal terms.
Entrepreneurs have also been known to back out of the deal at times and fudge some of their company's financial figures or make false claims to secure a deal. But when investors carry out their due diligence and look under the hood of the companies they've agreed to invest in, they bust the lies and misinformation and back out.
Deals not materialising at ICK are no different. Nabeel says that while startups complain of being duped by the investor after he backs out of the deal, there have been instances where entrepreneurs presented dodgy numbers in their financials to secure a deal, reflecting a lack of integrity on the part of entrepreneurs.

"Yes, I have received bad testimonials. The only mechanism I have is checks and balances, referrals, trying to inquire if an investor has duped someone before or if an investor committed but did not transfer money and why he did not do it. In all that, I have also come to know that at times entrepreneur was lying. So, when lawyers and accountants do their due diligence, they find lies and if it was a lie, why would an investor invest? So these are all real things that reality TV shows have. But I am only trying to matchmake the sort of investors with the right entrepreneurs. Like a marketplace," he tells Profit. 
He, however, says that even though he is not bound and holds no responsibility towards the startups or investments, if approached, he tries to arrange meetups of the investors and entrepreneurs off-screen to see if matters can be sorted out.
Interestingly, Anwaar revealed that though the deal was finalised on the show, he had already met the investor and the deal was already negotiated with him and only made official on the show. Another instance of such deal was in 2017 during Season 1 of ICK when Yousaf Rizvi, the CEO of online travel company Checkin.pk, raised an investment of Rs10 million from Monis Rahman – the CEO of Rozee.pk – on the show. In an old interview with Profit, Rizvi had disclosed that Monis had already taken notice of his business and was already in the process of investing. However, the partnership became official after Monis got Checkin.pk evaluated on ICK.
Nabeel was very open to admitting that there had been instances where investors were already negotiating or in some cases had even finalised deals with entrepreneurs, but were still invited on the show. But that was all done with a good intention because he had to make the show work.
"Yes there have been cases like that where investments had already been agreed upon. But that was in 2017, when nobody was watching the show," he tells Profit. 
Was it wrong? Nabeel does not really think so.
"You have to understand that I am trying to show it to the grassroots. If you look at the impact of the work I do, I have given hope to a common man. That you can get money if you have a good idea. What am I valuing? A guy [or girl] with an idea. It's understandable that he might have found an investor before [coming on my show]. But I brought them onboard and showed it to people. I don't see anything wrong with this. What this has done is that it has increased the belief of a common man that you can receive money on this show and he now understands what can be done with that money. That's educating and that is what my goal has been. So, if I did right or wrong in the beginning, I can't say now," he said, adding that he does not entertain such requests anymore.
But what merits mention here is that though the deals might have been negotiated or agreed upon before coming on the show, an investor on the panel said that he had not been barred from making a better offer to the entrepreneur presenting his idea on the show. 
Suneel Munj, co-founder of PakWheels, who was one of the investor evaluating Checkin.pk, told Profit that though he was aware of Monis' interest in Checkin.pk, he was free to make an offer to Rizvi but did not do so of his own will. "It was not decided that only a certain investor would make investment. It was a level playing field for everybody and through a very fair process. In fact, I have never ever been barred from making an offer on the show," he says.
Moreover, Nabeel says that neither he, nor any of the members of the group he is associated with make investments on the show.