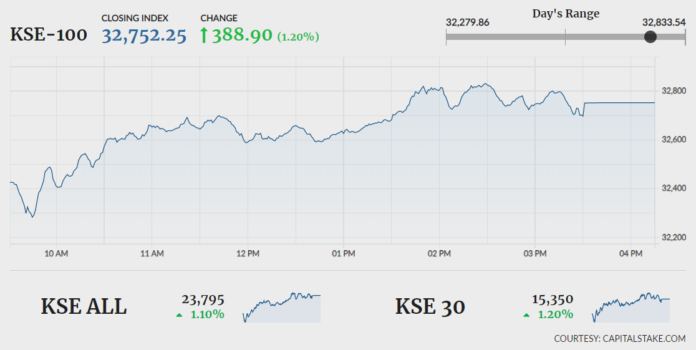 KARACHI: Bulls dominated the Pakistan Stock Exchange (PSX) once again on Thursday, as the indices continued to move in the upward trajectory while volumes inflated to the highest level witnessed this year.
Foreign investors, on the other hand, turned out to be net sellers on Wednesday with a net sale of $1.21 million.
As per media reports, heads of the country's leading business houses met with Chief of Army Staff Qamar Javed Bajwa to highlight their concerns regarding Pakistan's economy.
According to the latest figures released by Pakistan Bureau of Statistics (PBS), inflation surged to 11.40pc in September 2019, an increase of 0.9pc when compared with the preceding month.
Meanwhile, the cement sector posted a growth of 11.50pc in September. Domestic sales surged by 11.58pc while exports rose by 11.60pc. Cement sales stood at 4.27 metric tonnes in September 2019, compared to 3.83MT in September 2018.
The KSE-100 Index marked its intraday high of 32,833.54 after gaining 470.19 points. It closed higher by 388.90 points at 32,752.25. The KMI-30 Index gathered 746.30 points to settle at 52,254.84, while the KSE All Share Index gained 258.48 points, ending at 23,794.56.
The overall market volumes were recorded at 324.26 million (highest in 2019). K-Electric Limited (KEL +9.07pc) topped the volume chart followed by Unity Foods Limited (UNITY +7.58pc) and Dost Steels Limited (DSL +28.49pc). the scripts had traded 35.77 million shares, 22.75 million shares and 11.87 million shares respectively.
The sector that kept the KSE-100 Index bullish included banking (+90.04 points), cement (+65.11 points) and fertiliser (+55.11 points). Among the companies, Habib Bank Limited (HBL +31.05 points), Lucky Cement Limited (LUCK +27.55 points) and Engro Corporation Limited (ENGRO +23.58 points) contributed maximum points to the index.