In April this year, the ride-hailing firm Uber acquired the rival company Careem for $3.1 billion, with the deal between the two set to be finalised in January. Essentially, for Pakistan, this means one company is now dominating the ride-hailing service industry. The two managements have recently announced that they will continue to operate separately with different apps, platforms and offers, but for all intents and purposes the competition is dead. They are planning a scheme to be in cahoots, and soon enough they might be one and the same thing in all but name. 
Pakistan, of course, is not the only country to face this little situation. Uber and Careem have been operating in opposition to each other in a number of middle eastern countries. With the international merger that took place, the issue of competition death arose in all of these places, spurring relevant regulators and watchdogs into action, and terrifying the ride hailers as to the future of their merger. 
While other countries have already made their opinions of the merger and its possible fall outs known to the two companies, Pakistan still seems to be stuck in the procedural doldrums of deciding how to go about this budding monopoly. We are still deliberating on how it will impact the market, and whether the Competition Commission of Pakistan (CCP) will allow this merger and if it does with what conditions, and how the ride-hailing services market will respond.
One of the potential impacts of this acquisition is the creation of a gap in Pakistan's market that can be filled by new players. However, that might be easier said than done, considering the varied factors that have gone into making Careem and Uber the brands that they are today. 
The obvious dearth of public transport and alternate mobility options mean that at least in the metropolitan cities of Pakistan, there is a lot of untapped potential for such a player, but at the same time, the financial and in-kind costs of utilizing that potential might not be duck soup. 
Profit set out to dig into this evolving market, the potential it holds for new players, and the consequences this merger will have for captains and customers alike. Here is what we found.
Careem's official launch in Pakistan took place in May 2015. Uber followed almost a year later when their app was launched in March 2016. Needless to say that when these companies began operating in Pakistan, there was no shortage of market potential but there were several hurdles to be overcome as well. Security and trust remained the top concerns and the market was supposed to be prepared for such a business to be accepted widely. Careem and Uber not only needed to convince customers, called 'riders' to use their applications, but they also had to convince drivers, called 'captains', that it was a worthwhile means of earning.
The Captains
One of the first tools used by these companies, back when they first arrived, was to shower captains with bonuses, minimum guaranteed income and profits while at the same time treat customers with free rides, promotion codes, and even gifts. According to the dozens of captains interviewed by Profit, the initial monthly 'income' for captains easily averaged north of Rs 80,000 and their take home 'profit' usually had a floor of Rs 50,000. 
An account, verified by Uber captains and by Nomaan Ahmed – owner of Ride Hailing, a company that provides registration services for captains for Careem, Uber, Roamer and others, Uber paid Rs 500 to captains simply to "stay online" in its initial days. This meant that a driver only had to stay logged in on the app all day, and even without taking a single ride or even stepping out of home he could earn Rs 12,000 per day. 
Details on the exact monetary rewards to Careem captains are a little hazy, but they have not lagged far behind Uber, with their bonuses on meeting target number of rides quite handsome in those early days. 
"We had to do only a couple of rides per day to meet our targets and it could be either in terms of the ride fare target or the number of minimum rides. And once we got our targets we not only got bonuses for that but even for maintaining our rating," said one Careem Captain who has been working with the company since it first launched. 
"Sometimes customers get annoyed when we ask them to rate our ride but for us higher rating really meant more money."
Of course, nothing ever lasts, and both Careem and Uber eventually started phasing out these high bonuses and easy days to their captains. And while this was not unexpected, a point of interest is that such rewards and perks for captains have been decreasing at an even more accelerated speed than before now that the two companies have come together. 
Just the announcement of the merger seems to have sped this decrease up faster than it would have happened otherwise. One wonders whether they are already collaborating, even though that is a tall claim to make. But according to the responses collected by Profit through a survey from captains, the average revenues began to fall from 2018, but took a sharper hit in 2019 – the exact merger announcement dates.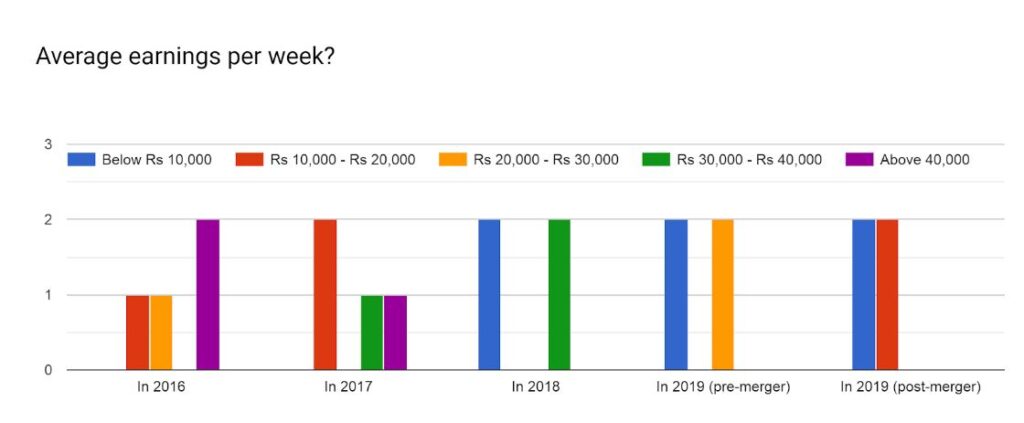 At the same time, the advantages and perks being offered to captains have seen a notable downfall as well. This, coupled with the rising costs of fuel, car maintenance, and interest rates on the cars themselves, have undoubtedly spelled less and less income and profits for captains.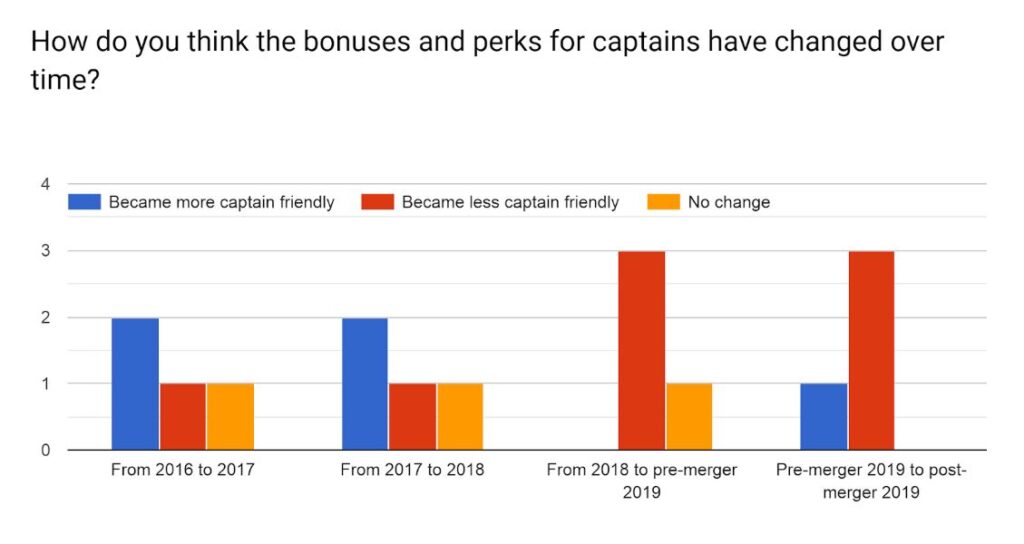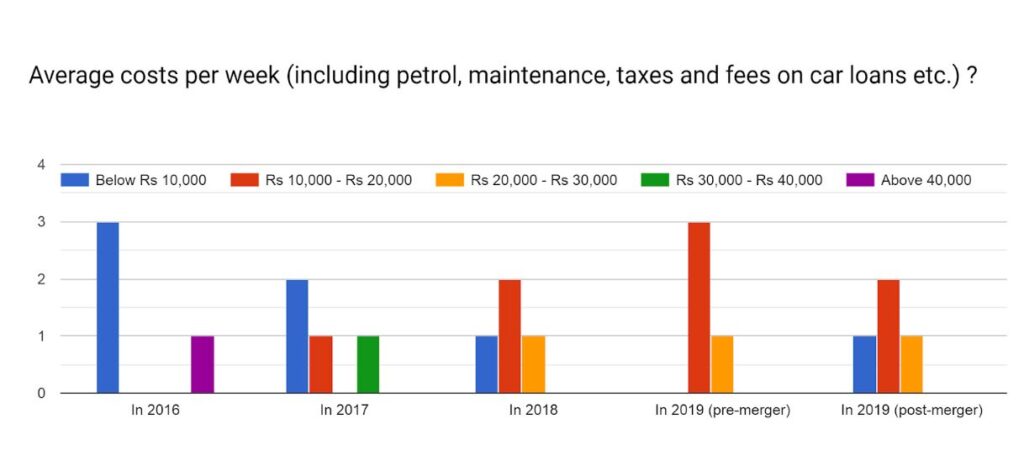 A Careem captain driving a 2006 Suzuki Mehran in Islamabad, speaking on the condition of anonymity said, "I rarely get rides from dilapidated areas anymore. Initially smaller cars were targeted to the mass market and we used to get so many customers, from every nook and corner of the city. In fact, I used to spend many days close to the Daewoo station and people coming to Islamabad from far away areas used to be my biggest riders" he said.
"Now the prices have gone up that I pick up people from Defence, Cantt, and Diplomatic Enclave. Many people don't even bother now that the car is small, they just want to get dropped on their destination in the lowest possible prices."
He believes that captains with smaller cars may have taken the biggest hit, because the high prices have almost wiped out the lower segments of customers, while the "richer riders usually prefer Go and Go+ as their staple rides instead of coming to us."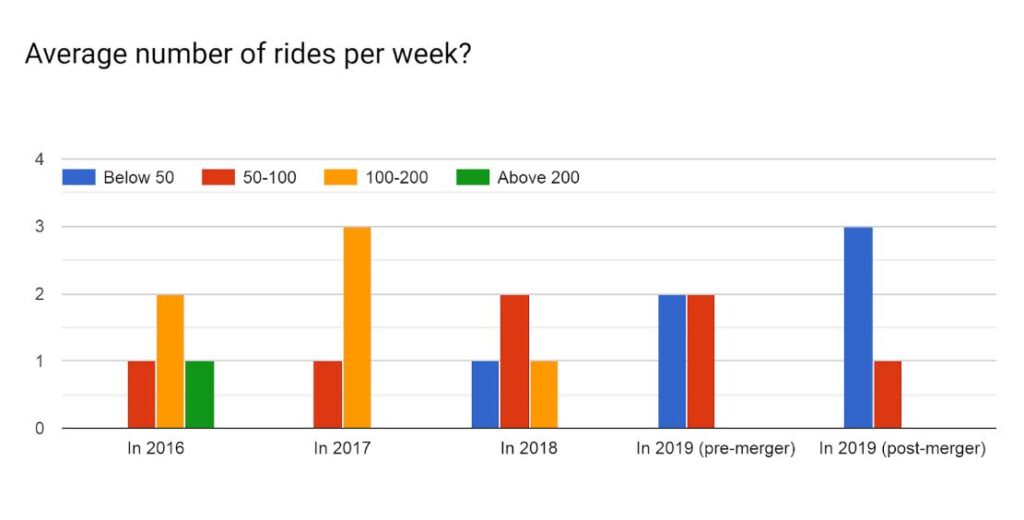 A note of caution here for the readers. The falling number of rides is not synonymous to the falling customer base, rather with the number of captains being higher than ever before. The survey responses collected from the customers show that on average a customer took 5 rides per week in 2018 which is now twice that much. (More on the merger impact for customers in the next section).
Another captain named Umer Farooq, driving a 2017 Honda Civic for both Uber and Careem, said, "I have not seen any decrease in the number of customers despite the higher price. Careem has more brand loyalty than Uber generally, even though for us as captains Uber has been better."
He said that when he started working for Uber in 2017, the bonuses were much higher and the payments were also quicker, but with time the number of customers has increased so at the end of the day his sum total of earnings has been rather unaffected.
"Careem allows waiting time and many people take Careem if they have to go to multiple destinations. Uber, on the other hand, gives a fixed amount when customers book it so on a day when there is heavy traffic, I get more Uber rides than Careem," he said, "Customers have also gotten smarter now so they know how to choose between these two options." 
However, he said that the costs of maintaining and driving a car have gone higher than the incomes that ride hailing generates. "You know how the petrol prices have gone up, then car registration and taxes have also increased, but neither Uber increased its bonuses nor Careem increased its ride rates comparable to that."
Another captain for Careem, speaking anonymously said, "I have worked as a driver in Dubai for eleven years. I came back last year and got registered with Uber. They were paying better money and bonuses than Careem. One day, one of my children took hold of my phone and randomly texted a lady that I had given a ride to. She complained and Uber cancelled my registration. The message was not even a word, it was jumbled up letters and gibberish. Now I have spent so much money on this car and I have to work to feed my family so I am doing what I can, even though Careem does not pay as much as Uber does."
Nomaan Ahmed takes a pro-Uber/Careem stance here. "I have worked with Uber so I understand how they worked and how they are working. And it is only reasonable that they moved from their initial brand strengthening strategies to more expansionary and earning strategies. How long do you expect a company to simply keep throwing money?"
The Customers
The survey responses and interviews from the customers of these ride-hailing services all point out to one glaring fact – "the prices are rising and the service standards may also be deteriorating, but in the absence of an equally safe and reliable alternative, customers will continue to use the available service".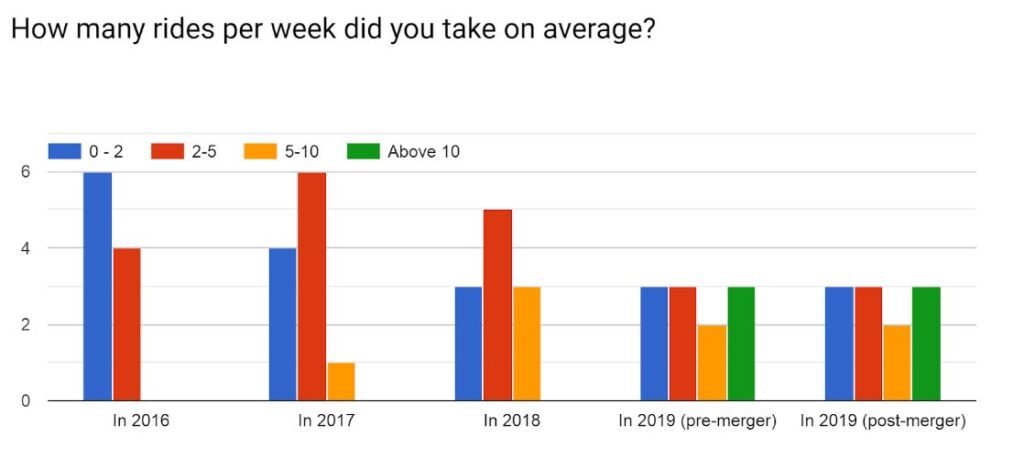 The pricing effect seems to be most pronounced right after Uber took over Careem.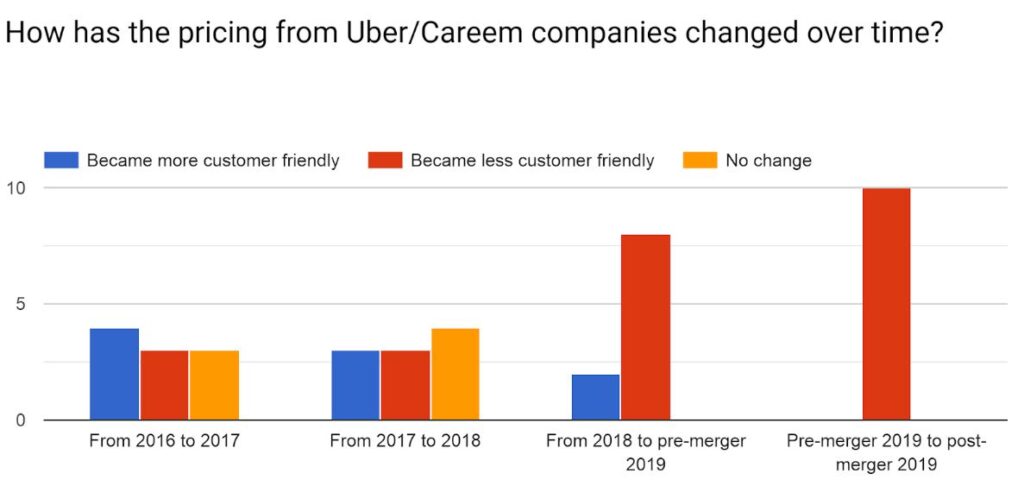 In addition to pricing, the quality of overall service, the condition of cars available, and helpline services have all seen a marked decrease from 2018 to 2019, and more so in the post-merger era. But despite all of it, there still seems to be more apprehension than excitement among the customers over any new available service. While more than half thr customers expressed willingness to try a new service if it becomes available, almost everyone said they would do so conditionally.
"Uber or Careem have now become necessities instead of a facility to be availed only when needed," said Mansoor Aftab, who commutes around 35 kms each day in Lahore on either of these services.
"The costs of taking a Careem or Uber have gone up substantially in the past few years, but I would still prefer calling one of these instead of taking my own car. It's not just the car and the fuel, but I also don't have to worry about parking spaces, my car getting knocked up on a heavy traffic road and so on."
Another thing he said, which was corroborated by at least 5 other Careem/Uber users was that the Rs 50-100 one might have to pay over for peak factors didn't really matter at the end of the day as long as you were getting your service.  What may be inferred from this is that offering lower prices on newer services – unless accompanied by at least an equal standard of service – might not allow the new players any significant advantage. This much for the customers who can afford their own car as well, but what about those who need a taxi service for financial reasons as much as for convenience?
Naziha Sikander, a primary school teacher based in Islamabad, said, "If I sometimes get late when on a school function etc. I simply call a Go+ or a Business car if I feel I need a more secure ride. I would not call Uber, not just because I usually don't like their cars and captains but simply because they don't have a helpline and their app just looks more complicated to me."
There were also other factors, such as Uber not having a wallet system up until very recently, which makes the ride a hassle in case she doesn't have change and has to travel late at night when she cannot easily stop at a store to get it.
"I will not even try to use another app, especially at night, until the brand name has become as well known for its service and security as Careem. I'm not always happy with the cars, or the drivers' ability to navigate, but safety is my main consideration. I will pay a little extra if that means peace of mind."
Another rider, Wasif Jamil from Karachi said, "Careem bike is perhaps the easiest form of travel for me on the crowded roads of Karachi. It costs much less than taking my own car and even on a hot sunny day, it is better to be on a bike than in a car whose AC might or might not work".
He said that he has also used services from Bykea and Daewoo cab when in Lahore or Islamabad, but he has found Careem to top them all. "The thing with Daewoo is that they only have the bigger cars. That is not something a regular customer would use on a daily basis. Bykea has a good delivery time and good tracking services, but personally I am so used to simply using the one app that does everything that I find myself often calling Careem delivery just because I am using the app otherwise during the day."
 How are the authorities handling the merger?
Half of the interviewed customers believe that this merger should not be allowed to go through. The other half would like to see this merger go through under certain restrictions. 
But it is not the customers who will have the final sayy. The parties that can decide on the matter still have their jury out. In the first phase of evaluation, the Competition Commission of Pakistan advised against allowing the merger. A copy of the 'CCP's order concerning the pre-merger application of Uber and Careem' provided by the commission states that "the Commission finds that the proposed transaction is likely to substantially lessen competition through the creation of strengthening of a dominant position in the relevant market." As a result the Phase II review for the merger has been initiated, which is a rare event for the commission.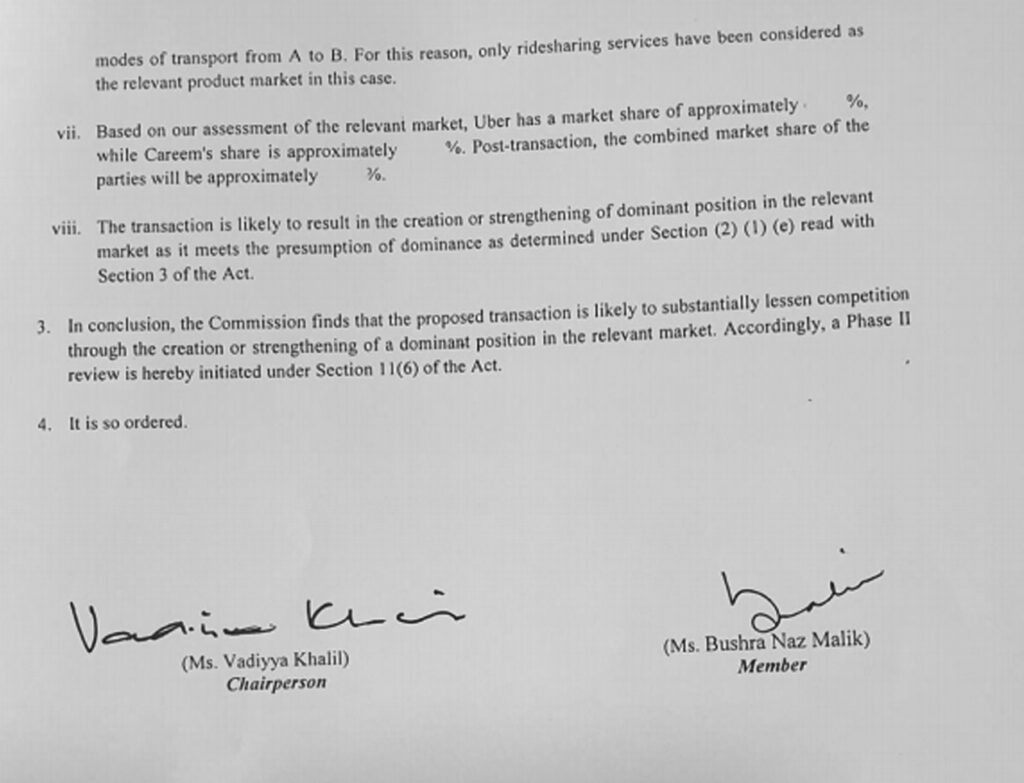 Legally speaking, the CCP does hold the power to implement restrictions upon Uber and Careem before allowing the merger to proceed, but practically there might not be much hope. And this is not just because the companies operate internationally and the basic merger transaction is beyond CCP's control.
Syed Raza Hassan Shah, Senior Associate litigation at Ali Masood Hayat and Co. said, "Both these companies are from outside Pakistan so at the roots of it CCP doesn't even come into play. If you consider the market, even then the argument of whether a monopoly might be created or not depends on how much market share they had in the first place. Uber had a much lower share than Careem, and even Careem itself was not serving to enough customers in enough cities to be known as such a company that can behave as a monopoly. It is still quite a fair market and the barriers to entry are more to do with whether other players want to enter or not."
"However, considering purely how much control CCP might have, to be frank, they can't do anything. The best that they can do is possibly put them into a special service category, or try to control the prices they offer. Maybe they can suggest an added tax or service charges to the new Uber-Careem, but at the end of the day that will cause more harm than benefit. The more important aspect for CCP might be on the data that will now be under one company, and it might be something they are not even concerned with as yet, at least not as much as they should be," he said.
The latest update in this saga came from New York, where Uber CEO Dara Khosrowshahi met Prime Minster Imran Khan and expressed plans of creating half a million jobs in Pakistan before the end of the tenure of the current government. The CCP has refused to comment on this development and whether or not it has the potential to skew CCP's decision in favor of the merger. 
The commission, however, did say that they are in talks with other countries where Uber and Careem are both operating and they are considering their examples. Qatar has out rightly blocked Uber's acquisition of Careem, while Egypt's competition watchdog issued multiple statements warning both the companies against the merger, and hinting that the two companies might face fines of $28 million each if they proceed with the merger. The UAE is the only one to give the merger a green light.
What of the market then?
It might be impossible to quantify the degree to which the financial benefits to captains have been reduced, or how much more Uber and Careem are making now that the promo-codes have reduced drastically in their frequency as well as the time period for which they are allowed. 
There is also somewhat of a consensus among the captains that both these companies, although apparently still operating separately, are now squeezing the benefits. At the same time, customers also feel that Careem's previously immensely helpful helpline is now moving towards the potentially useless model adopted by Uber and Uber's lower fixed rates are now rising to meet the rates at par with Careem. 
What one may derive from these changes is that even if Uber and Careem want to show the country that they are operating as independent companies, competing with each other, in truth there is little to no challenge in the market that might force them to keep their services captain and customer friendly. No one from Uber or Careem was available for a comment on their perspective on the impacts of this merger on the market.
However, according to a letter from Uber's CEO Dara Khosrowshahi that he sent to his staff in March 2019 before announcing the acquisition; published by CNBC; the both companies will "largely operate separately after the acquisition". An excerpt from the letter says, "After careful consideration, we decided that this framework has the advantage of letting us build new products and try new ideas across not one, but two, strong brands, with strong operators within each. Over time, by integrating parts of our networks, we can operate more efficiently, achieve even lower wait times, expand new products like high-capacity vehicles and payments, and quicken the already remarkable pace of innovation in the region". However, until first quarter of the next year, the CEO neither expects to receive the necessary regulatory approvals nor wishes to change anything on operational sides.
Careem's Communications Department responded to Profit's queries post publishing of this story, and as per their statement "Once the transaction is complete, Careem will continue to operate as an independent brand with the existing leadership team running the business. Careem Co-founder and CEO, Mudassir Sheikha will continue to lead the business, which will have its own Board made up of representatives of Careem and Uber." The statement added "both companies [Uber and Careem] see…the need to continue providing differentiated products and services to meet the local needs of people from the region."
The statement did not deny that the Careem helpline which was previously open to all their customers is now being restricted. It said, "Our Call Centre access is available to gold customers any customer who take on GO+ and above car type". Similarly, it did not contradict the issue raised by Profit over the services for captains becoming less friendlier. The statement only read, "Many of our offering/services and policies (including incentives for riders, Captains, cancellation policies, call center, pricing, loyalty, packages, CareemPay are fundamentally differentiated from Ubers offering)".
Vacuum, do your thing
If you're an entrepreneur, you might just be licking your lips. After all, what does a vacuum mean if not that something is going to fill it? With all this laid out, is this a good time to capitalize on the space created from Uber's takeover of Careem, or is the market looking at tough times ahead?
Discussing the challenges that the industry may pose to investors, one might think of the cost structure first. However, considering that it is inherently an internet application, the basic capital expenditure is not likely to increase Rs 150,000 according to Maqbool Alam, a certified mobile application expert.
"To be honest, a simple app like Careem can be manufactured from somewhere Rs 50,000 to Rs 250,000 depending on how sophisticated you wish to make it." However, the data bank and the servers needed to operate the application is where the money and the challenge lie.
"There is so much data at the back end, that not only needs to be operated but also stored and saved and possibly even used in future algorithms as well. For that, I suspect, even the basic operational expenditure would be in the neighborhood of Rs 4-5 million. But even that is a conservative estimate."
Nomaan Ahmed has similar views. "Anyone can make an app. That is not even remotely a barrier to enter the industry. In fact, you mentioned Timesaco and they are selling out their franchises for Rs 500,000 each and anyone with spare money lying around or feeling adventurous enough because someone showed them high dreams would easily be able to bring up their servers and such. The art is in creating a brand image and convincing captains and customers to come."
He said that Careem and Uber came to Pakistan with an already established reputation, and even though they had to convince the customers here of the service itself, the brand existed already.
"These new players will have to come up with something way more than lower prices to attract customers away from the already existing services."
Mansoor Ahmed concurs, "I don't see myself or frankly anyone around me jumping on to the next service available just because the price tag is lower. Of course I want lower prices, but I want without having to worry about the car and the service that I will be taking."
The dozen or so Careem captains interviewed by Profit, however, had a different take on the matter. They all seemed too eager to experiment with the options that may become available to them, and while more than half of them were offering services on both Uber and Careem, none of them have as yet signed on for any of the new players that have entered or are entering the market.
It seems that they are willing to risk joining a new platform in exchange for the established one they are on right now, simply because it affords them new opportunity. And as many have complained, Uber and Careem are great when you first join, but slowly but surely become stifling.
"Both Uber and Careem threw money at the captains when they first came here. Uber gave Rs 500 to its drivers per hour, just to stay online. Now imagine, that just by staying online the captains earned Rs 12,000 every day. I have worked with Uber so I am more aware of their processes but Careem also must have spent loads of money to bring customers into their fold in the first place. However, once they reached their set number of captains, the focus obviously moved away from attracting to expanding and that's when the minimum number of rides came up."
He said that the captains joining now have heard stories of those times and now irrespective of what they might get, there is a chance that they will want more and the current situation will probably not be enough for them.
He also informed that back when Uber was still strengthening its foothold in Pakistan, "there were fleet owners and there were individual drivers. Fleet owners were paid higher than individuals but the aim was all the same, to bring more and more captains in. With time that had to change. How long do you expect a company to simply keep throwing money."
Keeping up with the fact that drivers will most likely be attracted to higher income, one new player, Timesaco, has offered 98% of the earnings to the drivers. In comparison, Careem takes approximately 25% while Uber gives 20% of the fare amounts. [These numbers were shared by the captains and no official comment was received from Uber/Careem until the publishing of this story].
"Honestly this 98% is a marketing tactic which might work for Timesaco because they will get their membership and franchise money, but where will this income comes from. Will the customers take these new services, and will these drivers be able to make money in the first place, that is the main question?"
What are new players offering? 
There are a number of players who have either already started providing ride-hailing or are on the verge of doing so. Some of the names that you may have heard of are Airlift, Buraq, Siayara, and Roamer. Of these Airlift seems to have gained the most attention among the customers surveyed by Profit. Let's briefly go over each of these and what they might have had to offer to 'captains' and 'riders'.
Airlift
Airlift has positioned itself for groups of customers. The company uses coasters and Hiace vans offering 18 to 22 seats, on several high-demand routes. This is one variation of the car-pooling system but follows the mobile app mechanism allowing customers to call the services upon their preferred locations instead of having to go to a designated bus stop. Unlike traditional wagons and coasters, Airlift also promises a certain seat, air conditioning, as well as live tracking. When Airlift was launched, it has to go through the unavoidable phase of offering 'free services' which it did by 5-free rides offer upon downloading the app. The service, however, has pre-decided routes which mean that it is only available at certain times and at certain places, allowing for a comfortable and reliable service but only in limited capacity. At the same time, the fare is set at Rs 50 which makes Airlift an attractive service to a much wider category of customers than Uber or Careem. Airlift might be seen as a daily commute service for specific routes, at least for now.
Siayara 
Siayara has come as somewhat an exact alternative to Uber and Careem. At the time of its launch in July this year, its initial fleet featured approximately 2,000 cars divided into similar price and quality categories as the aforementioned companies. The selling point that Siayara chose was lower fares and absence of peak factors that increase the costs of the customers. The service is operational only in Karachi at the moment, and the market might have excitedly welcomes the service but the Facebook posts by customers hint at dissatisfaction. There are demands of money refunds and complaints of extra charges as opposed to the fare being shown on the app – the usually complaints that Careem service is known to resolve in a matter of moments and Uber is known to not pay any heed to. There is not much else known about Siayara, and their helpline has also proven to be less than useful in yielding any official response or any further contact details of the management.
Buraq
This ride-hailing service comes to Pakistan from a Chinese company called Timesaco, which is a company offering an infrastructure of logistics and transportation. Timesaco is using ride-hailing as a means to an end instead of the end itself, which according to its founder Donald Li, allows him to offer incredibly lower rates. Timesaco has started to position itself for the lower end of the market in its taxi cab service while it aims to gain its financial strength elsewhere. It is important to note here that the lower prices is not just to attract customers, but Timesaco has added a second layer for the benefit of the drivers as well. While Uber/Careem take approximately 30% to 35% of the earnings' share from captains, Timesaco has decided to take only 2%. "We are going to give 98% to the drivers. They will get 97% in cash and one percent goes into their drivers' fund that includes medical facilities, insurance, and discounts," Li informed. On the competitor landscape he said, "We don't think we have a competitor. We will say we have partners. And even if there is competition, it will be something that will help us. More players will inform more consumers and the entire market will develop."
Roamer
This one is a chauffeur-driven car service that customers can hire for as long as a month or as short as an hour. In simpler words this is more like rent-a-car than the services offered by Uber or Careem. Roamer is targeting the customer group that might require a car for a certain period of time instead of a certain specified trip, positioning itself between the markets served by the regular rent-a-car companies and regular ride-hailing-service companies. The product strength here is neither the lower price nor the better tracking, rather this is where customers get a car and a driver for a particular length of time. The only overlapping part with Uber and Careem may then just be the use of a mobile application and possible online payments but it does not pose a direct competitive challenge to either Uber or Careem.
The list is not exhaustive, as many other entrepreneurs have also detected the scent of potential, but the bottom line remains the same. Be it the new Carruba, Mylift, or any of the previously mentioned companies, the task of convincing new captains and customers is going to be a costly affair and at least in the short run Uber, Careem, or Uber-Careem – however they may operate – seem to be operating in a quite independent competition free market.