Pakistan's automobile sector is showing no signs of halting its continued decline. The auto industry experienced a 39% decline in car sales in September 2019, compared to the same month in 2018.  
The downward spiral in car sales in 2019 stands in sharp contrast to the relatively strong period of growth for the auto industry in the preceding four years. Car sales in the period between 2014 and 2018 grew at an average annual rate of 16.4% per year. 
Now though, the decline that started in mid-June in 2019 has firmly taken root, with all three major automobile assemblers feeling the pinch. Honda Atlas Pakistan saw its sales drop by 68% year on year, while Indus Motors Company – the Toyota subsidiary in Pakistan – saw its car sales decline by 57% compared to last year. Only Pak Suzuki Motor Company fared a little better than its competitors, with its car sales dropping by 18% compared to the same period in the previous year. 
"[This] is yet another indication of how much demand has suffered over previous months due to price increases and interest rate hikes," wrote Ahmed Lakhani, a research analyst at JS Global Capital, an investment bank, in a note sent to clients on October 14, 2019.
"[Neither Indus Motors nor Honda Atlas] are good investment decisions, as volumes continue to suffer from current price levels and have led to temporary plant shutdowns…and might also lead to layoffs in the near future," he added in the note.
 So why is this happening?
Declining car sales is just one from a series of depressing news from September. As many recall, Indus Motors shut down its Karachi plant for 10 days in the latter half of the month (some news reports said it had unsold inventory of over 3,000 vehicles.) Both Indus Motors and Honda Atlas have seen dwindling sales since July, and have also had to shut down production for at least a few days each month. 
But the multiple problems plaguing the auto industry are not simply confined to the events of September. What is behind the chaos? For one, most auto assemblers are facing exorbitantly high production costs, in part due to new customs duties on luxury items (like cars), and high federal excise duties. Production costs have also increased due to an extremely weak rupee. Most Pakistanis are simply unable to afford the new car prices. 
Secondly, from a Pakistani consumer's perspective, the rupee's general decline, and the current economic slowdown, has affected their own buying power. A reduced personal disposable income will make people less inclined to make a large purchase like a car (particularly if that car is already priced exorbitantly high). 
The auto industry is also being affected by Naya Pakistan's latest tax drive. A new government requirement states that people have to prove they filed tax returns before being able to buy a car. While seemingly a good idea on paper, the government's policies to increase documentation and grow the tax base is actually dampening sales, as consumers worry about potential complications caused by the notoriously difficult Federal Board of Revenue. 

Muhammad Arsalan Siddiqui, an analyst from the investment bank Foundation Securities, wrote in a note on October 14, 2019 that the government's 'aggressive' stance towards disclosure of income has caused 'fear' among buyers. Interestingly, the worst affected are not city-dwellers with their large cars, but in fact, new buyers in rural areas. 
 Auto assemblers' specific gloom
Much of the overall decline in the auto industry can be attributed to a huge fall in sales in both the 1,000 cubic centimeter (cc) engine and 1,300-cc cars. The decline in sales for those two categories compared to last year has been 60% and 65% respectively. 
But this fall affected the three auto assemblers differently. The worst hit was Honda Atlas: sales for its flagship City and Civic car models fell by a whopping 66% in September compared to last year. This is despite Honda trying to restructure federal excise duties and remove non-filer restrictions. The drop in demand has led to the Honda only operating 13 to 15 days a month, a trend that is expected to continue. 

In a massive role reversal, Indus Motors' star car, the Corolla, was most responsible for the company's misfortunes this September. Sales for Pakistan's most popular sedan declined by 59% compared to the same month last year. 
Meanwhile, Suzuki Motors saw a decline in sales across practically all of its major car models, with the Swift falling 59% year-on-year, the Cultus falling 38%, and the Wagon-R falling 75% compared to the same month last year. The Bolan and the Ravi also dropped by 67% and 73% respectively. In fact, Suzuki Motors was only buoyed by its saving grace, the Alto (explained below).  
 The 'Alto' outlier
One surprising bright spot in this gloomy picture is the Alto. Suzuki Motors introduced the brand new Alto in June 2019, and car sales have exceeded expectations. Around 4,924 Alto cars were sold in September, which is the highest-ever monthly sales recorded for Suzuki Motors for a single model.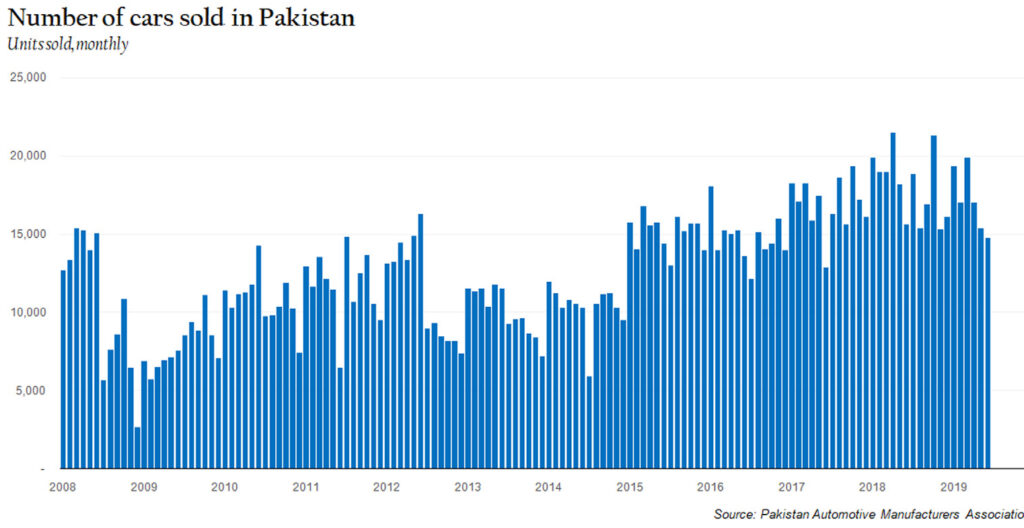 In fact, Alto sales are what is behind Suzuki Motors performing somewhat healthier than Honda or Indus. Lakhani, in his note, singled out the Alto for preventing a temporary plant shutdown for Suzuki Motors, unlike rivals Indus and Honda. 
While the Alto is providing some relief, a single car model is not enough to prop up any industry revival hopes. For one, the Alto is about to see a price increase of Rs70,000-85,000 in two of its variant models. Secondly, once the initial euphoria of the Alto fades, Suzuki Motors will have to scramble to find an alternative to boost its sales, considering that the classic Mehran was phased out in March 2019, and that sales for the other favourite Wagon-R declined sharply.
 Worrisome vehicle indicators
One of the more alarming numbers from September is the sharp decline in sales for trucks and buses. No other vehicle sector has declined as significantly, with truck sales declining 61% in September compared to the same month last year, bus sales declining 67%, and tractors falling 35% respectively.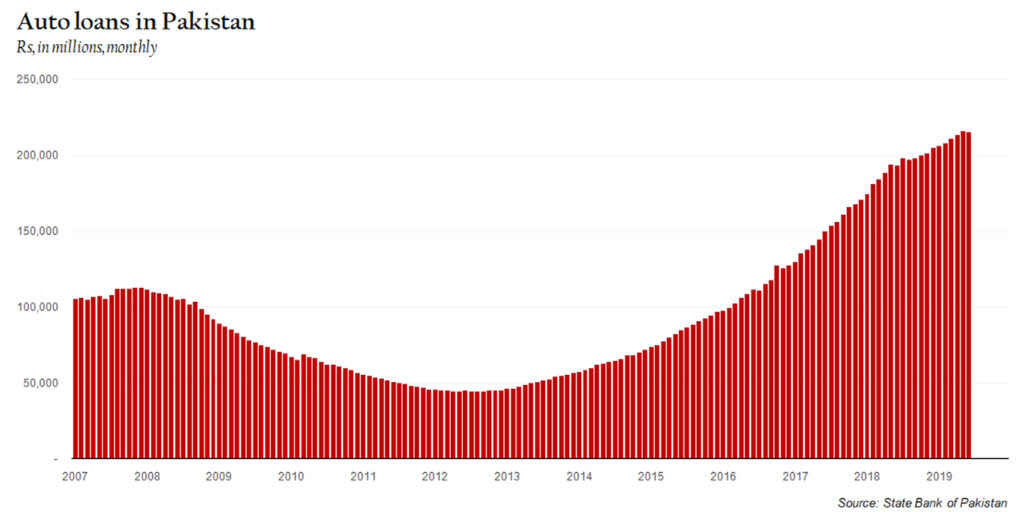 These vehicles serve as a proxy for understanding the health of the economy on a whole, since trucks and buses are what transport goods and people across Pakistan, while tractors indicate how the Pakistan's agricultural sector is faring. Not surprisingly, the overall decline is attributed to a slowdown in the country's economic activity.
There is hope among some analysts that these sales will eventually pick up, due to increased government spending in the agriculture sector, and the expected kick-off of the second phase of the China-Pakistan Economic Corridor. For the time being, however, those two hopeful events seem months, if not years, in the future, and it remains to be seen whether sales will actually improve.