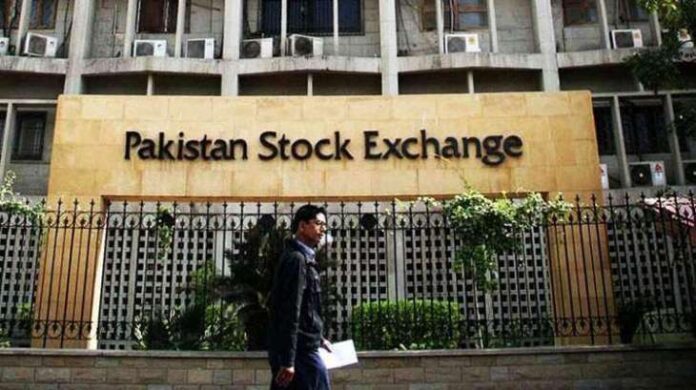 ISLAMABAD: Bullish sentiments ruled the Pakistan Stock Exchange (PSX) during the outgoing trading week, lifting the KSE-100 Index by 1,605.73 points or 4.46pc to 37,583.89 on Friday.
The week-long performance showed that the index gained 340.69 (0.91pc) points on Friday; 76.26 (0.21pc) points on Thursday; 401.40 (1.09pc) points on Wednesday and 824.94 (2.29pc) points on Monday. On Tuesday, however, the index dipped slightly lower by 37.54 points (0.10pc).
Among major developments that helped raise the investor confidence, Pakistan's trade deficit contracted 33.5pc in the first four months of the current fiscal year 2019-20. Imports of the country contracted by 19pc, whereas exports posted a minor gain of 3.81pc.
Meanwhile, foreign investment in the government-backed treasury bills was recorded at almost $800 million since the beginning of FY20. This was due clarity on the economic front coupled with slight growth in forex reserves as well as exchange rate parity.
Moreover, Jamiat Ulema-e-Islam-Fazl (JUI-F) called off its sit-in in Islamabad, thus shielding the political climate from heating up.
The market gain in the week was largely helped by overseas Pakistanis, whose net buying of $3.28 million allowed the Foreign & Local Investors Portfolio Investments (FIPI) to close with net buying of $4.32 million.
While improving macroeconomic indicators and investor sentiments could help the bourse's upward momentum to continue in the near term, profit takers could take hold of the market as they look to cash in the high gains from the last two weeks, said an analyst from Habib MetroFinancial Services.
"We recommend investors to find exposure in blue-chip names at attractive levels and we maintain our liking for exploration & production, large-cap banks and fertilisers," he said.
An analyst from Arif Habib said that the market may witness a temporary spell of consolidation. "Going forward, we expect the index to continue its upsurge on back of improvement in the macro-economic landscape."