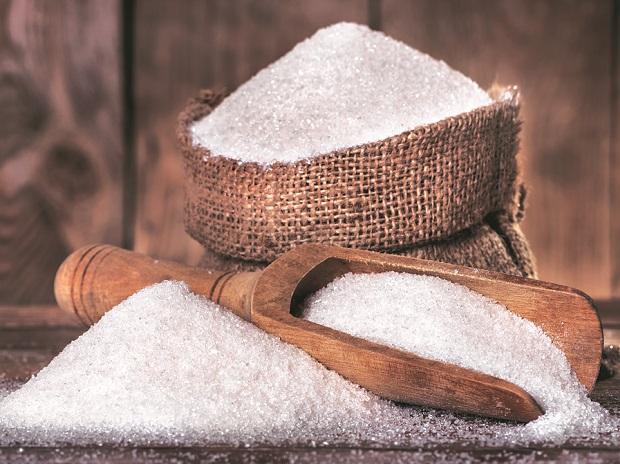 LAHORE: Pakistan's influential sugar millers and hoarders are behind the recent surge in sugar price in retail markets, as they are selling it at a higher price than the open market, sources revealed on Tuesday.
Sugar, which is now available in some retail markets at Rs85-90 per kg, was available in the retail markets of Lahore at Rs80 per kg a couple of days ago and at Rs70-72 per kg about a month ago.
However, it is still available at Rs80 in some wholesale markets in Punjab.
Sources in the Sugar Advisory Board (SAB) alleged that sugar millers had joined hands with hoarders to increase the price of sugar.
They maintained that some influential people within the government circle, who have a stake in the sugar industry, were the ones setting/deciding sugar prices across the country.
"Unfortunately, the sugar mafia has always been in power in Pakistan, whether it is PTI's govt or PML-N's govt. They are the ones who benefit the most from making the lives of the poor people miserable," said senior PPP leader Syed Hassan Murtaza while talking to this scribe via telephone.
According to sources, the government must immediately impose a ban on the export of sugar to other countries otherwise the crisis may get worse in the coming days.
"The federal government decided not to place a ban on the export of sugar in June 2019 but now is the right time to put a ban on export or else its price might shoot up to Rs100 per kg," sources feared.
Pakistan produced 600,000 tonnes of sugar last year, of which about 150,000 tonnes of sugar went to China.
Talking to this scribe, a senior Pakistan Sugar Mills Association (PSMA) official rejected the notion that millers were behind the increase in sugar price or that they had formed a cartel to manipulate the prices in the country.
"Sugar mills are producing the commodity and are sending it to the market without any delay. So how can we (sugar mills) be blamed for price increase?" he asked. "We are not exporting sugar to other countries at the moment."
He said he was not aware of the reasons behind the recent surge in sugar price, whether it's because of hoarders or shopkeepers.
"Even after purchasing sugarcane at Rs190-200 per mound, we didn't increase the ex-factory rate of sugar. We are selling it at the same price of around Rs3,600," said an accountant at a sugar mill in Muzaffargarh.
Abdul Hafiz, a proprietor at a small general store on Mason Road in Lahore, asked as to how can he sell sugar at the government-fixed price of Rs70 when he himself purchased the 50kgs bag of sugar at Rs3,900-4,000 from the wholesale market.
"I am selling sugar at Rs85 per kg; Rs5 per kg is a justified amount of profit margin keeping in mind the transportation and other costs," he added.
Agreeing with him, another shopkeeper from Faisalabad said that about a month ago, 50kg bag of sugar was available in the market for Rs3,600.
Batool Asad, a housewife in Lahore, said her family was part of the country's middle class and was finding it difficult to make ends meet with the surge in prices of wheat and sugar in the past few weeks.
Syed Muhammad Ali Zaidi, a resident of Nazimabad, Karachi, said that sugar price went up by Rs8-10 in few days. "I purchased it at Rs80 today from a retail market in Karachi."
However, Haania Ali, a senior marketing manager at UCP in Lahore, asked, "If we start abandoning anything that is hiked undue, how will the millers and hoarders be able to take unnecessary advantage?."
She stressed that progressive nations with open-minded people do that. "We need to stop using sugar for some time until this fake shortage hype boils down.
Talking to this scribe, officials of the city district government said that there was no shortage of sugar in the market and "we are carrying out raids to charge those who are behind this [artificial] surge".
"The govt's price of sugar will be implemented by all means," he asseted.