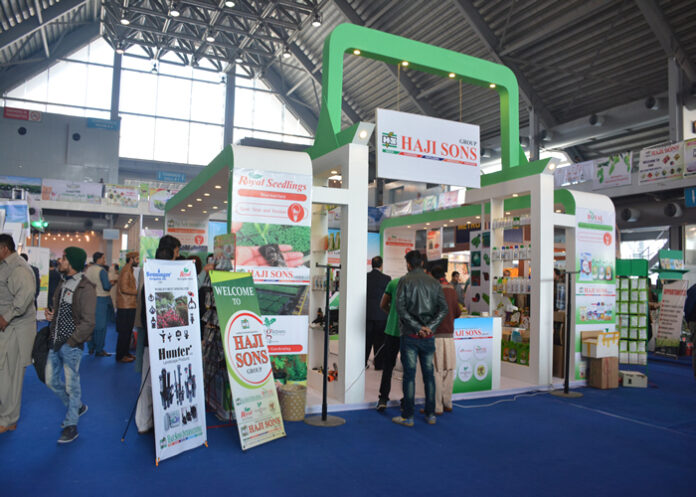 LAHORE: A large number of people thronged the Pakistan Horti Expo 2020 here in Lahore at the Expo Center on Wednesday.
The expo started at 9am but hundreds of visitors, including farmers, growers, distributors and consumers were not allowed to enter a section of the expo set up by Establishment of Model Farms Project (EMFP) till 3pm, with the explanation that they could not enter before the chief guest, Punjab's Agriculture Minister Malik Nauman Langrial.
The minister was scheduled to inaugurate the section that housed around 30-40 stalls by leading exporters and growers of citrus, potatoes as well as other seasonal vegetables and fruits. "I have been here since 9am and they are not allowing me to enter the stalls set up by EMFP as the minister has not reached," a citrus grower from Sargodha said.
"When would our leaders start taking agriculture and farmers seriously?" he asked, adding that it was such an important event but the minister was going to come at his convenience while the common man lost precious time and energy.
When this scribe tried to enter the said section at 10:30am, EMFP officials pointed towards other stalls and suggested returning at 11:30am, and then again at around 3pm for proper viewing.
On arrival, Langrial masked his punctuality issue by diving confidently into an address, affirming that the Horti Expo would prove to be an excellent platform for increasing the country's agricultural exports. "The Pakistan Tehreek-e-Insaaf (PTI) govt is taking huge steps for the progress of the agriculture sector in Pakistan. Through the Horti Expo, we will be able to promote our agricultural goods and products at the international arena," Langrial said.
More than 3,000 progressive farmers along with importers, exporters, growers, wholesalers, distributors, retailers, input suppliers, associations and financial institutions both national and international attended the expo event participated in the expo on the first day whereas 36 delegations from 11 countries, including Sri Lanka, Tajikistan, Germany, Bahrain, Qatar, Dubai, Saudi Arabia, Ukraine, Indonesia, Poland and Egypt were also present.
AGRI STALLS
About 8-10 different species of potatoes, including Ruby, Cosmo, Sadaf, Pri-Red, Sahiwal White, Sahiwal Red, Sialkot White and Sialkot Red present at the expo attracted a large number of potato growers and consumers both national and international.
"I have received five orders of Sadaf and Ruby potatoes at the expo today from Indonesia, China and Tajikistan and will be exporting potatoes to these countries now," said Arif Rizvi, an exporter.
One of the largest stalls at the expo, which was setup by the Indonesian embassy, having herbs, noodles, nuts and other goods from Indonesian businesses was also a hit with visitors; Indonesian imperial jasmine tea being the most purchased item.
"I just tried the jasmine tea and enjoyed the soothing and aromatic experience," said Fizza Khan, a consumer.
Further, around 20-30 stalls for various varieties of citrus, including Marrs Early, Salustina, Tarocco, Navelina, Moro Blood, Olinda Valencia, Fair Child, Freemont, Eureka Lemon, Lizbon, Masero Lemon were also set up by leading agri professionals from across the country.
"Pakistan's citrus is of high quality and taste; we look forward to engaging in citrus trade with Pakistan by importing it to our country," said an international delegate from Germany.
Traders from Gilgit Baltistan (GB) and northern areas also set up small dry fruit stalls where they were seen busy with consumers interested in dried apricots and walnuts the most.
Leading fertilizer brands Fauji Fertilizer Company (FFC), Engro Fertilizer and Fatima Fertilizer also marked their presence by setting stalls that informed farmers about their products.
Bank of Punjab and JS Bank discussed different installment and financing schemes aimed at supporting the agriculture sector.
The expo will end on Thursday at 5pm.