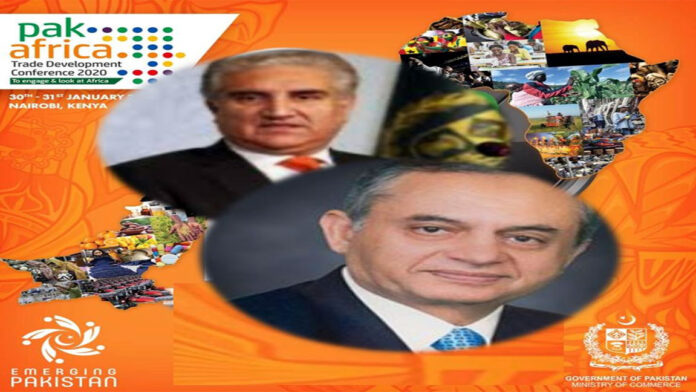 ISLAMABAD: A two-day first-ever Pakistan-Africa Trade Development Conference will start in Kenya, Nairobi, on Thursday.
Besides Foreign Minister Shah Mahmood Qureshi, Adviser for Commerce Abdul Razak Dawood will participate in the conference. During the visit, the foreign minister will hold meetings with the Kenyan leadership, including Cabinet secretaries for foreign affairs and international trade.
READ MORE: Qureshi leaves for Kenya to attend Pak-Africa trade conference
Apart from Kenyan Cabinet members, dignitaries from other African states and Pakistani envoys in Africa, the conference will be attended by a strong contingent of businessmen and entrepreneurs from Pakistan, who will interact with their African counterparts. In all, some 300 participants are expected to attend the conference. The conference is part of Pakistan's 'Engage Africa' initiative, which is in line with Prime Minister Imran Khan's vision to forge closer political and economic ties with the African Continent, and place a stronger accent on economic diplomacy.
Africa's increasing integration and growth momentum together with Pakistan's potential as a connectivity hub have opened multiple avenues for win-win collaboration. It will be an important opportunity for Pakistani and African businesses to interface, identify the areas for enhanced engagement, and develop proposals for customized economic collaboration.
It is pertinent to mention here that  Shah Mahmood Qureshi on Tuesday left for Kenya on a two-day visit to take part in "Engage Africa" conference as part the government's policy of economic diplomacy.